Jewels, wonderful fabrics, pattern and sparkle are beautiful, exciting elements of fashion that we rarely get to wear in our day-to-day lives. However, a woman's wedding dress, if she chooses, should be the exception and include some, or all, of this luxury. Be inspired by these incredible creations.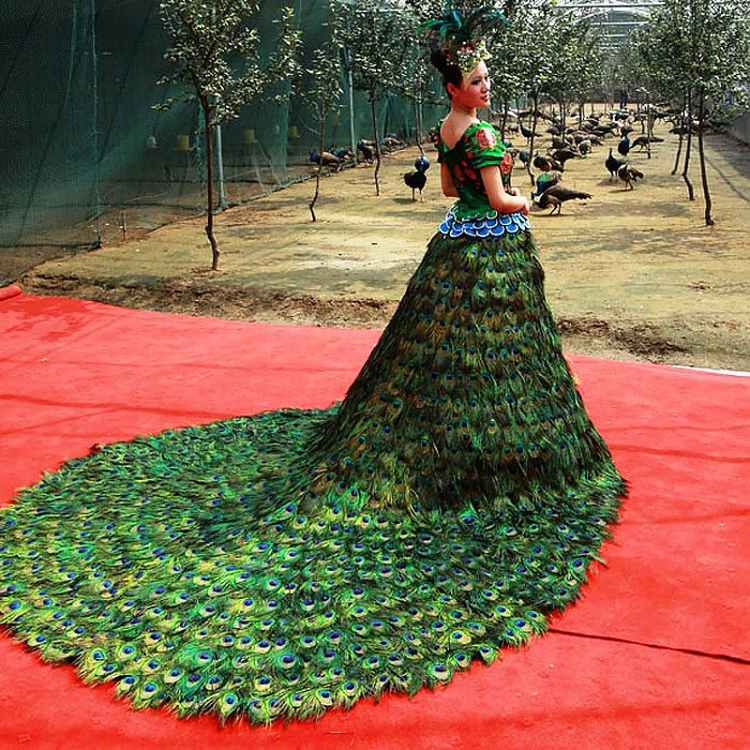 The Vera Wang Peacock Wedding Dress
Vera Wang is one of the most successful and well known creators of designer dresses and wedding dresses in the world. She has created countless beautiful gowns but her peacock feather dress is undoubtedly the most unusual.
The dress was designed to be displayed at a Chinese wedding exhibition in 2009. It was the job of eight skilled craftsmen to stitch in more than two thousand turquoise hued male peacock feathers. The result is a work of pure opulence.
Julien Macdonald's 2014 diamond wedding dress
Julien Macdonald designed this fabulous piece as a part of his Spring/Summer 2015 collection. It was revealed during London Fashion Week 2014.
The diamond, fresh-water pearl and intricate lace detailing on this dress makes it one of the most expensive wedding dresses ever at £4 million; it is also the epitome of luxury.
The shape is simple, a column dress kicking out into a fishtail with illusion fabric on the sleeves and plunging neckline.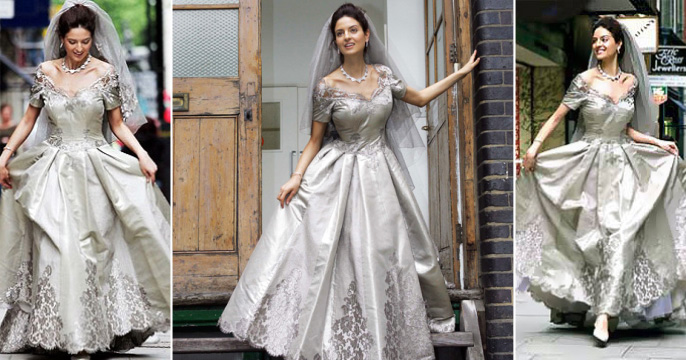 The Platinum Wedding Dress
Designed as the centrepiece for Hatton Garden jewellery week around 10 years ago, this £240,000 dress is still being talked about as the height of decadence. Italian designer Mauro Adami created the gown and was already famous for his work with platinum and fabric.
The style is timeless with a full skirt, nipped waist and sweetheart neckline. The luxury is to be found in its 40 metres of silver silk and the platinum thread used for the extensive embroidery gracing the hem, sleeves and bodice.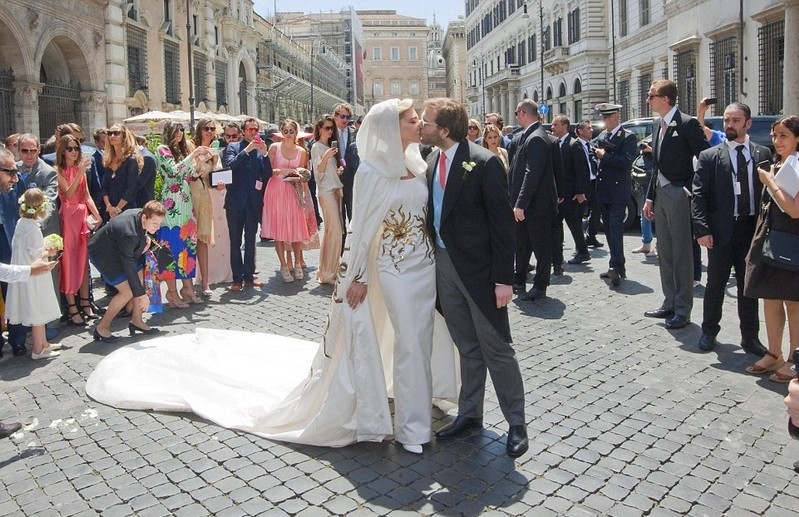 Jeweller-Sophie Ghanem
In May 2015, Lebanese jewellery designer Sophie Ghanem married billionaire heir Joseph Getty in Rome. The lavish ceremony at the Basilica of the Twelve Apostles saw the gorgeous bride wearing one of the most exquisite wedding dresses fashion lovers everywhere had ever seen; a satin Schiaparelli column dress and matching hooded cloak.
Sophie worked with the French couture designer to create the beautiful two piece which bore intricate sun motifs made from 500,000 dazzling sequins. The detail took days and days of work at Maison Lesange. The bride wore matching sequinned Charlotte Olympia heels.
Anne Hathaway
As a successful actress, Anne Hathaway is no stranger to wearing glamourous designer dresses on the red carpet. Her choice of wedding dresses, therefore, had to be something spectacular to make her feel as special as a bride should do on her big day.
Close friend Valentino Garavani designed Anne a gorgeous off-the-shoulder gown and train that featured metre upon metre of glorious tulle in the palest of pretty pinks. The skirt had pearl detailing while the bodice was fashioned out of exquisite lace embroidery. The bride finished off her luxurious look with a 1920's style lace headpiece. Beautiful!