Infused with Italian passion, craftsmanship and innovation, the all-new Alfa Romeo Stelvio will conquer the winding road for which it is named. Reid Bigland, Head of Alfa Romeo, revealed the all-new 2018 Alfa Romeo Stelvio in front of global media at the L.A. Auto Show, Nov. 16, 2016.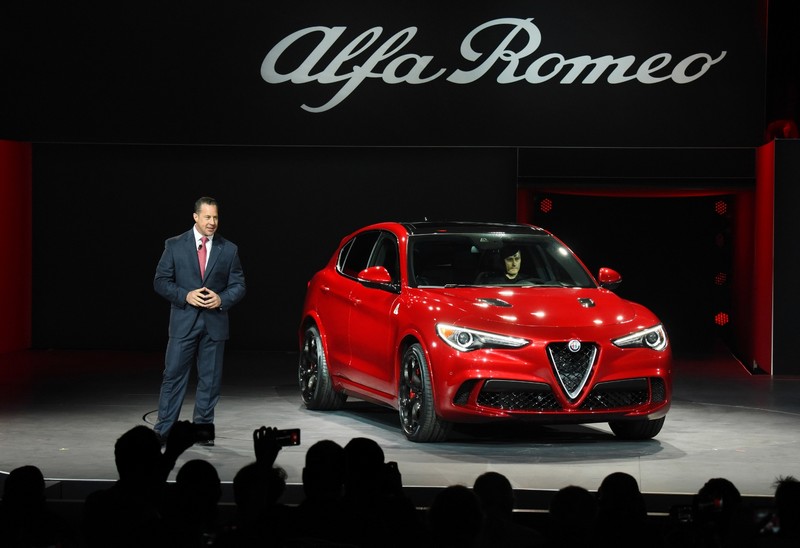 As the second of a new generation of vehicles built on an all-new platform, the 2018 Stelvio epitomizes Alfa Romeo's La meccanica delle emozioni (the mechanics of emotion) spirit.
Stelvio and Stelvio Ti models feature an all-new, all-aluminum, 2.0-liter, direct-injection turbo engine delivering a class-leading, standard 280 horsepower and 306 lb.-ft. of torque, allowing it to achieve a top speed of 144 mph.
Stelvio Quadrifoglio – the "halo" model in the lineup – continues to highlight Alfa Romeo's performance and motorsport expertise with a best-in-class, Ferrari-derived 505-horsepower engine, powering it from 0-60 mph in just 3.9 seconds with a top speed of 177 mph. On sale in 2017, all Stelvio models come standard with the innovative Q4 all-wheel-drive system.
The intelligent Q4 all-wheel-drive system – standard on all Stelvio models, including Quadrifoglio – delivers even more all-season traction and performance capability, thanks to the system's ability to transfer up to 60 percent of the engine's torque to the front axle.
"The all-new Stelvio, named after one of the greatest driving roads in the world – the Stelvio Pass in the Italian Alps – sets a new benchmark for the segment," said Reid Bigland, Head of Alfa Romeo. "Stelvio is uniquely engineered to challenge two-door sports cars on the track, without sacrificing any of the characteristics you would expect from a premium SUV, resulting in the perfect mix of high performance, capability and Italian design."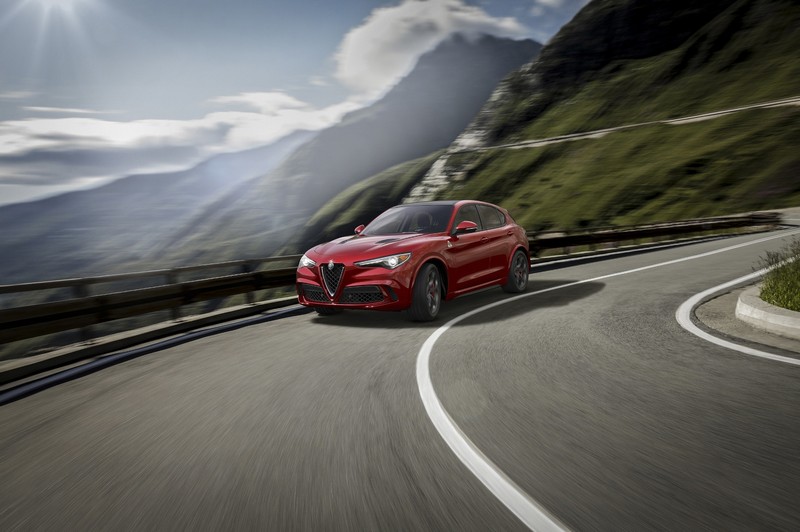 In true Italian fashion, the all-new Stelvio allows owners to customize their performance SUV with up to 13 exterior colors; seven wheel choices, ranging from 18 inches to 21 inches; and an almost endless selection of interior color and trim choices.
For sophisticated music lovers, the refined Harman Kardon Premium Audio System is offered on the Alfa Romeo Stelvio, which delivers detail-rich audio output. The heart of the Sound Theatre system is a 900-watt 12-channel class D amplifier, which distributes clear sound through a system of 14 speakers for superior audio quality. Harman Kardon's Logic 7 sound technology is used to secure a surround effect from different high-resolution sources and harmoniously uniform stereo playback. With this sound system, occupants can experience the premium quality for which Harman Kardon is renowned.
With the all-new 2018 Alfa Romeo Stelvio, where other SUVs stop at utility, Alfa Romeo took on the challenge to create the perfect mix of high performance, capability and design.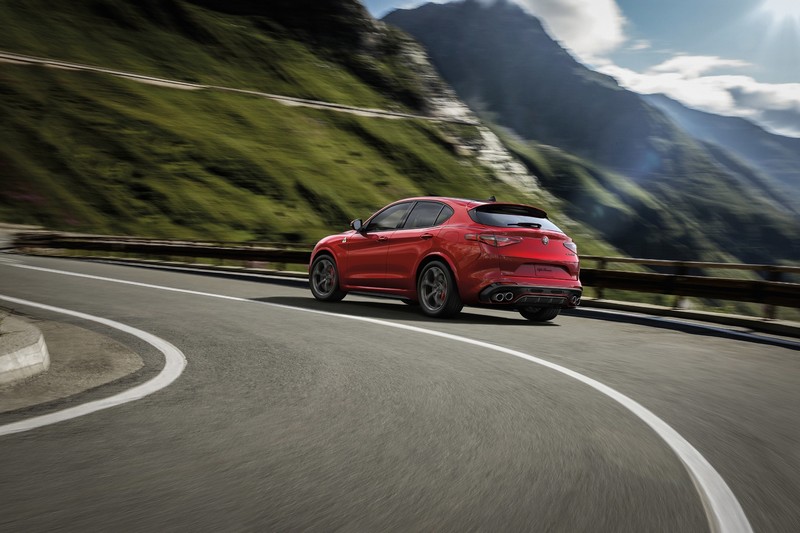 Stelvio Quadrifoglio
With the most powerful Alfa Romeo production engine ever, Stelvio Quadrifoglio highlights Alfa Romeo's performance and motorsport pedigree as the "halo" model in the lineup.
The heart and soul of this ultra-high performance SUV is an all-aluminum, direct-injection 2.9-liter 24-valve bi-turbo intercooled V-6 engine, delivering a best-in-class 505 horsepower and 443 lb.-ft. of torque, and a standard Q4 all-wheel-drive system.
The Stelvio Quadrifoglio includes exclusive high-performance and functional exterior design elements, plus unique performance suspension, brakes and wheels. Inside, high performance leather and Alcantara front seats, featuring 12-way power and adjustable thigh support, provide the optimal control center. Additional features include a Quadrifoglio-exclusive leather-wrapped steering wheel with accent stitching and performance contours, leather-wrapped instrument panel with accent stitching and carbon fiber interior trim.
Advanced technology features unique to the Stelvio Quadrifoglio include a four-mode Alfa DNA Pro selector with Race mode, torque vectoring differential, Quadrifoglio-tuned adaptive suspension, Quadrifoglio instrument cluster with 200 miles per hour (mph) speedometer and cylinder deactivation system.
Ultra-high performance options for Stelvio Quadrifoglio include: Ultra-lightweight carbon fiber shell Sparco racing seats, providing maximum lateral support during extreme cornering thanks to more aggressive bolstering, and designed to be the lightest in the segment, while providing comfort for long road trips; Ultra-high-performance Brembo carbon-ceramic material (CCM) brake system.