"The happiest thing is being able to create something new with a twist on a classic…" – Gaven Fuller, Executive Chef at Daylesford.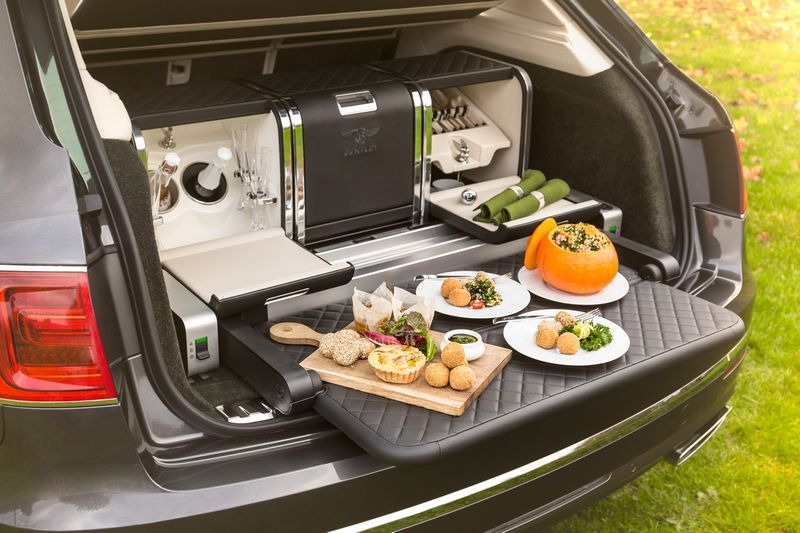 Bentley Bentayga, the world's first genuine luxury SUV, was created to take exquisite luxury to places it has never been seen before.
The Linley Hamper by Mulliner, designed in collaboration with renowned British designer Linley, has been created to take the luxury picnic to those same places. Bentayga and Mulliner's hamper means that wherever you go, you take the extraordinary Bentley lifestyle with you.
The culinary team at Daylesford Organic, the award-winning farm and farm-shop collective, has created an organic British picnic to complement the flavours of the season and the Linley Hamper by Mulliner. This hamper set was created to enhance the experience of Bentayga drivers wishing to enjoy luxury dining in the great outdoors.
The picnic set includes a carved Daylesford pumpkin filled with green kale, heritage apples, crispy bacon, toasted seeds and a honey mustard dressing. This is complimented by an autumnal buckwheat tabbouleh; wild mushroom, truffle and gruyere arancini; roasted squash and balsamic red onion tartlets and red kuri squash, chilli and chickpea cakes. To finish, there are raspberry macaroons with a buttercream filling; chocolate praline slices and lemon and raspberry gateau.
The set comprises three separate compartments. To add an additional personal touch, Mulliner can embroider a name, logo or family crest into the leather. The hamper is secured into the Bentayga on a custom-engineered docking mechanism. This allows all three compartments to be pulled forward to the edge of the tailgate, for effortless access and removal from the vehicle to maximise luggage space.
"Late autumn is a time of great abundance at Daylesford. As the weather grows colder, we look to the earthy, intense flavours of our many varieties of pumpkin, squash and beetroot – each nurtured over the summer months in our rich organic soil. Careful slow-cooking techniques bring out their subtle sweetness and, carefully paired with our tender grass pastured beef, game or foraged wild mushrooms, offer a true celebration of the season," explained Executive Chef at Daylesford Organic, Gaven Fuller.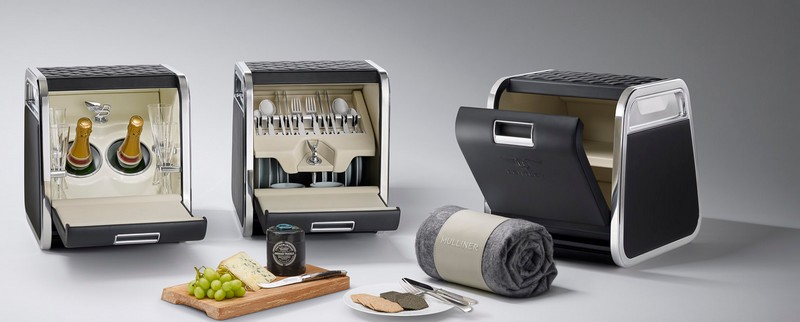 "Our orchards and hedgerows offer an opportunity to recreate our favourite sweet dishes, each with innovative twists, layers of subtle spices and that optimal balance of sweet and sour," Fuller continued.
This seasonal banquet is served from the Linley Hamper by Mulliner, which is equipped with the finest tableware and cutlery. Plates, cups and saucers are sourced from the Sublime Collection of Haviland – the renowned French porcelain maker. Four sets of award winning Alta Robbe and Berking silver cutlery are joined by a beautifully crafted chrome-finished Bentley 'Flying B' bottle stopper.