The first of two Sirena Yachts new motor-yacht models to be on water next 2017.
Roomy, refreshing, light, luminous are the keywords for Sirena 64.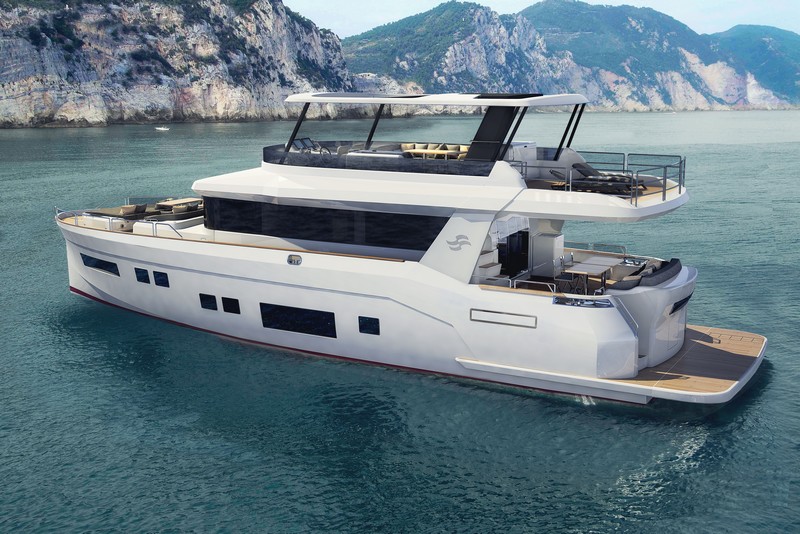 Sirena Yachts – the all new Sirena Marine motor-yacht brand announces the world premiere of Sirena 64 during the next Boot Dusseldorf (21-29 January 2017).
The step ahead in Sirena Marine successful path of Azuree and Euphoria sailing yacht production has been entering the motor yacht market with its own all-new brand Sirena Yachts, as announced last September 2016. This yard new production will compete in the new-classic semi displacement GRP motor yacht market starting from 56 feet.
The first two models, the 64 and the smaller 56 about to debut next February 2017 in Miami, have been designed by two of the best designers on the international scene: Frers Naval Architecture & Engineering for naval architecture, exterior design and engineering and Spadolini Design Studio for
interior design.
The fuel and water capacity are designed to really offer "real" Long Range cruises. In terms of consumption efficiency the new yacht is 20% more efficient than direct competitors. The powerful engines will face all sea conditions and guarantee high max speed.

EXTERIORS OVERVIEW
The first model of the range is Sirena 64 that, compared to others of similar size, will feature greater fuel and water capacity together with a 2 x CAT C12.9 – 850Hp that gives higher maximum speed up to 27 knots. The yard will provide the option of more powerful engines as well.
Generally, compared to its main competitors, the semi-displacement hull of Sirena 64 is expected to be approx. 20% more efficient in consumption at most expected cruising speed of 16 knots. At 10 knots of economy speed Sirena 64 arrives at a consumption of 48 l/h for a range of approx 1.000 NM. Furthermore, Sirena 64 will be characterized by a 38sqm flybridge where to enjoy the amazing sea view and breath clean air. The unparalleled exteriors of Sirena yacht 64 provides a 80 footer's living area. Wide open view of the vast seascape fills the enormous living space of the boat.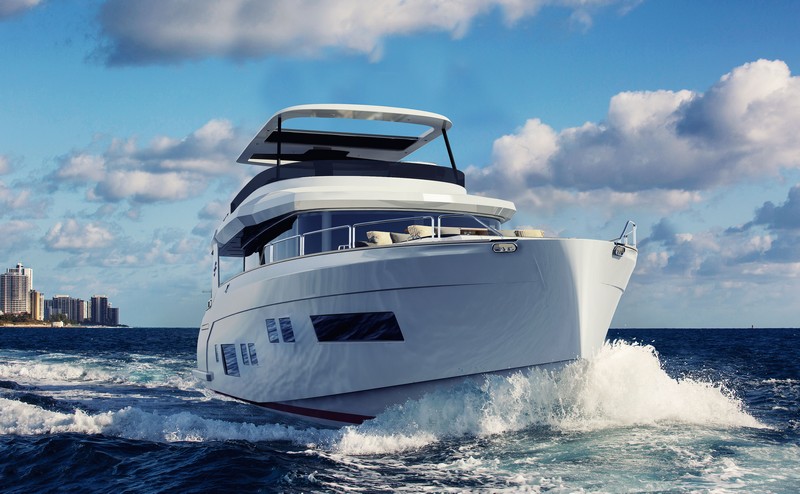 INTERIORS OVERVIEW
The life inside the boat is integrated with the outside thanks to the panoramic deckhouse windows, to the sliding windows on the side entrance, the kitchen and helm area. The main features inside are a spacious main deck of approx. 52 sqm and larger cabins in the category. The owner quarter in
particular, with approx. 24 sqm, has the biggest suite on the market, both in term of surface and volumes. The area counts on a full beam bathroom with separate washroom, toilet and shower areas.
This model has also an additional fourth toilet and a large crew area with direct access to state- of-the art engine room (access also from the cockpit).