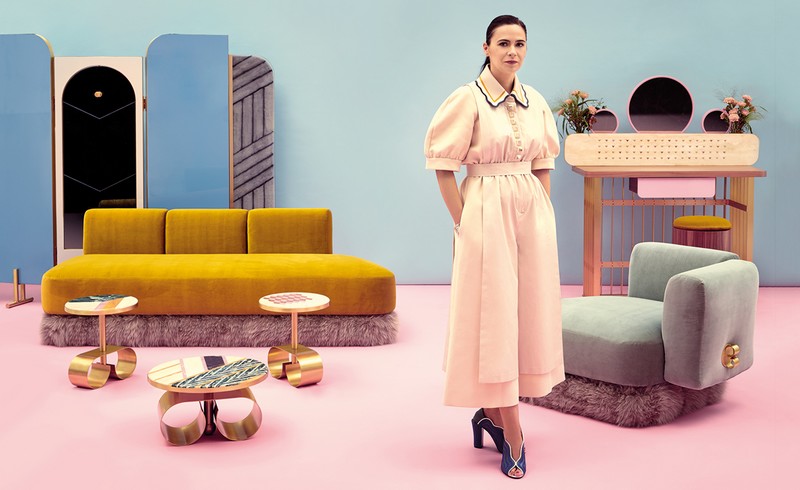 Luxury Italian house Fendi is marking its seventh anniversary at 2016 Design Miami/with THE HAPPY ROOM, a collection designed by Italian designer Cristina Celestino (36). THE HAPPY ROOM introduces an inspired interpretation of a modular VIP room.
For the Roman Maison, the Italian designer has conceived a refined collection of furnishings dedicated to the first traveling Fendi VIP Room—an intimate, private and personal experience, "linked to femininity and sophisticated elegance, designed to host Fendi clients worldwide."
"She has perfectly translated our Fendi codes into a truly sophisticated and feminine collection of design pieces that show a unique personality and a whispered luxury, expressed through the skillful use of materials and new techniques, like the fur under resin, geometrical shapes, chromatic play, marble and glass inlays, all elements very much in common with us," Fendi's chairman and chief executive officer, Pietro Beccari told WWD.
In subtle colours, from turquoise and mint to pale grey, the Low Tables feature a variety of patterns made from mixed marble inlays.
According to the telegraph, the new Fendi proposals, is "a cocoon of velvets and marble, though innovation will be in evidence too, in the form of a new material combining resin and fur, which the company has named Etere or "ether".
With a soft and rarefied tone, distinguished by simple volumes and rounded shapes, THE HAPPY ROOM by Celestino suggests harmony and delicacy. Numerous are the references to iconic elements of FENDI, such as the distinctive arch of Palazzo della Civiltà Italiana in Rome, or the inlay of materials; drawing on the stylistic matrix of the FENDI fur atelier and of fur workmanship, which is repeated within the collection through innovative techniques and the contrasting play of various types of
marbles.