Snow Polo goes global and Aspen draws big talent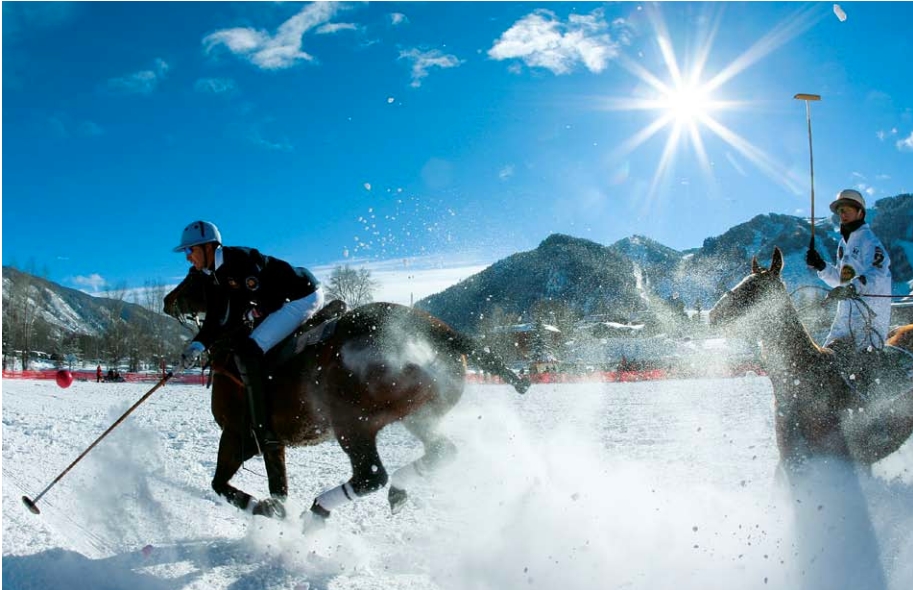 If you have heard of it, you might think St. Moritz — polo has been played on the frozen lake there for more than a quarter century (snow polo polo was first introduced in 1985). Over the decades the Swiss event has drawn an international crowd of jet-setters. But St. Mortiz is not alone in the world of snow polo — even in Switzerland. Not far away, in another part of the Swiss Alps, Davos-Klosters is hosting its annual snow polo tournament in January.
Snow polo has spread across Europe. In January, Kitzbuhel, Austria, is staging his snow polo tourney. So is Strbske Pleso, Slovakia. Snow polo tournaments are also showing up in South America, most notably in Chapelco, Argentina, where they play, of course, in August. Aspen's sister city, Bariloche, is also planning a tournament in their ski resort area of Cerro Bayo. Even China hosted an inaugural FIP Snow Polo World Cup with 11 nations participating. But Aspen's World Snow Polo Championship (introduced in North America in 2000) is the only snow polo tournament sanctioned by the United States Polo Association.
The tournament, a modified version of polo, consists of 4 teams who will compete on a snow covered field in a two- day, single elimination tournament to win the coveted USPA World Snow Polo Championship.
This year  the World Snow Polo Championship is taking place December 15-16, 2012 at Marlot Park in Aspen, Colorado, and will have Tempus Jets aviation company and the global luxury lifestyle brand as the title sponsor of this 13th annual championship.
"Snow Polo has become an exciting and star studded sporting event," explained Barry Stout, event director. "Aspen provides a wonderful setting and the level of international polo players committed, promises this event will be exceptional."
Snow Polo teams are comprised of three players (as opposed to four in regulation polo), and play consists of four, 7-minute "chukkers" or periods. The players change horses between chukkers. The horses used (referred to as polo ponies) are provided by Stout Ranch in New Castle, Colorado. For snow polo, the horses are equipped with special cleated shoes to provide better traction in winter conditions. The snow polo ball is large (about the size of a grapefruit), bright red and inflatable–as opposed to the small, white, hard-plastic ball used in the regulation game–making it more visible and easier to play with in the snow.
The 2012 tournament will consist of 4 teams who will compete on a snow covered field in a two-day, single elimination tournament. The event includes some of polo's biggest stars–Carlos Gracida (10 time U.S. Open champion and his son Carlitos); John Gobin (6 time U.S. arena open champion); Tommy Biddle (10 goal star); and Alan Martinez (7goal star).