XC90 'Excellence' is the most luxurious vehicle ever built by Volvo. XC90 'Excellence' to be unveiled at Shanghai Auto Show.
An elegant four-seat version of Volvo's recently launched XC90 it is said to be the most luxurious vehicle ever built by the Swedish company in its 88 year history. To be unveiled at the Shanghai International Automobile Show, Volvo XC90 'Excellence' incorporates the latest Scandinavian innovations in design.
"We have created the ultimate luxury experience of Scandinavian design. Volvo has never launched a car like this before. This is the car that demonstrates what the name Volvo now means," said Thomas Ingenlath, Volvo Senior Vice President, Design.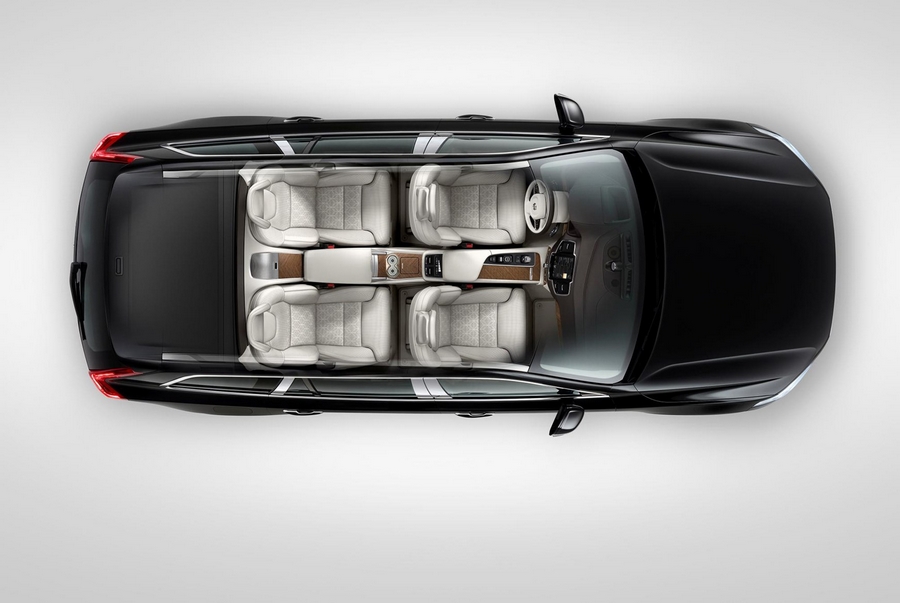 The XC90 Excellence is based on Volvo's all new XC90 sports utility vehicle, but the similarity ends there. The XC90 Excellence has just four seats compared to the original's seven, creating an enormous amount of additional space for rear seat passengers that helps to deliver an exceptional customer experience.
This space is utilised to offer a First Class automotive experience that begins with broad, spacious individual reclining rear seats complete with massage, ventilation and increased leg room, as well as a retractable control touchscreen, folding tables, a refrigerator with bottle and glass holders, a heating/cooling cup holder and handmade crystal glasses from leading Swedish glass design company, Orrefors.
"What we have designed is amongst the best rear seat experiences available in a luxury car," said Ingenlath. "The result is a superlative environment for relaxed comfort or doing business."
The XC90 Excellence offers its passengers footrests, ambient lighting, illuminated storage and unique leather detailing in blond or charcoal, a luggage compartment dividing screen, additional sound insulation in the cabin and Pirelli Noise Cancelling System tyres (PNCS).
The passengers will also enjoy a specially-augmented Bowers & Wilkins audio system that adds an extra speaker to its 19 speaker system.
Reinforcing the Swedish love of fresh air, the XC90 Excellence also comes with an integrated ionic air cleaner in the CleanZone climate system. The ionic air cleaner works by positively charging electrons in airborne particles (dust or smoke for example) so they are removed from suspension in the cabin environment.