Season of Impressionists is a sunflower-themed afternoon tea inspired by the works of Post-Impressionist Dutch painter, Vincent van Gogh.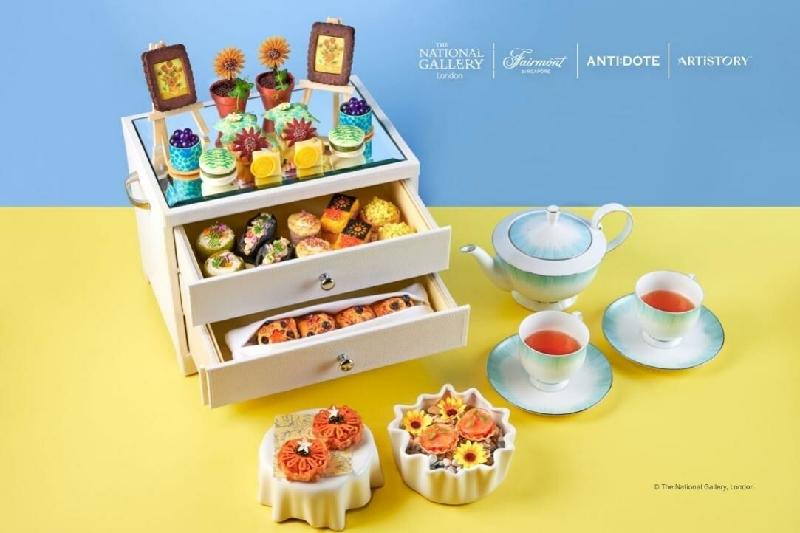 Season of Impressionists is the first in a four-part series of art inspired afternoon teas imagined by ARTiSTORY for Fairmont Singapore in partnership with the National Gallery, London.
Season of Impressionists Afternoon Tea is a feast both for the eyes and the palate, with delightfully innovative culinary creations inspired by one of Van Gogh's most notable works: Sunflowers, created in 1888. Executive Pastry Chef Yong Ming Choong and Senior Sous Chef Jacky Lai have reimagined this famed masterpiece as food art with a series of delectable treats in the form of sunflowers, which can be enjoyed with a specially-created cocktail and mocktail amid the chic surrounds of Anti:dote.
Fairmont Singapore and ARTiSTORY brought a unique afternoon tea experience to Singapore guests with the sunflower-themed afternoon tea. Guests are able to sense the gallery's artefacts through the food and exquisite restaurant decoration, while also providing inspiration to the F&B industry for a greater and more distinctive dining experience.
This collaboration is giving Fairmont Singapore already popular Afternoon Tea at Anti:dote an artistic spin, to provide guests with an even more engaging and memorable experience.
"We are so excited about working with Fairmont Singapore and extending the brand reach of the National Gallery, London. The designs and inspiration for the food and beverage offered are world-class which ties into the quality and provenance of our amazing western European art collection based here in Trafalgar Square, London, England." said Judith Mather, Brand Licensing Director at the National Gallery, London.
During the afternoon tea, guests can look forward to a picture-perfect setting, designed for them to feel as if they were part of Van Gogh's painting. Diners are seated among a collection of sunflower-themed ornaments, assorted fresh sunflowers, and a framed replica of the masterpiece. There is also an interactive photo opportunity set up with props, inviting guests to capture the moment while they indulge in this artistic dining experience.