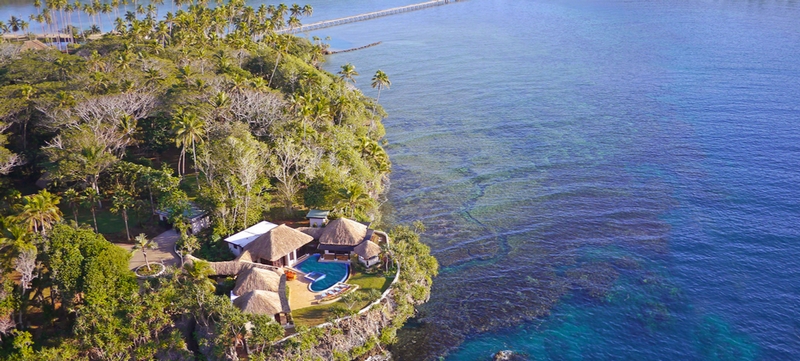 Fiji is one of the very few countries in the South Pacific Islands that allows foreigners to own property, including the ownership of freehold real estate. Even so, more than 91% of Fijian real estate is held in "leasehold," meaning that purchasers never truly hold free and clear title to a given property, but instead lease it over the course of a very long term. All of the properties on Wavi Island, however, offer freehold title and unencumbered ownership, giving prospective buyers peace of mind in their Fijian property investment.
Although setting foot on Wavi feels like being transported worlds away from the hustle and bustle of civilization, the island is in fact quite accessible. It is connected to Vanua Levu – Fiji's second largest island – by a private, 450-meter bridge.
Platinum Luxury Auctions, a specialized auction firm focusing on the sale of high-end properties around the globe, has announced two upcoming auctions in Fiji that offer buyers the opportunity to own a slice of an ultra-exclusive island in the South Pacific. Known as Wavi Island, the 27-acre retreat features only twenty oceanfront lots, ranging in size from one-half to one full acre.
The island's "Signature Villa" will be sold to the highest bidder without reserve. The oceanfront Villa was recently asking $2.9 million. Immediately following the sale of the Villa, Wavi's nineteen remaining oceanfront lots will be offered for sale as part of a "high bidder's choice" auction, in which the highest bidder of each round of bids will choose his desired lot from the available inventory. The lots were previously for sale at prices ranging from $1 million to $1.89 million each.
"What strikes me about Wavi Island is the truly dynamic nature of the asset," said David Enriquez, Platinum's Vice President of Operations. "The Villa caters to those seeking an immediate retreat, while the various lots offer plenty of options for those who love brand new construction. And of course, for the individual who wants his own private island, Wavi can be sold as one entire unit."
The Signature Villa was completed in 2012 to serve as Wavi's showcase or "model" property. The 3,000-square-foot residence offers 3 spacious bedrooms, 3 full and 3 half baths. Although very plush by modern standards, the Villa also remains true to traditional Fijian design elements such as high-pitched rooflines and beams wrapped in magimagi, a strong fiber made from coconut husks that is used to hold joints and beams in place (or in many modern cases, to reinforce or simply accent the structure).
Prominent Villa features include a large master suite with covered terraces paved in teak sandstone, and a master bath with an en- suite double shower and sunken mosaic tub. Louvered bi-folds open the suite and bath to the sparkling Koro Sea and Fijian mountainscape. Additional amenities include a horizon-edge pool and wet-edge spa, large pool deck and gazebo lounge, a 3-vehicle garage, and spectacular ocean views from nearly every spot on the premises.