Delicate and precious, finely wrought and set with luminous gems… Meet the Precious Chopard collection – a lacework of intermingled creativity and emotion.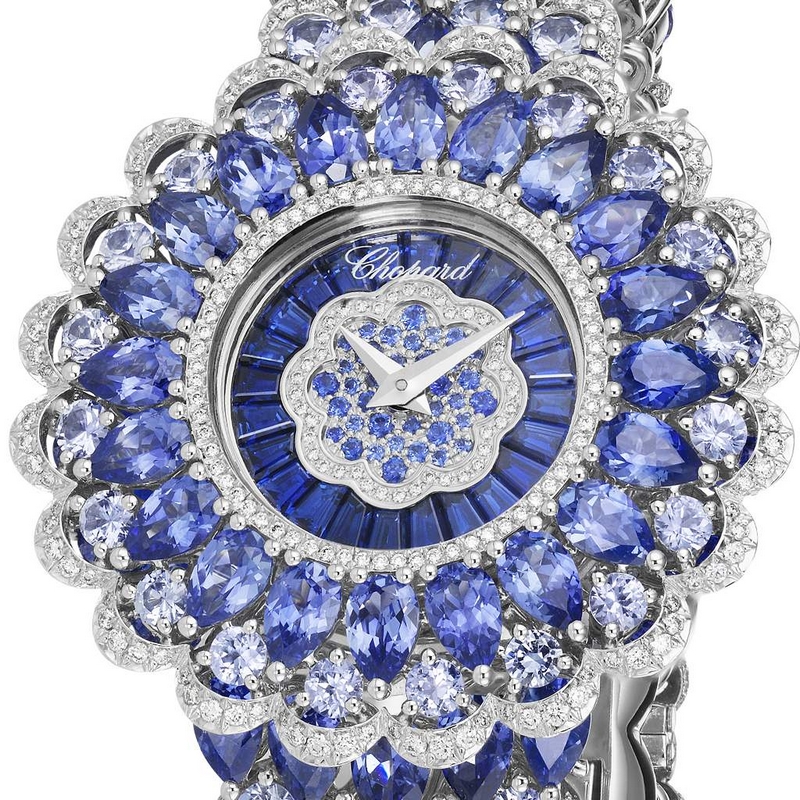 Jewellery watches along with matching necklaces, earrings and rings compose the Precious Chopard collection which is as refined as it is spectacular. Just as Haute Couture utilizes only exceptional fabrics, giving life to this collection naturally called for the most beautiful stones.
The watches are set with pear-shaped and brilliant-cut diamonds, sapphires, emeralds and rubies. On their dials, matching baguette-cut gems surround a dainty corolla evoking a floral motif using the snow-setting technique. The models are fitted with bracelets extending this jewellery lacework
theme, or with brightly coloured brushed fabric straps. The earrings and rings reflect the subtle curves of the watch, while the necklaces are graced with delicately openworked, interlacing motifs.
"Imbued with the graceful charm of a blooming corolla and the joyful flurry of a whirling tutu, the Precious Chopard collection appears to have escaped from a dream ballet for which we have created the jewellery and a great couturier has designed the costumes," Chopard describes the inspiration
behind the Haute Joaillerie collection.
The spectacular watch is set with pear-cut blue sapphires, brilliant-cut pastel sapphires and white diamonds, composing a subtle and airy lacework pattern. On the dial, baguette-cut sapphires surround a dainty corolla.
The watch bracelet picks up this ornamental jewellery lacework theme and the model is also available with a satin strap. The earrings and the ring are graced with the same delicate curves, finely adorned with a lacy pattern of pear-cut sapphires and hemmed with diamonds, while the ring is crowned by a brilliant-cut central blue sapphire.