Wraith luxury sports coupe debuts at Harrods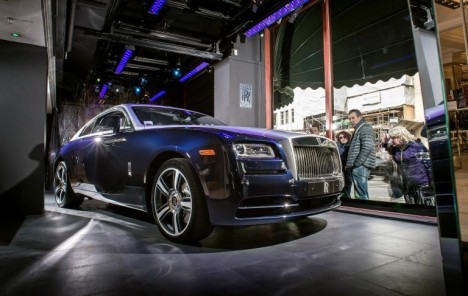 €245,000 Rolls-Royce Wraith, the sportiest car to be built by the British manufacturer, debuted in Harrods Window. The new luxury sports coupe will be on show in London's iconic Knightsbridge department store Harrods until May 4.
At launch in Geneva this March, Torsten Müller-Ötvös, CEO Rolls- Royce Motor Cars, remarked that "Wraith promises the sense of adventure and speed that drove our founding forefather. But of course, Wraith's starting point is luxury, refinement and quality, traits that remain as important to Rolls-Royce customers today as they were more than a century ago."
It is these traits of luxury, refinement and quality that made Harrods the natural choice for Wraith's UK debut, announced the company.
The Wraith on display features Midnight Sapphire paintwork with an upper two-tone in Cassiopeia Silver, accentuating Wraith's purposeful fastback profile.
The interior is finished with an Arctic White and Navy Blue leather scheme, with intertwined RRs embroidered in the headrests in Navy and, unique for this model, the striking new Canadel Panelling in Santos Palisander. Completing this spectacular interior is a starlight headliner, casting a glow from hundreds of individual 'stars' in the roof lining at the press of a button.