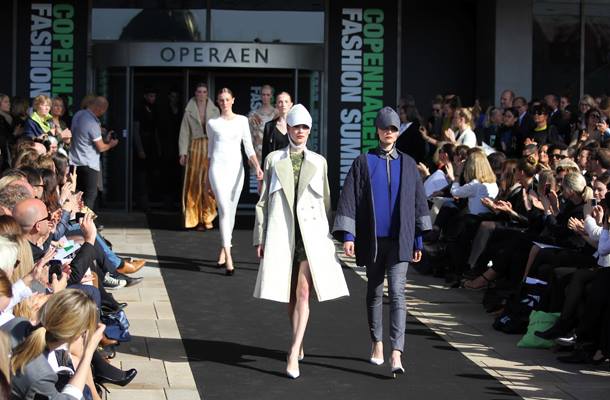 French multinational luxury giant Kering (Gucci, Boucheron, Brioni, Stella McCartney) has been recognised as one of the "greenest" companies worldwide by Newsweek Magazine's Green Rankings, coming in fourth position in the overall Global 500 list and as top-ranked in consumer discretionary companies* within the Global 500.
Kering's inclusion in the 2014 Newsweek Green Rankings is based on the evaluation of the Group's environmental performance for 2012 with eight key performance indicators (KPIs) assessed including energy, greenhouse gas, water, waste, company reputation, remuneration linked to sustainability, third party auditing, and the extent to which internal governance is geared towards sustainability.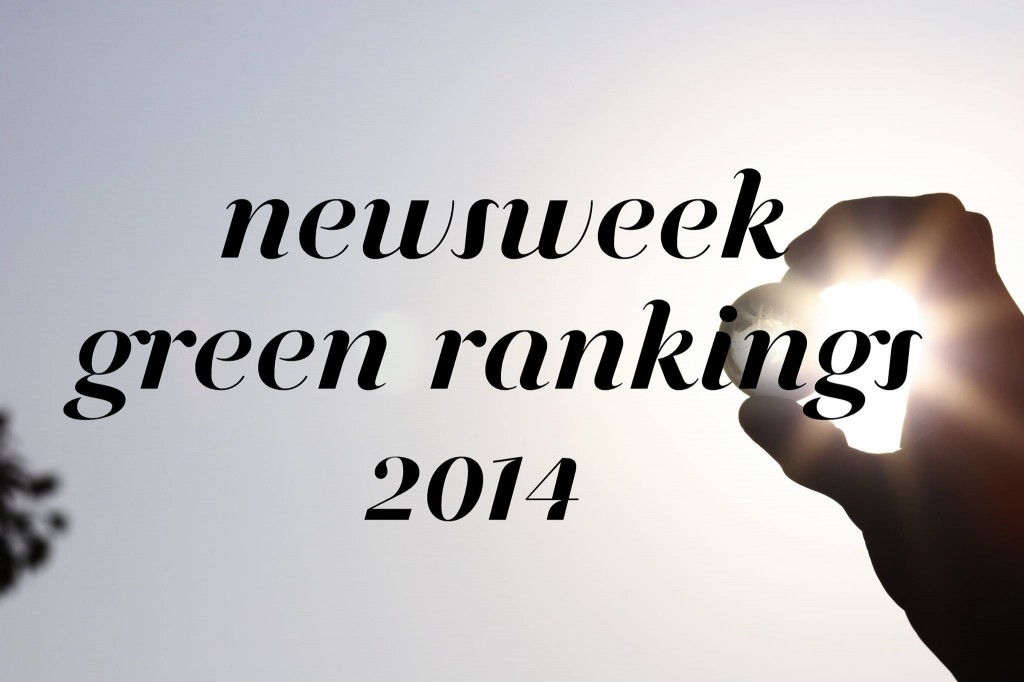 "It is an honour to be recognised in the Newsweek Green Rankings," said Marie-Claire Daveu, Chief Sustainability Officer and Head of international institutional affairs of Kering. "The Newsweek Green Rankings is viewed as prestigious amongst our peers and stakeholders and this level of recognition encourages us to continue our efforts to enhance the sustainability of our business."
The 2014 Newsweek Green Rankings is the result of a comprehensive research process undertaken by Corporate Knights Capital and peer-reviewed by a panel of experts, and ranks the 500 largest publicly-traded companies in the United States (the U.S. 500) and the 500 largest publicly-traded companies globally (the Global 500) on overall environmental performance. The 2014 Rankings measures the environmental performance of large public companies using eight clearly defined KPIs and a company's overall score is a weighted average of their eight KPI scores as outlined in the ranking methodology.
Kering's worldwide brand portfolio (luxury, sport & lifestyle divisions) includes brands like Alexander McQueen, Balenciaga, Bottega Veneta, Boucheron, Brioni, Christopher Kane, Girard- Perregaux, Gucci, Pomellato,,Qeelin, Saint Laurent Paris, Sergio Rossi, Stella McCartney, Tomas Maier, Puma, Volcom, Cobra, and Puma Sport.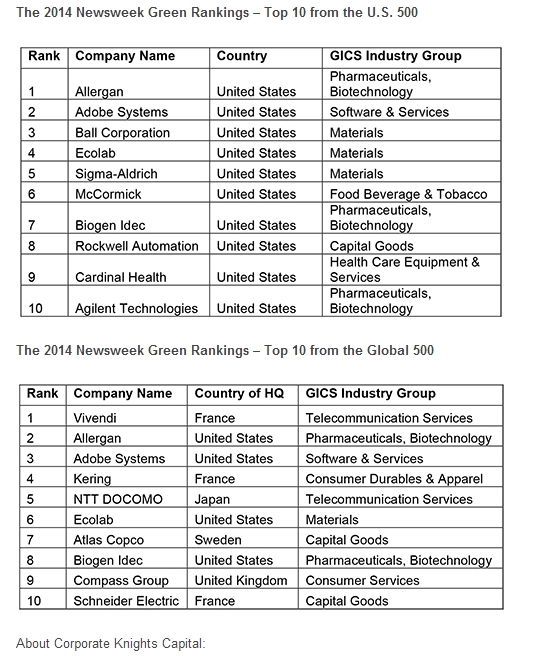 The top-ranked company on the U.S. 500 was Allergan, the California-based pharma company best known as the world's largest producer of Botox. Widely recognized as a corporate environmental leader, Allergan began formulating an environmental strategy more than 20 years ago, with recent efforts focused on innovative waste management initiatives and energy efficiency projects.
Vivendi, the French media and telecommunications giant, was the top ranked company on the Global 500. Vivendi's strong showing in the ranking was influenced by the company's comprehensive renewable energy strategy and efforts to tie the remuneration of its senior executives to corporate environmental performance targets.
"The Newsweek Green Rankings show which companies stand out from their industry peers on an increasingly important suite of performance metrics," said Toby Heaps, CEO of Corporate Knights Capital. "The ranking offers unique insights about how the world's largest companies are positioned around a wide variety of material themes, including climate change, rising energy costs and water scarcity."
"What we're seeing more and more is a direct link between corporate sustainability, reputation, and financial success," said Elijah Wolfson, senior editor at Newsweek. "Many of the world's largest public companies have begun to recognize that in order to be successful moving forward, they need to openly account for their environmental impact. The goal of Newsweek's Green Rankings is to add to and push for this type of accountability."
In addition to uncovering sharp differences in environmental performance both within and among industries, the project found that a majority of the world's largest companies are now disclosing environmental data to the market.
Notably, over 75% of the Global 500 and 60% of the U.S. 500 now disclose data on their carbon emissions to investors. This compares to almost no disclosure a decade ago.
"The upward tick in environmental disclosure identified in this project is a well-documented macro trend," said Heaps. "We believe this reflects growing pressure for expanded corporate reporting from investor groups and the growing number of jurisdictions that require environmental disclosure.