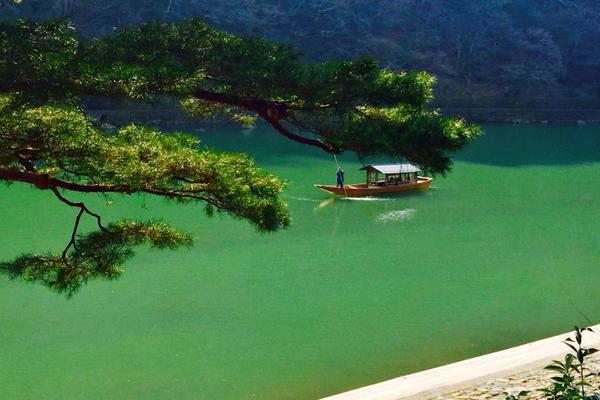 Starwood Hotels & Resorts debuted its first Luxury Collection Hotel in Japan. Suiran is offering the brand's signature Luxury Collection Concierge service and indigenous experiences in Kyoto.
Located in the Arashiyama district in the western part of Kyoto, Suiran is situated on the riverside with sweeping views of the Arashiyama hills, a National Historic Site, and Place of Scenic Beauty, which is home to the famed Bamboo Grove. The residential hotel occupies part of the grounds of Tenryuji Temple, a World Heritage site that formerly housed "Rantei," a well-known traditional Japanese ryokan from the 1960s long used by the Japanese government to entertain honorable guests.
Suiran features 39 guestrooms, inspired by traditional ryokan-style accommodations, ranging from 500 to 1,000 square feet. Each room is designed to feature traditional motifs and culturally significant hues, while offering natural vistas each season: from the dramatic cherry blossoms in Spring and the lush verdure in Summer, to Autumn's bright tapestry of leaves and silvery blankets of snow in Winter.
Suiran also offers two private treatment rooms equipped with a Japanese-style open-air bath as well as the option for in-room treatments. Guests can enjoy traditional Japanese-style treatments, including SEIRAN, a body massage with tea seed oil, scrub with green tea and facial treatment with jade stones and collagen mask.
"The debut of Suiran marks a significant milestone for The Luxury Collection brand in Japan," said Meredith Dichter, Global Brand Director, The Luxury Collection Hotels & Resorts. "Kyoto, a city shaped by rich traditions, coveted treasures and storied history, is the perfect destination to debut the brand to our most discerning global guests."
Suiran has preserved elements of its esteemed past, including two original structures, "Enmei-kaku," which was built in 1899, and "Hasshoken," constructed in 1910, which have undergone extensive restoration and now house the hotel's restaurant, Kyo Suiran, and café, Saryo Hassui.