It's Cheese. It contains Real Gold And it costs £60 per slice
Stilton Gold Cheese for the 100th birthday of the award-winning cheese maker Long Clawson
Long Clawson Dairy (founded in 1911) was looking for an innovative way to celebrate its 100th birthday.  In 2011 the company won several International Cheese awards. In September, the dairy entered the Guinness Book of Records for making the biggest cheese in the world – a 150kg blue Stilton, 2ft high x 2ft wide.
But Long Clawson still wanted to do something unusual. So it took some white Stilton, a milder brother of the blue, and shot it through with a combination of gold leaf and gold liqueur. The result is a cheese that costs £608 a kilo, one of the most expensive cheese in Europe. Stilton Gold is beaten on price by Serbian Pule cheese – €1,000 a kilo, a cheese made with the milk of donkeys.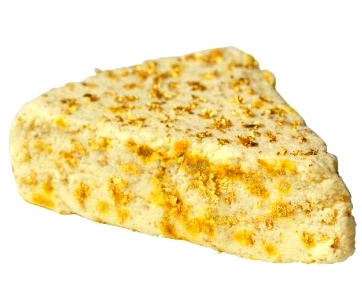 Long Clawson Stilton Gold is made from premium white Stilton, and is shot-through with a combination of real edible gold leaf,and  real gold-Cinnamon Schapps .  It is in short supply  as only a limited amount will be made for the run up to the Festive Season.
Here are some Stilton recipes.
[adsenseyu1]