The third part of the trilogy Pen of the Year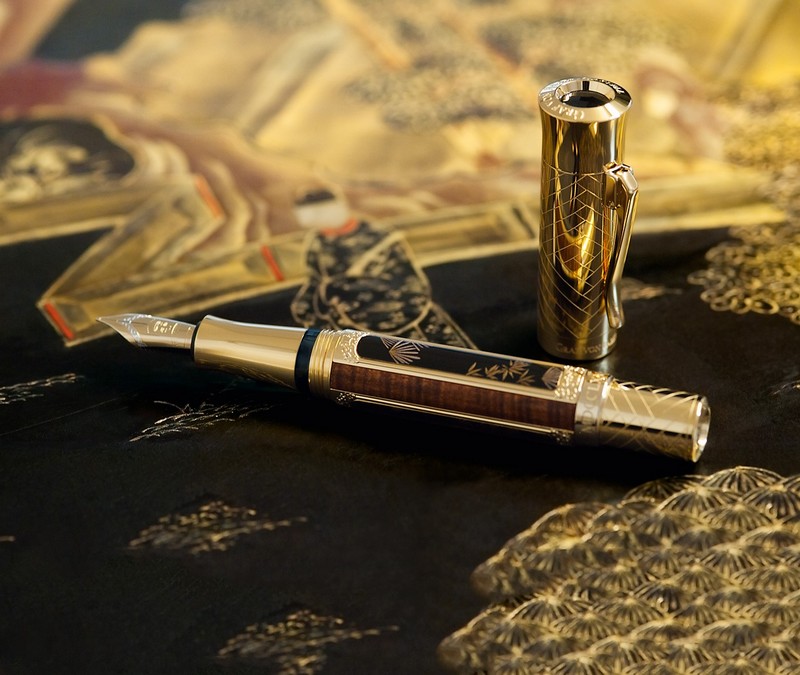 Lacquer art and the Vieux-Laque Room in Schönbrunn Palace ignited in Graf Von Faber-Castell the desire to translate this craftsmanship perfected over thousands of years into a pen. This is how "Schloss Schönbrunn, Vienna Pen of the Year 2016" was born.
The Pen of the Year Edition has carved out a special position for itself in the world of finewriting culture. The design is inspired by epoch-making works and personalities. After Catherine the Great with "Catherine Palace in St. Petersburg" and Frederick the Great with
"Sanssouci, Potsdam", the trilogy is now complete with Empress Maria Theresa with"Schönbrunn Palace, Vienna".
Black, masterly-painted lacquer panels placed in panelling made from flamed maple and set with a gilded frame have adorned the Vieux-Laque Room in Schönbrunn Palace since 1770. This year's Pen of the Year limited edition is reminiscent of Austria's Empress Maria Theresa. Out of love for her late husband, she decorated this special room at Schönbrunn Palace with the lacquer panels of Chinese screens.
For the design work of the Pen of the Year 2016 we were able to win artists of their craft: the conservator of the Vieux-Laque Room Silvia Miklin and the Japanese artist Tomizo Saratani who specialises in the Maki-e technique. Working together, a motif was developed that is divided into three parts, yet comes together to make a whole. In a time-consuming process, the three plates were each painted black first, then polished and burnt by hand. The artist then draws the motif on the lacquer and sprinkles 24-carat gold powder in different tints on the drawing several times while it is still wet. This results in a relief that can still be perceived through additional protective lacquer works creating the characteristic look-and-feel of Hira Maki-e lacquer work.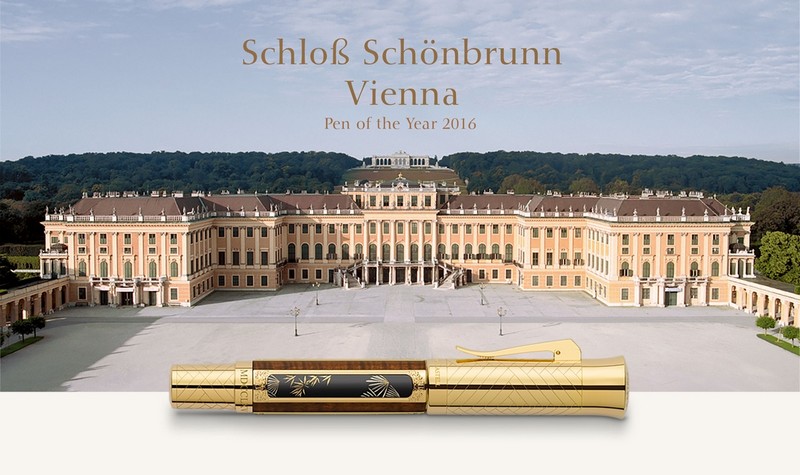 The Pen of the Year is available in both a gold-plated and platinum-plated version.
The platinum-plated variant of the Pen of the Year 2016 is also inspired by the design of the Vieux-Laque Room in a unique way. Hand-ground plates made from deep black onyx are set in elaborately created, platinum-plated frames contrasting with individually grained flamed maple. The platinum-plated fountain pen is limited to 500 units, the rollerball pen to 150. The special edition is limited to 120 fountain pens and 50 rollerball pens. The individually numbered luxury writing instruments are kept in a polished, black wooden case. It includes a
certificate personally signed by the master craftsman of the gemstone manufactory Herbert Stephan in Idar Oberstein attesting to the authenticity of the onyx used. Artist Tomizo Saratani also attested to the painting with 24-carat gold.