#FerragamoCapsule: Sara Battaglia for Salvatore Ferragamo.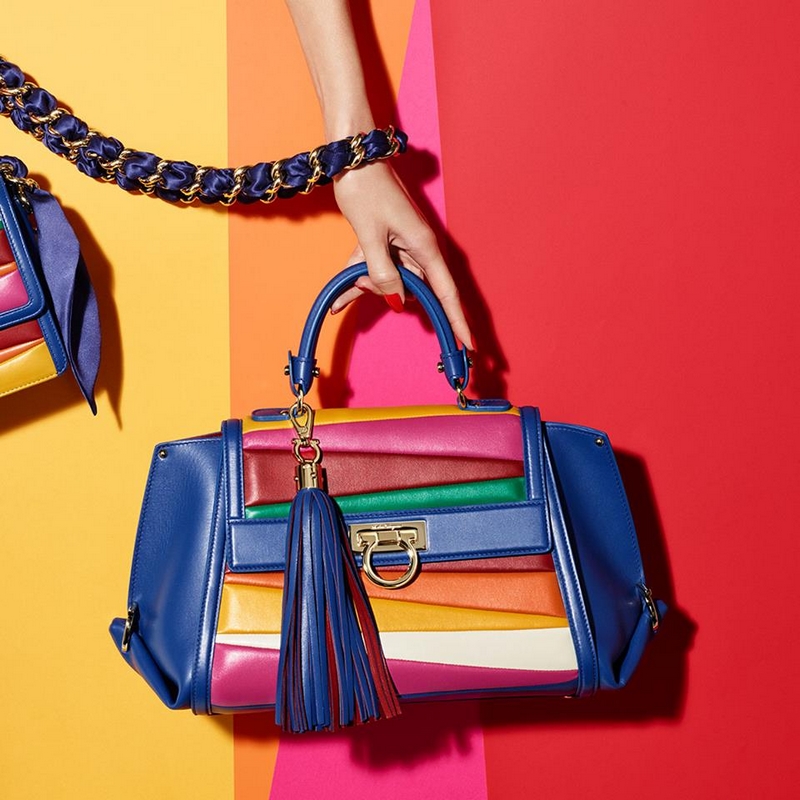 Mixing unconventional with complex craftsmanship, the new "Sara Battaglia for Salvatore Ferragamo" collection evokes the inherently Italian notion of Lo splendore della Vita, the Splendor Of Life.
The Italian luxury fashion House celebrates its founder with the launch of a women's capsule leather goods collection in collaboration with Italian designer of high-quality, luxury bags and luggage items Sara Battaglia. The collection, entitled "Sara Battaglia for Salvatore Ferragamo," highlights "the House's commitment to promoting new talent, while honoring the legacy of Salvatore's unique life and restless creativity."
Far more than an exterior sign of style, in Sara Battaglia's vision handbags are, above all, an exaltation of the female form; essential staples which not only complement the womens' look but also highlight their charm and grace.
The Day bags feature woven silk scarf detailing throughout while bold evening clutches in metallic and rainbow are finished with brass and lacquer.
Consisting of four different handbag styles in an assortment of sizes, as well as a wallet, notebook, pouch, key chain and belt, the collection effortlessly updates the quality, color, humor, Italian spirit and groundbreaking mix of materials that have long been recognized as Ferragamo hallmarks.
One-of-a-kind shapes, plush leathers, graphic lifts and sophisticated symphonies of color blends are exquisitely enhanced by luxurious hardware details that often reflect Sara's long-lasting love for brass. On top of that, fringes of different length are an authentic signature of her handbags: feminine and glamorous accents, swinging and floating around the silhouette for a refined yet seductive statement.