Rolls-Royce celebrates the Art Deco era with highly bespoke Phantom Saloon, Phantom Drophead Coupé and Ghost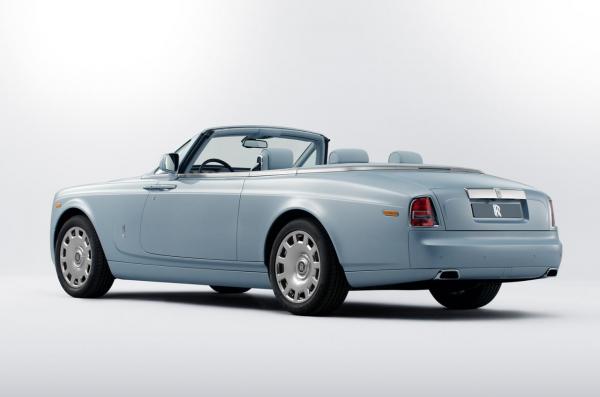 Hand-fashioned stainless steel inlays in telephone drawer, door cappings, geometric coachline pattern, wood veneers adorned with mother of pearl or silver inlays and rear picnic table backs subtly evoke the decorative style of the Art Deco era, celebrated with new Rolls-Royce Bespoke Phantom Saloon and Ghost family cars unveiled at the last Paris Auto Show.
The highly bespoke Phantom Saloon, Phantom Drophead Coupé and Ghost models were unveiled at the Paris Motor Show
2012, in homage to the 1925 Paris Exhibition or Exposition Internationale des Arts Décoratifs et Industriels
Modernes that gave the movement its name.
"In Paris we have elegantly captured the essence of one of the great periods in 20th century design," said Torsten Müller-Ötvös, Chief Executive Rolls-Royce Motor Cars. "These Art Deco-inspired motor cars stand as a testament to the breadth of the Rolls-Royce bespoke offering, reinforcing the marque's position as the world's leading manufacturer of luxury goods."
For Phantom fans, exterior colours will be offered in infinity black, Arabian blue, powder blue or Arctic white, and feature a bespoke, twin coachline with an Art Deco motif. An illuminated Spirit of Ecstasy, hinting at ornamental glassware of the day, completes the exterior detailing. Inside Phantom's coach doors, touches like Art Deco headrest embroidery, bespoke inlays on piano black veneer and tread plates sporting Art Deco motif further reference the style of the period.
Ghost Art Deco collection cars are finished in either infinity black or arctic white with dual bespoke coach line and illuminated Spirit of Ecstasy. Interior styling includes handcrafted Art Deco inlays, as well as Olympia- inspired motif on tread plates and headrest embroidery. A black and white interior scheme featuring a choice of four seat piping colours takes inspiration from the colour palette of the era.
"For over a century a Rolls-Royce motor car has taken inspiration from the prevailing style of its time whilst retaining the marque's unique design aesthetic," added Giles Taylor, Design Director Rolls-Royce Motor Cars. "Art Deco was defined by theatre, glamour and a sense of excitement. Working to create contemporary interpretations of these classic themes has been enormously rewarding for everyone in my bespoke design team."