The vibrancy of Porto Cervo, captured through Rolls-Royce Bespoke.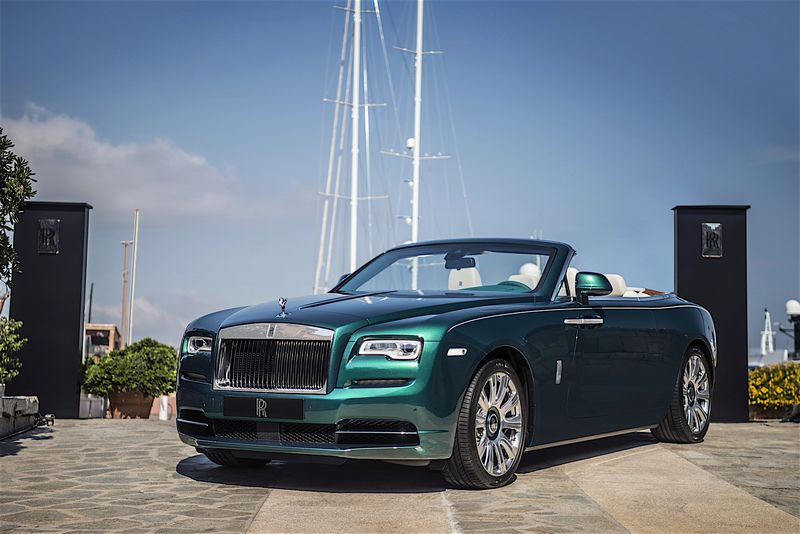 The Costa Smeralda is an abundant source of inspiration for artisans the world over. For Roll-Royce, Porto Cervo is one the world's most exclusive enclaves and home to Rolls-Royce Summer Club. To celebrate the vibrancy of the destination, Rolls-Royce unveiled emerald embellished Dawn and Wraith inspired by Costa Smerelda.
Themed from 'Dusk until Dawn,' bespoke Rolls-Royces became a way to capture a slice of media and public attention. Let's take a look at the latest creation from British artisans.
The ambient hues of dusk are imbued on the bespoke Wraith. A two-tone silver exterior reflects the dimming of the day's light, whilst a purple feature line hints at the interior mood of this ultra luxurious vehicle. The mysterious aura of Costa Smeralda's twilight is depicted using shades of blue, purple, slate and black, bestowing the feeling of calm as night falls.
Dawn has been specified to capture the vibrancy and vivid colour of the Porto Cervo seascape. A unique emerald green exterior is offset against a distinct seashell and green leather interior. Open-pore teak encapsulates the occupants, alluding to the elegant sensation of a marine sojourn. A Bespoke teak boot floor mat has been created for the luggage compartment, continuing the nautical theme.
At the heart of this unique motor car lies art within art; 1.4 carats of precious emeralds and mother of pearl are set into white gold and presented on the fascia as a timeless memory of the beguiling island. As a brooch adorns a gown, so the jewels complete the visual harmony of this exquisite motor car. Set in the shape of the emblem of Portocervo, the occupants are reminded of the magical island from which the spirit of this motor car originated.
London-based tattoo artist Mo Coppoletta signed two leather Rolls-Royce headrests – resulting in tattooed works of art which presented alongside the Dusk until Dawn configuration in The Summer Studio Porto Cervo (the Summer Studio will be open until September 2016.)
"The colours and atmosphere of Portocervo are truly inspiring. The designs I have created for Rolls- Royce evoke the emotion experienced by observing this magical place from the harbour of Promenade du Port," explained Coppoletta.