They say all good things come in threes. The Macallan released not one, but two stunning new whiskies, Reflexion and No.6.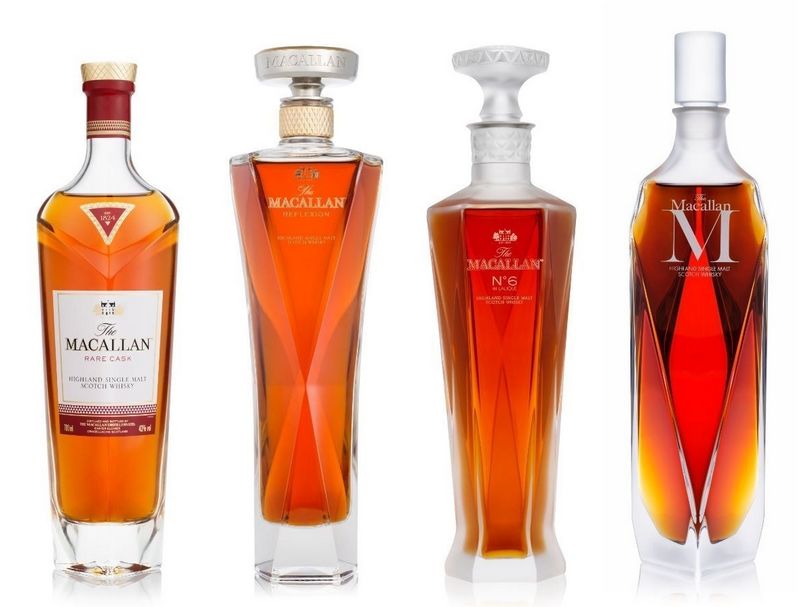 Wood sits at the very heart of what Macallan does. The Macallan 1824 Masters Series is increasing in scarcity and rarity through each expression. Reflexion And No.6, the latest addition in the exclusive luxury range, further demonstrates the vital role of Macallan's casks in the production of the whiskies.
ll of the whiskies in the The Macallan 1824 Masters Series range are painstakingly hand selected by The Macallan's Master Whisky Maker, Bob Dalgarno. First-fill, 100% sherry-seasoned casks showcase the beautiful spectrum of the 100% natural color in The Macallan, bringing to life the interaction of the peerless spirit and exceptional oak casks.
Named to commemorate the year The Macallan was established, the 1824 Masters Series celebrates whiskies that are increasingly darker and richer in flavor as one progresses up through the range. With each expression, the whisky complexity increases, as does its hue of natural color, as well as the intricacy of the decanter. The desire to celebrate the peerless spirit and the whiskies' natural colors is evident in the exquisite style of each decanter, custom designed to better display each individual hue. Inspiration is also taken from The Macallan's iconic triangle with light-reflecting angular facets and asymmetrical influences.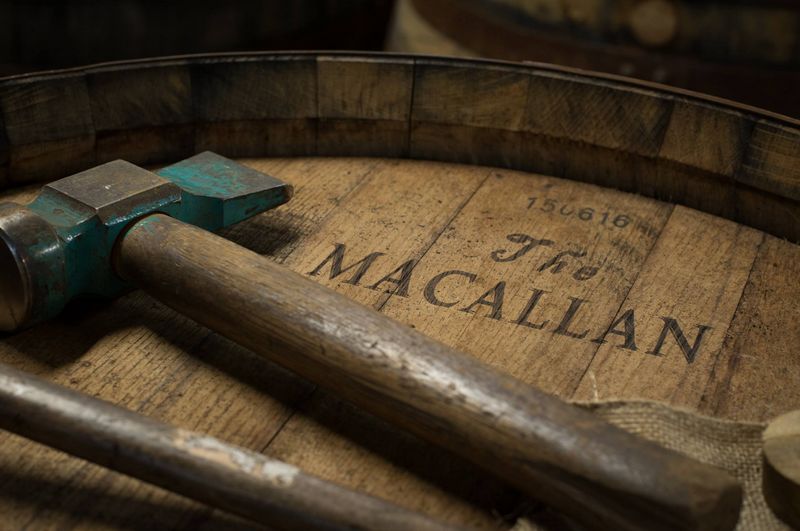 "The 1824 Masters Series has been an extremely exciting ongoing development for The Macallan. The stunning designs and overall imprint of this collection are not only worthy of some of our most complex and precious single malt whiskies but, they celebrate the very foundations that make The Macallan so special – our glorious range of natural color and the outstanding quality of our sherry casks," commented Raul Gonzalez, VP of The Macallan (Edrington Americas).
The Macallan's Master of Wood, Stuart MacPherson, notes: "Our commitment to sherry seasoned oak casks is unquestionable and the 1824 Masters Series showcases The Macallan at its very best."
In honor of the holiday, the range, which previously featured Rare Cask (43% ABV, RRP $300) and M (44.7% ABV, RRP $5,000) in the United States, is now joined by Reflexion (43% ABV, RRP $1,400) and No. 6 (43% ABV, RRP $4,000), all of which contain some of the finest single malt whiskies released by the distillery. These striking decanters, each one magnificent in status and appearance, carry whisky connoisseurs through the range starting with Rare to the crescendo of M, the halo of the entire series and the world's most valuable whisky.
No.6 brings together two Masters, our whisky maker and masters of crystal, Lalique, to create a piece of timeless elegance. The angular decanter with six facets holds a complex single malt using only first fill Spanish sherry seasoned oak casks. Heavy and sumptuous, No. 6 tastes like a rich fruit cake with raisin, dates and figs before offering silky smooth oaky notes and boasts a rich dark walnut colour.