Golden Neptune Trophies: Ngoni awarded "2018 Best Naval Architecture – Sailing Yachts" and Best Exterior Styling at 2018 Boat International Design & Innovation Awards. See all the 2018 winners here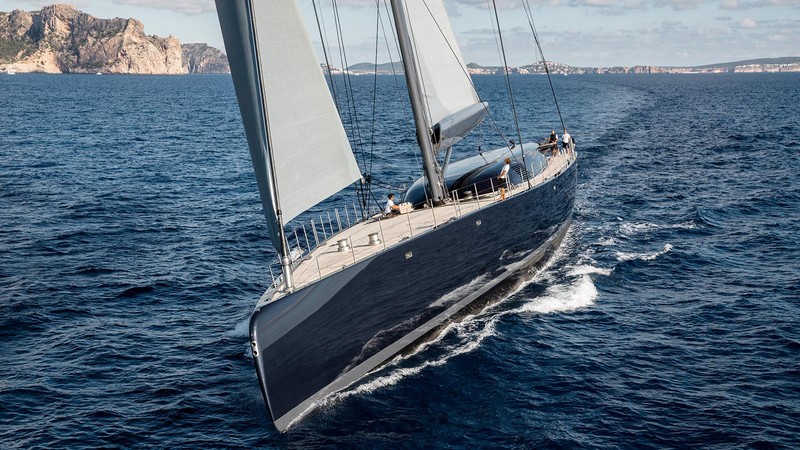 Royal Huisman's Ngoni is taking two awards for her exterior styling and naval architecture.
NGONI the 58m luxury yacht, built in Netherlands by Royal Huisman and delivered in 2017, won top honors at 2018 Boat International Design & Innovation Awards presented of the 28th of January at the K3 KitzKongress in Kitzbühel in Austria. 19 Golden Neptune awards were awarded for innovations in efficiency and performance.
NGONI top speed is 17.5kn. She can accommodate up to 8 people. Designed by Ed Dubois (1952-2016) and featuring an innovative interior by Rick Baker, Ngoni is luxurious as well as "fast and furious".
"Build me a beast. Don't build me a wolf in sheep's clothing." Yacht building folklore may now have one of the most quotable owner's  requests of all time. "Exciting", "Radical", "Edgy", "Stunning": these are the kind of words that greeted the 58m / 190ft high-performance  sloop Ngoni throughout the Mediterranean in summer 2017," said the Royal Huisman shipyard.
The naval architects who lead the judges' discussion on this category said they felt like they were splitting hairs to choose a winner. The yachts are extremely different in appearance and brief, yet all the finalists are superb designs and each received top marks in at least one of the subcategories used to determine the winner. Ngoni pulled out the win by one point largely on the basis of innovation, complexity of the vessel, demands of the brief — including class requirements – investigation of keel and rudder options and testing of hydrodynamics. While Ribelle posted top numbers for sheer performance, as her 2017 regatta results support, the judges felt at she was an evolution of her naval architect's winning approach to performance cruisers, whereas Ngoni innovated solutions with an approach to stiffness via hull structure not seen before. Also innovative are her general arrangement and myriad design and engineering solutions for managing this sloop's tremendous sail power.
"Plenty of glass panelling along the hull and opening bulwarks push the boundaries of design, while the hull form uses a concave sheer for stiffness without sacrificing lightweight performance and handling – and it was this innovative use of materials that won her the title of best naval architecture for sailing yachts," commented charterworld.
images: royal huisman