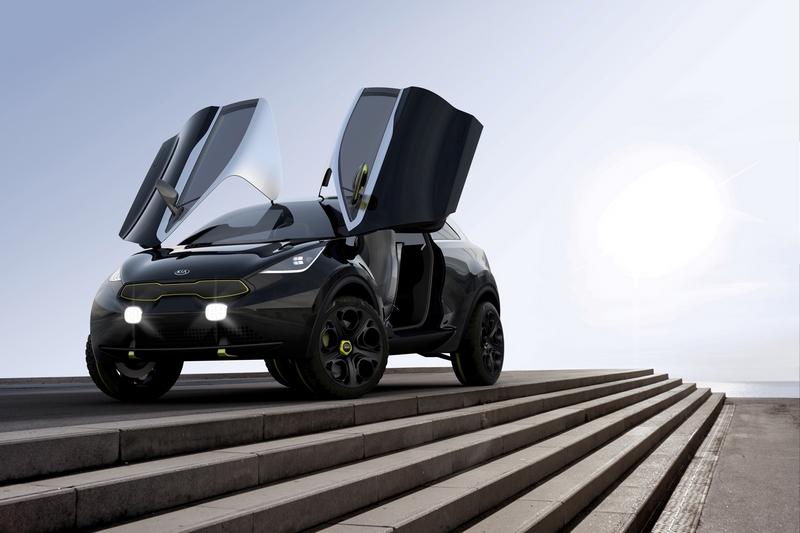 Kia's dramatic and modern Niro urban lifestyle concept vehicle, which was unveiled last September at the Frankfurt Motor Show, made its U.S. debut at the 2014 Chicago Auto Show. The Niro hints at a possible future B-segment contender ready to take on the city environment with style and fun-to-drive attitude, featuring a mix of contrasting materials and compact, purposeful dimensions. The rally raid-like Niro also expands on Kia's alternative propulsion story with its hybrid electric powertrain working through an advanced four-wheel drive system.
Born out of Kia's ambition to seek new automotive solutions for the discerning and individualistic, the Niro features intriguing elements not often associated with smaller cars. Conceived at Kia's Frankfurt, Germany, design studio, the Niro displays an athletic stance that promises a readiness for action and a flare for adventure.
"Ten years ago people wanted understated style in the SUV market, but increasingly, as more people migrate to the B- segment, they are looking for strong character and individuality," said Gregory Guillaume, Chief Designer, Kia Design Center Europe. "It may have the looks of a Dakar [Rally] contender, but Niro has a strong premium feel thanks to our innovative use of advanced and modern materials that mix brawn with spirit to deliver a playful vehicle ready to be part of anyone's active lifestyle."
Niro may be a designers' eye view of a future B-segment contender, but that doesn't mean it is a pure flight of fancy. This concept comes with a variant of Kia's turbocharged 1.6-liter 'Gamma' engine, capable of 160 smile-inducing horsepower. The engine and a seven-speed, dual-clutch transmission serve the front wheels while an electric hybrid system powered by regenerative braking delivers up to 45 horsepower to the rear wheels – when road conditions require extra grip.