Armin Strom x Master Watchmaker Kari Voutilainen
Two oscillating bodies in close proximity influence each other and eventually synchronize; this is a phenomenon of physics known as resonance. In 2016 Armin Strom introduced the Mirrored Force Resonance, a resonating dual regulator developed for maximum precision with its whole captivating mechanism on full display dial side.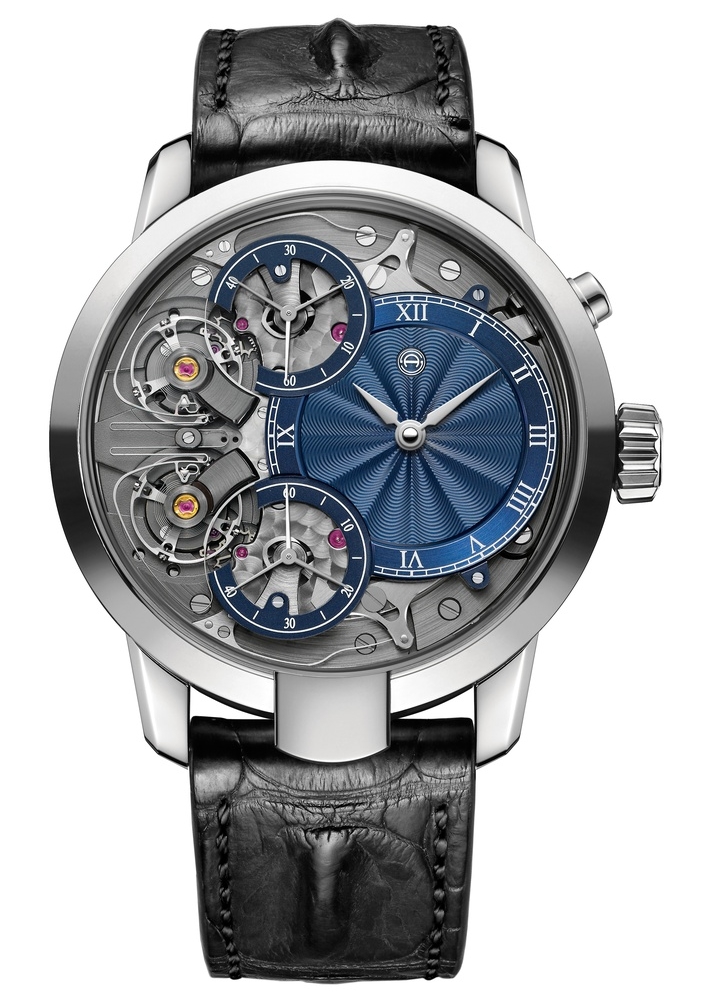 After the great success of the inaugural rose gold limited edition, followed by a visually technical stainless steel edition, ARMIN STROM's most innovative piece to date, the Mirrored Force Resonance, will now be offered to collectors with hand-executed guilloché dials, creating an outstanding synthesis of tradition and innovation – two values dear to the brand. New handmade guilloché dials for the Mirrored Force Resonance Armin Strom makes an elegant return to traditional craftsmanship, with the introduction of exclusive guilloché dials.
Creating a striking contrast with the high-tech movement, the guilloché dials will be available in multiple colors (blue, black, anthracite, red or bi-color), and in several different pattern options (sun-ray, concentric waves or barley corn), depending on the client's wishes.
To ensure the best visual result and the highest level of quality, Armin Strom has teamed up with Master Watchmaker Kari Voutilainen for the creation of these guilloché dials. They are manufactured in his Môtiers-based workshop, on century-old engine-turning lathes, which can only be controlled by hand.
"The intricate patterns, obtained by chiseling a smooth metallic plate with extreme precision and care, are true pieces of art, reflective of the craftsmen's skills and virtuosity. Considering the complex production process of these guilloché dials, an extra cost of CHF 5,000 will be applied to the standard retail price of the Armin Strom Mirrored Force Resonance," announced the Swiss Watch Manufacture.

ARMIN STROM's Mirrored Force Resonance won the Red Dot Design Award 2017 for excellence in product design already for the second time.
ARMIN STROM's Mirrored Force Resonance contains more than just great mechanical design; this groundbreaking timepiece comprises an innovative, sophisticated mechanism created for the pursuit of precision in a way that has never before been seen in a wristwatch: the eminently visible animated resonance clutch spring that connects two oscillators, the most sensitive part of a watch's movement. Thus, the top of the movement becomes a stage for the stars of the timekeeping show underneath a transparent dome of scratch-resistant sapphire crystal, putting the fascinating functionality of the oscillating balances squarely in the spotlight while simultaneously improving the watch's precision using the phenomenon of resonance.