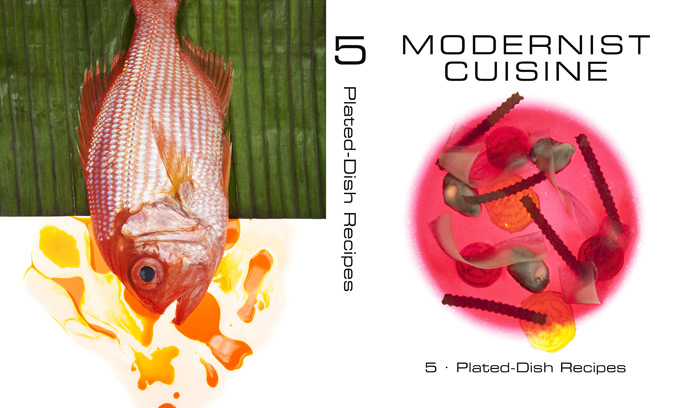 Saveur magazine, Modernist Cuisine and Los Angeles Magazine are the big winners of the 2012 James Beard Foundation Awards, known as the 'Oscars' of US culinary world.
Nathan Myhrvold's six-volume culinary encyclopedia Modernist Cuisine won the "Cooking From a Professional Point of View" category and was named the "Cookbook of the Year". Amanda Hesser's site Food52 and Darra Goldstein's Gastronomica were named Publications of the Year.
The awards are presented each spring at Avery Fisher Hall at Lincoln Center. Nominees and winners are fêted at a weekend of events in New York City that has become the social and gastronomic highlight of the year.
The annual James Beard Foundation Awards honor the best and the brightest talents in the US food and beverage industries,celebrating outstanding achievement in each of the following categories: Restaurant and Chef, Restaurant Design andGraphics, Books, Broadcast and New Media, and Journalism, as well as several special achievement awards. Eachcategory has an individual Awards Committee made up of industry professionals who volunteer their time to oversee the policies, procedures, and selection of judges for their respective Awards program. All award winners receive a certificate and a medallion engraved with the James Beard Foundation Awards insignia. There are no cash prizes.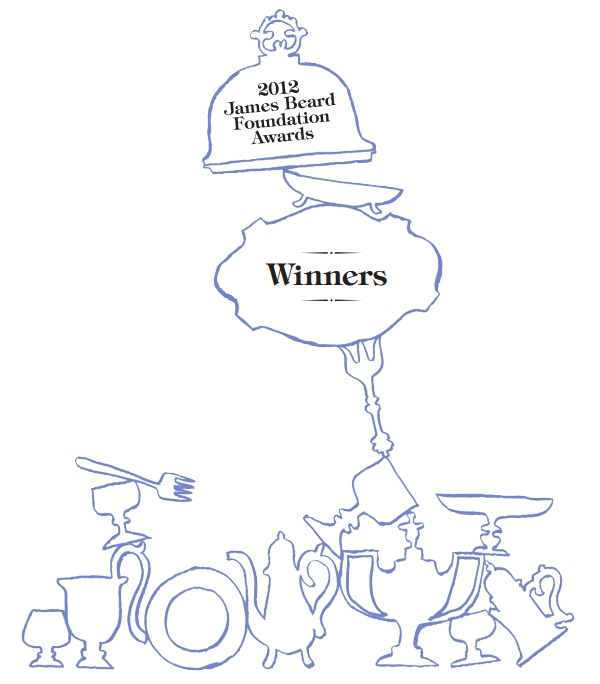 Some of the 2012 winners:
2012 James Beard Foundation Book Awards
Cookbook of the Year
Modernist Cuisine
by Nathan Myhrvold with Chris Young and Maxime Bilet
(The Cooking Lab)
Cookbook Hall of Fame
Laurie Colwin
Home Cooking and More Home Cooking
American Cooking
A New Turn in the South: Southern Flavors Reinvented for Your Kitchen
by Hugh Acheson
(Clarkson Potter)
Baking and Dessert
Jeni's Splendid Ice Creams at Home
by Jeni Britton Bauer
(Artisan)
Beverage
Bitters: A Spirited History of a Classic Cure-All,
with Cocktails, Recipes, & Formulas
by Brad Thomas Parsons
(Ten Speed Press)
Cooking from a Professional Point of View

Modernist Cuisine
by Nathan Myhrvold with Chris Young and Maxime Bilet
(The Cooking Lab)
General Cooking
Ruhlman's Twenty
by Michael Ruhlman
(Chronicle Books)
Focus on Health
Super Natural Every Day: Well-Loved Recipes from My Natural Foods Kitchen
by Heidi Swanson
(Ten Speed Press)
International
The Food of Morocco
by Paula Wolfert
(Ecco)
Photography
Notes from a Kitchen: A Journey Inside Culinary Obsession
Artist/Photographer: Jeff Scott
(Tatroux)


Reference and Scholarship

Turning the Tables: Restaurants and the Rise
of the American Middle Class, 1880–1920
by Andrew P. Haley
(The University of North Carolina Press)
Single Subject
All About Roasting
by Molly Stevens
(W.W. Norton & Company)
Writing and Literature
Blood, Bones & Butter: The Inadvertent Education of a Reluctant Chef
by Gabrielle Hamilton
(Random House)
2012 James Beard Foundation Design and Graphics Awards

Outstanding Restaurant Design
For the best restaurant design or renovation in North America since January 1, 2009
Design Firm: Bentel & Bentel Architects
Project: Le Bernardin, New York City
Outstanding Restaurant Graphics
For the best restaurant graphics executed in North America since January 1, 2009
Design Firm: Pandiscio Co.
Designer: Richard Pandiscio
Project: The Americano at Hôtel Americano, New York City
2012 James Beard Foundation Journalism Awards
Publications of the Year
Amanda Hesser and Merrill Stubbs
Food52
Darra Goldstein
Gastronomica
Cooking, Recipes, or Instruction
Anna Thomas
EatingWell
"The Soup for Life"
Environment, Food Politics, and Policy
Ben Paynter
Fast Company
"The Sweet Science"
Food Coverage in a Food-Focused Publication
Saveur
James Oseland
Food Coverage in a General-Interest Publication
Lesley Bargar Suter
Los Angeles
"Chinese Food in LA," "It's Time for Breakfast in LA," "Food Lovers Guide"
Food Culture and Travel
Fuchsia Dunlop
The Financial Times
"Global Menu: Kicking Up a Stink"
Rising Star Chef of the Year
A chef age 30 or younger who displays an impressive talent and who is likely to have a significant impact on the industry in years to come.
Christina Tosi
Momofuku Milk Bar
NYC
Outstanding Restaurant
A restaurant in the United States that serves as a national standard-bearer for consistent quality and excellence in food, atmosphere, and service. Candidates must have been in operation for at least 10 or more consecutive years.
Boulevard
San Francisco
Outstanding Chef
A working chef in America whose career has set national industry standards and who has served
as an inspiration to other food professionals. Candidates must have been working as chefs for at
least the past 5 years.

Daniel Humm
Eleven Madison Park
NYC
2012 James Beard Foundation America's Classics
The Fry Bread House
4140 North 7th Avenue, Phoenix
Owner: Cecelia Miller

Nora's Fish Creek Inn
5600 West Highway 22, Wilson, WY
Owners: Nora Tygum, Trace Tygum, and Kathryn Tygum Taylor

St. Elmo Steak House
127 South Illinois St., Indianapolis
Owners: Stephen Huse and Craig Huse

Jones Bar-B-Q Diner
219 West Louisiana St., Marianna, AR
Owners: James and Betty Jones

Shady Glen
840 East Middle Turnpike, Manchester, CT
Owners: William and Annette Hoch

2012 James Beard Foundation Who's Who of Food & Beverage in America Inductees
Grant Achatz
Chef and Author
Chicago
Mark Bittman
Journalist and Author
NYC
Dana Cowin
Editor and Journalist
NYC
Emily Luchetti
Pastry Chef and Author
San Francisco
Marvin Shanken
Publisher
NYC
2012 James Beard Foundation Lifetime Achievement Award
Wolfgang Puck
Chef and Restaurateur
Los Angeles
2012 James Beard Foundation Humanitarian of the Year
Charlie Trotter
Chef and Restaurateur
Chicago
Founded in 1986, the James Beard Foundation is dedicated to celebrating, preserving, and nurturing America's culinary heritage and diversity in order to elevate the appreciation of our culinary excellence. A cookbook author and teacher with an encyclopedic knowledge about food, James Beard, who died in 1985, was a champion of American cuisine. He helped educate and mentor generations of professional chefs and food enthusiasts. Today, the Beard Foundation continues in the same spirit by administering a number of diverse programs that include educational initiatives, food industry awards, scholarships to culinary schools, and publications, and by maintaining the historic James Beard House in New York City's Greenwich Village as a "performance space" for visiting chefs.