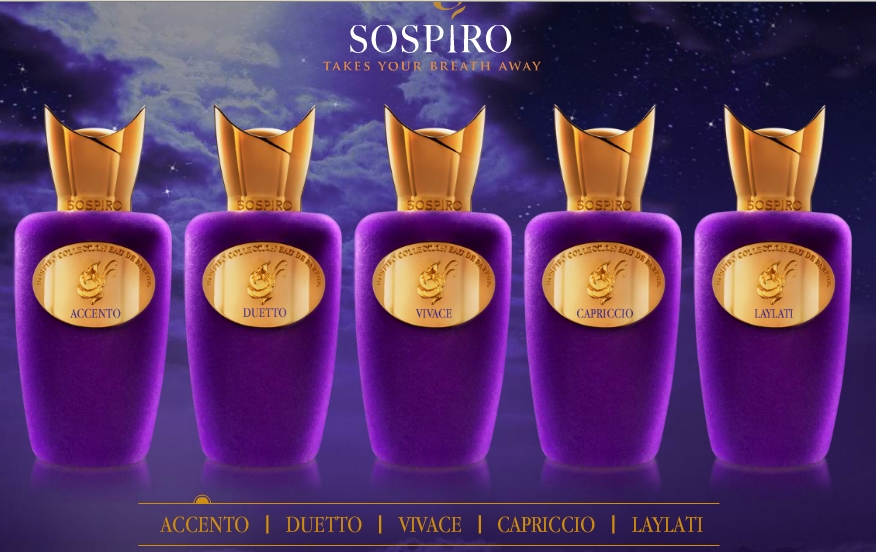 Niche perfumery Xerjoff has a new brand, named Sospiro, a luxury line of 6 perfumes all launched in 2011. Accento, Allegro, Capriccio, Duetto, Laylati and Vivace are o romantic and seductive lineup inspired by music. Watch the video announcing the compilation.
These are the description for each new Sospiro perfume:
Sospiro Accento (a woody-oriental-fresh-citrusy-fruity fragrance) – a loving embrace of arm Oriental undertones.
Sospiro Allegro (woody-sweet-smelling) – a luxurious formula of rarest elegance:  sandalwood, cashmeran, amber and oud base with top notes of bergamot, pink pepper, grapefruit and an explosion of lavender, rose and floral accords.
Sospiro Cappricio (floral-woody perfume) – this Royal Blend start with an unpredictable combination of white flowers and colorfoul fruits, bringing out a joyful and intense sensation.
Sospiro Duetto (chypre-floral fragrance) – a sophisticated dance between the finest blend of flowers and Absolut of Rose;
Sospiro Laylati (woody-sweet-smelling) – a mix of vanilla, tobacco and musk with a cedar heart.
Sospiro Vivace (woody-amber-chypre) – the energy from this scent expresses itself in a delicate Citrus-Aromatic dance, wrapped in a warm melody of precious Cashmeran & Woody notes.
[adsenseyu1]