Julia Roberts is the new face of Givenchy for the Spring/Summer 2015 collections.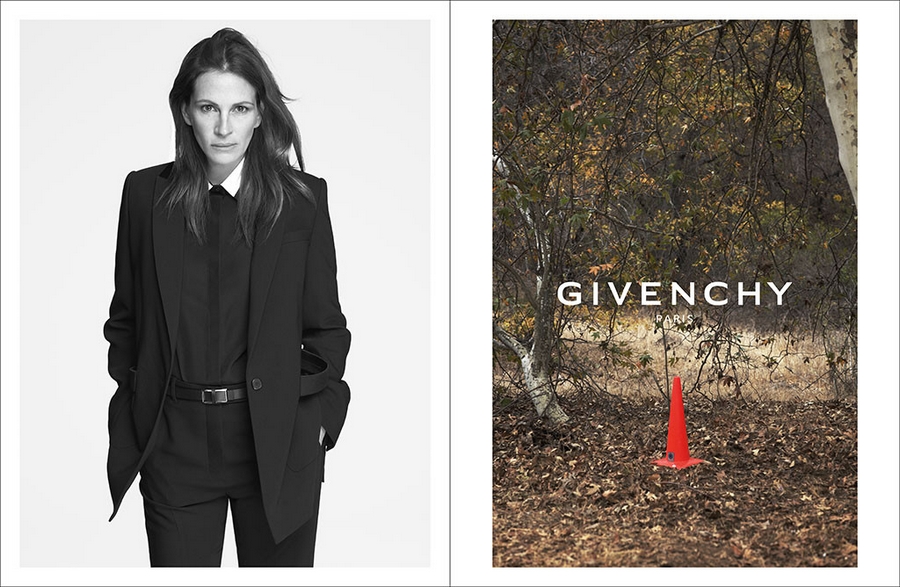 What have in common performance artist Marina Abramović, Julia Roberts, singer Erykah Badu and actress Isabelle Huppert? All the artists embody Givenchy collections as ambassadors of the fashion house. Julia Roberts is the latest to join the collection of "Givenchy's faces."
In the black and white photos shot by renowned fashion photography duo Mert Alas and Marcus Piggott, Julia Roberts is faithful to her discreet style. Julia is wearing pieces emblematic of Riccardo Tisci's style, "a tuxedo, which is basically Tisci's iconic piece; "this is what women know and buy Givenchy for". She also wears a black and white chemise dress, which is another iconic look. Givenchy's creative director will celebrate his 10th year with the House in March 2015.
"Julia was my first choice for a few reasons; I think that she represents such a mature woman," Ricardo Tisci told Yahoo Style. "With each campaign for Givenchy, I'm always trying to make a difference. A lot of people see Givenchy as only "haute couture," or only "street and urban." For me, Julia is many things. She has this strength as an actress, but she's also this beautiful American woman. She's a big star, but she's not a paparazzi or a blog monster. It's going to be my tenth year at Givenchy in March, so I wanted to represent the woman who is more mature, beautiful, talented, but also unpretentious," added Tisci.