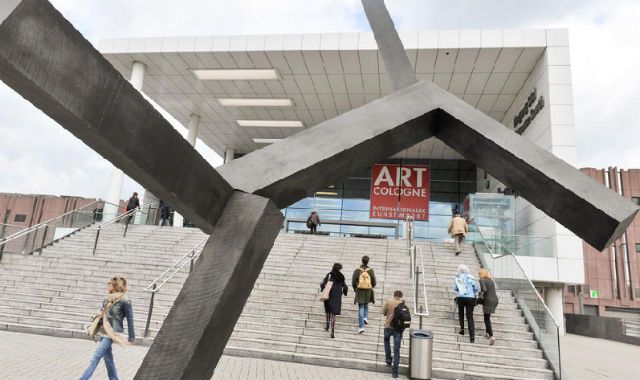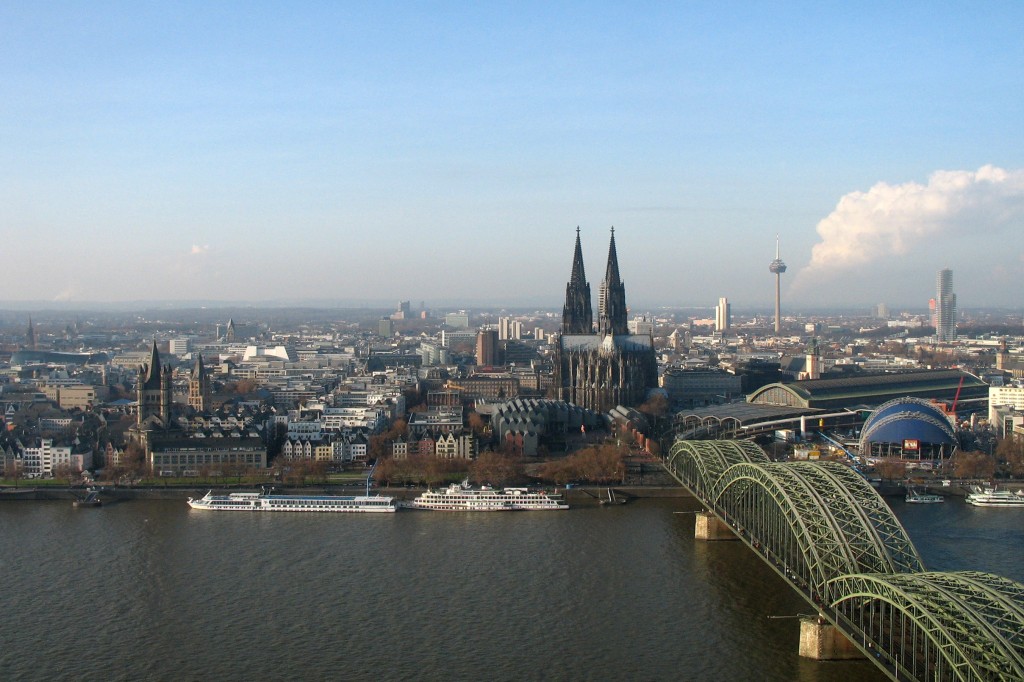 48th ART COLOGNE (10 to 13 April) welcomed art lovers with spectacular large-format sculptures and installations. Outside of the entrance hall, three monumental bronze sculptures of the American artist Joel Shapiro catched the eye of the visitor. Shapiro, born 1941 in New York City, is considered one of the most important representatives of contemporary sculpture. The works presented at ART COLOGNE, Elevation I and Elevation II from the year 1994, as well as another untitled sculpture from 1996, move between abstraction and figuration.
A site-specific installation by the Chinese artist Ai Weiwei, who is currently subject to a travel ban, was created especially for the entrance hall of ART COLOGNE. Ai Weiwei produced a large wallpaper work as a non-commercial work of art for two long walls that progress toward one another like a funnel.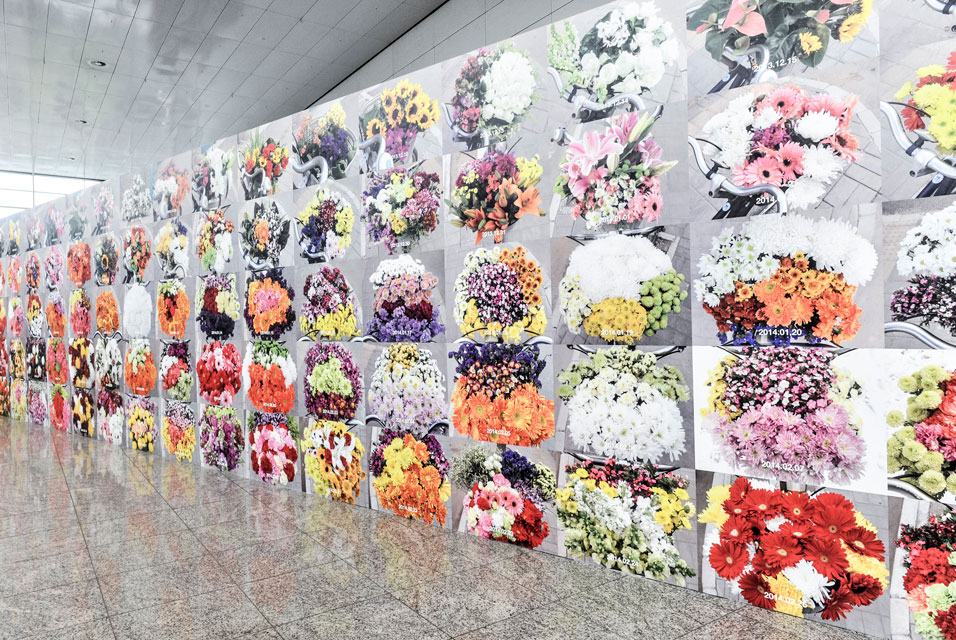 In addition to a large-format text image, upon which the artist requests the return of his passport confiscated by the Chinese authorities, the work reflects on Ai Weiwei's 'bouquet in bicycle basket' project. Every morning, a fresh bouquet of flowers is placed in the basket of a bicycle
chained in front of Ai Weiwei's studio in Peking, which is under camera surveillance, until the confiscated passport of the artist is returned to him. The installation for ART COLOGNE aroused in cooperation with the 'FRIENDS OF AI WEIWEI', represented by their co-initiator Alexander Ochs, who also appeared at ART COLOGNE as a gallery owner, and who has been presenting contemporary art from China here for many years. Already on 3 April 2014, the world's largest solo exhibition of Ai Weiwei opened in the Martin-Gropius-Bau in Berlin.
Addressing issues of architecture and human interaction, the Danish artist Jeppe Hein presented a bench sculpture from the series 'Modified Social Benches' created in 2010 in the new boulevard of the upstairs exhibitor hall 11.3. Hein modified the basic form of a park bench in such a way that the usual behaviour pattern of passive, in some cases lonely lingering is disrupted. Sitting down instead involves increased activity, even extending to physical exertion. The locations at which the benches are found are thus infused with an active character, encourage dialogue and are given a social quality – a conscious reference to the contradiction of art and functional object.
A sales tax rise dampens dealers' spirits of the oldest air fair in the world. An EU directive will abolish tax breaks for art dealers, for whom VAT has shot up from seven percent to 19 percent, informs AFP.
"This tax increase is bad news for us – it doesn't make any sense that the EU should accept reduced VAT for books, concerts and cinema tickets and should exclude fine arts. To consider art galleries simply as art dealers is wrong. As our culture minister pointed it out, galleries play an important
role for society in promoting artists' work," Kristian Jarmuschek, chairman of the Association of German Galleries and Art Traders told AFP.
Founded in 1967, Art Cologne 2014 (from 10. to 13. April 2014) is the world's oldest and longest running fair for 20th and 21st century fine art.