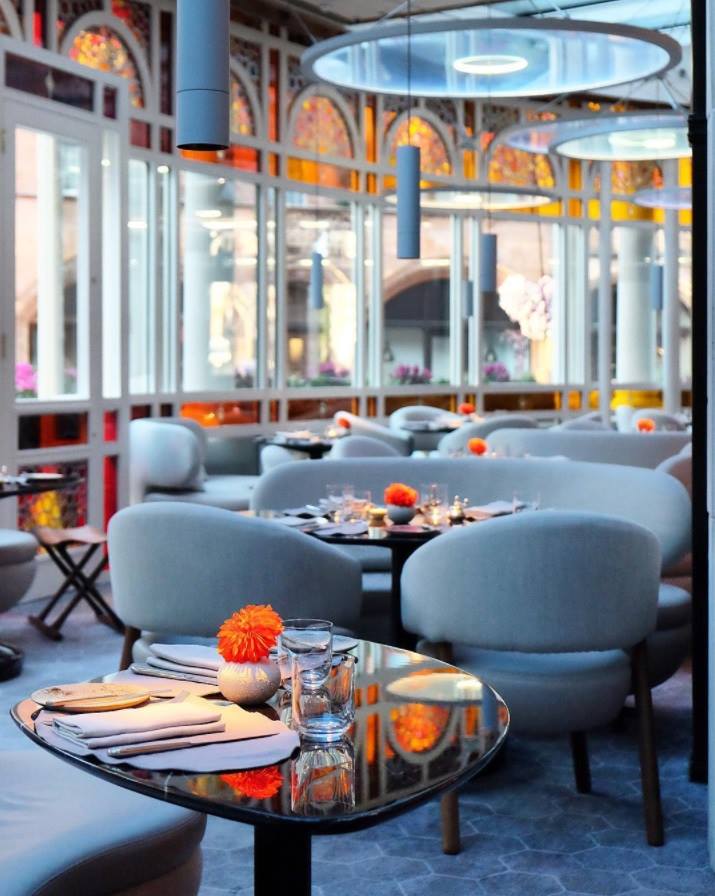 Superchef Jean-Georges Vongerichten is back in London offering all-hours informal gourmet dining. The exciting new restaurant, Jean-Georges at The Connaught, is now open with stained glass accents in sunshine shades and graphic designer Jean Jullien's illustrations.
"In a London where breakfast as likely means green juice and chia bowls as it does eggs Benedict, and every other meal is sushi, this is a timely rethink of the hotel's second restaurant (it replaces Espelette). It looks young and chic now with soft carpets and polished marble tables," says the telegaph.
Breakfast, lunch, afternoon tea and dinner are all served here, along with a carefully-curated menu of tasty cocktails; and an extensive wine list is drawn from The Connaught's 6,000-bottle cellar.
Eclectic, imaginative menus are inspired both by Jean-Georges' experiences of the Far East and his signature use of South-east Asian flavours, whilst also featuring his distinctive take on British and Connaught classics, influenced by his earlier working life and love of London. Sourcing the best of British ingredients, the menus also reflect the farm-to-table, fresh-from-the-market approach long pioneered by Jean-Georges, and found at his restaurant at The Mark and ABC Kitchen in New York.
The restaurant has been redesigned by contemporary interior architect John Heah. Wall-to-ceiling windows, accented with stained glass by artist Jean-Michel Othoniel, create a light, vibrant mood that reflects the appealing colours served on the plates.
"The truffle pizza is everything," adds the telegraph. "Its blistered crust a volcanic black with truffle, its lunar surface buttling with molten fontina, this £29 pizzetta is a beautiful creation not to be confused with a square meal. But it's quite some side order and it pulls off the trick of going with everything and nothing. Also available to take away. Stuffed crusts not an option."