Mechanics and fluids combined to great effect. H1 Dracula DLC hybrid timepiece – reveals the red on top of your skin.
HYT, the only watchmaking company to display time with fluids, presents a new encounter between Fine Watchmaking and fluid mechanics. The most known Count of literature has it own dedicated watch. The H1 Dracula DLC watch by the hydro mechanical horologists from HYT "transcends with immortal technology" while providing an elegant assimilation of the XIX century vampire Legend.
H1 Dracula DLC watch presents unstructured red fluid on the dial and red veins on the black alligator strap.
As the hours go by, the red fluorescent liquid advances. The meniscus, in the shape of a half moon, marks the breaking point with the other fluid in the tube, indicating the time. At 18:00, the fluorescent liquid comes back to its original position, going backwards. The secret that gets the reservoirs going ? Two bellows made of a highly resistant, flexible electro-deposited alloy, each driven by a piston. And this is where watchmaking comes in to activate the system.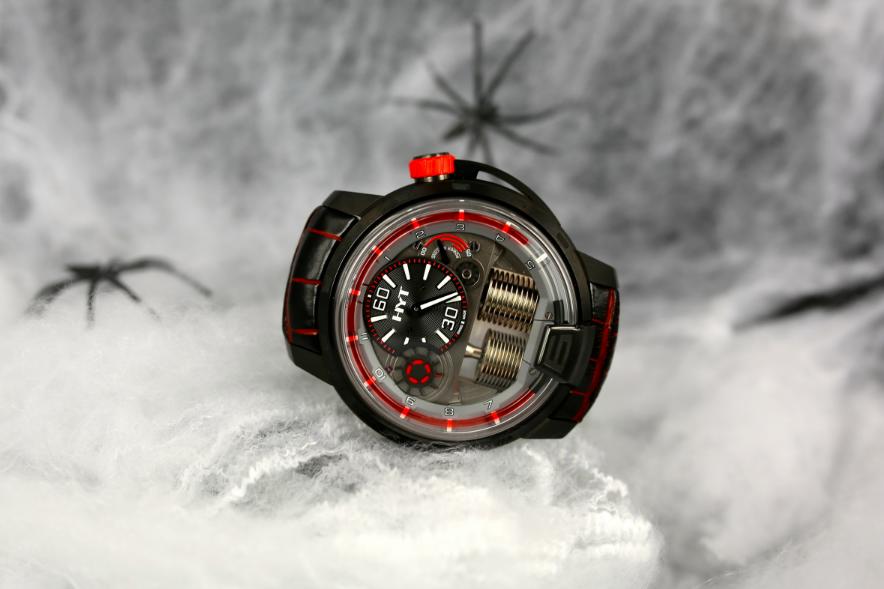 Orchestrated by Brino Moutarlier, alongside Jean-François Mojon and his Chronode SA team, a mechanical movement is situated in the upper part of the watch, and propels a cam, which pushes the piston and activates the bellows.
The main challenge lay in finding an interface between the mechanical movement and the hydro system in a closed, waterproof circuit – a task further complicated by the limited space available to house them both. They had to be assembled separately to keep them independent, and then made to operate simultaneously. This is a highly delicate modular integration, which involves other constraints, such as the installation of the dial in two parts, through the sides.
H1 Dracula DLC watch is limited to 50 units.
HYT is based in Biel, Switzerland and was launched in 2012 when it introduced its first hybrid timepiece, the H1, during BaselWorld. They won 3 awards the same year: Best Innovative Watch 2012 – Grand Prix d'Horlogerie de Genève, Best concept watch of the year – SIAR in Mexico, Best concept watch of the year – Watch World Award in India.