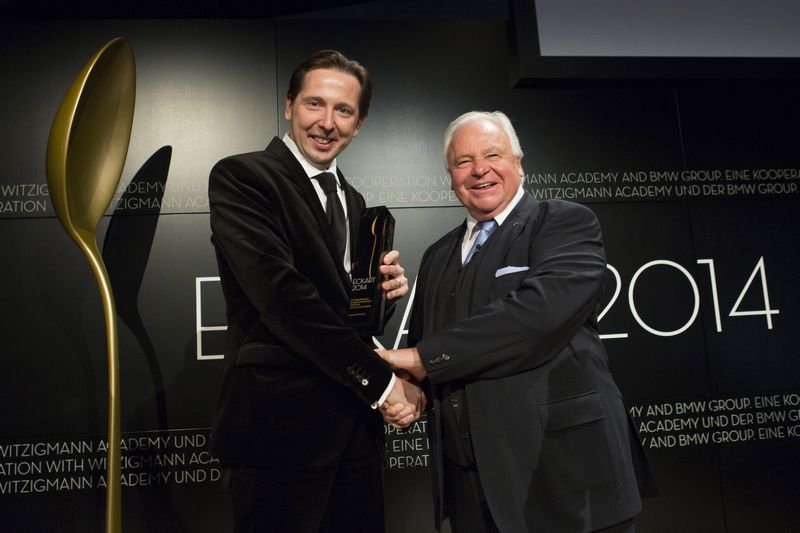 The International Eckart Witzigmann Award is one of the most prestigious honours recognising outstanding achievements in the art of cooking and fine dining. "Chef of the century" Eckart Witzigmann has awarded the Eckart for unique culinary achievements and special commitment under the broad spectrum of lifestyle since 2004. In partnership with the BMW Group, the Witzigmann Academy presents awards annually in three categories: "Art of Cookery", "Innovation" and "Art of Living". The Academy presented its first Eckart for "Creative Responsibility and Enjoyment" in 2013, with a cash award of 10,000 euros.
Heinz Reitbauer, winner of the Eckart 2014, will be named "Chef of the Decade" by Gault Millau on 6 September 2016. The award provides further recognition of Reitbauer's culinary concept, responsible handling of food products and consistently high standards at the Stadtpark luxury restaurant in Vienna.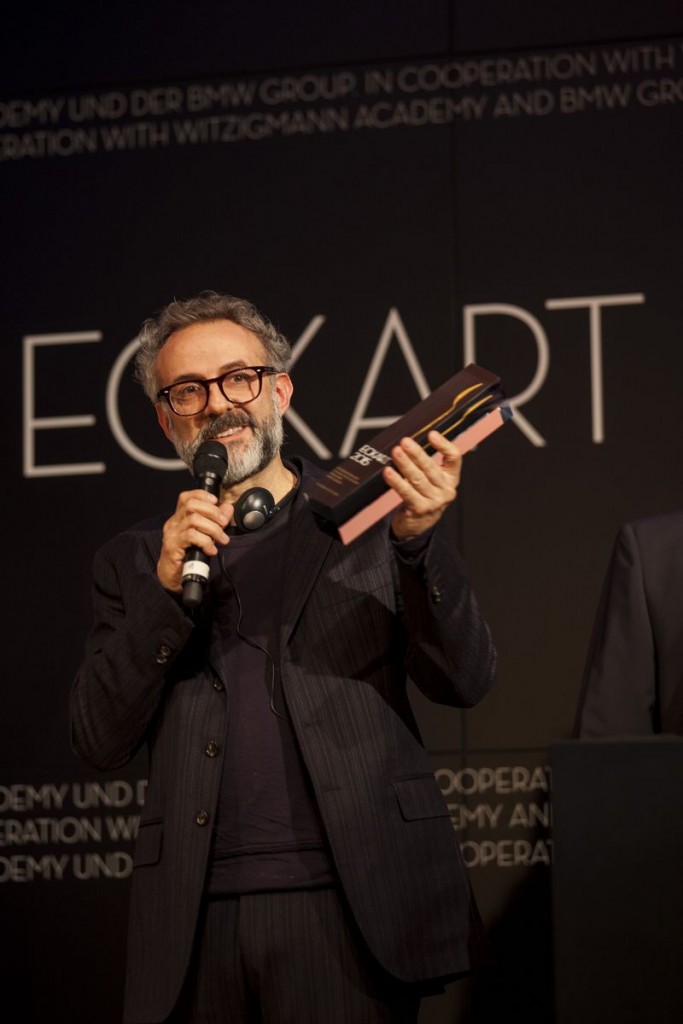 Heinz Reitbauer and his father won the Eckart Witzigmann Award for the "Art of Cookery" in 2014. The Eckart is an international award presented in four categories, acknowledging achievements in the art of cooking and fine dining, as well as a responsible approach to nutrition.
Reitbauer's "Steirereck" restaurant has earned four Gault Millau toques and two Michelin stars, and is the only restaurant in Austria featured on the list of the "World's 50 Best Restaurants, at number nine. Heinz Reitbauer has been implementing his two-pronged regional-cuisine concept in the Austrian capital since 2005. On the ground floor, the "Meierei im Stadtpark" serves simple bistro cuisine made from high-quality ingredients, while the "Steirereck" on the first floor offers world-class gourmet cuisine. In both kitchens, the focus is on the best available seasonal and regional products prepared to the highest standards.
Massimo Bottura, winner of the Eckart 2015, also earned further recognition: His "Osteria La Francescana" in Modena was named best restaurant in the world and Europe in the "World´s 50 Best Restaurants" 2016.
Heinz Reitbauer and Massimo Bottura are distinguished by their outstanding culinary skills and responsible and visionary approach to nutrition. At this year's Olympic Games in Rio, Bottura prepared around 5,000 meals for Brazilians in need from leftover food from the Olympic Village.
Previous Eckart winners include Daniel Boulud (New York City); HRH Charles, Prince of Wales (Highgrove); Elena Arzak (San Sebastian); Anne-Sophie Pic (Valence); Harald Wohlfahrt (Tonbach); Dieter Kosslick (Berlin); Ferran Adrià (Barcelona); Marc Haeberlin (Illhaeusern); Joël Robuchon (Paris); Alex Atala (Sao Paulo); Jon Rose (Los Angeles); Mick Hucknall (Manchester) and many more.
A symposium on a specific gastronomic topic is also held annually.