Porsche debuts fifth generation of the 911 GT3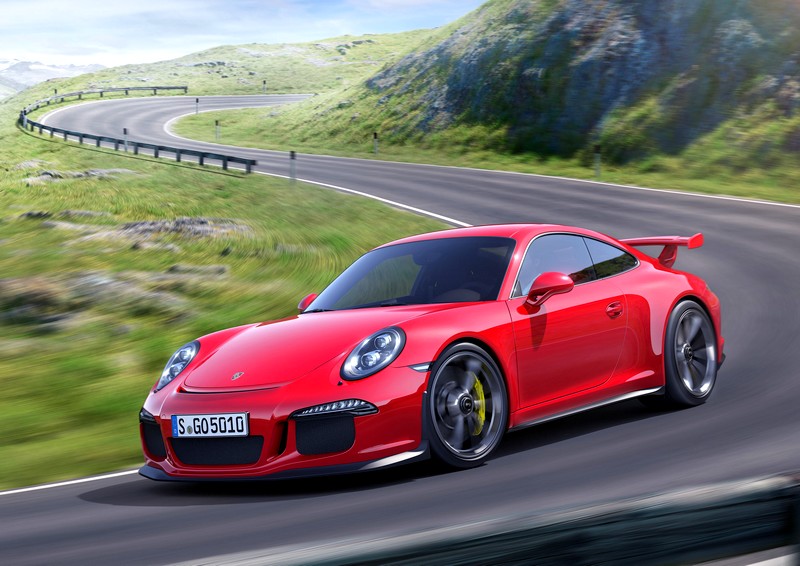 The completely-redeveloped fifth generation of the Porsche 911 GT3 was revealed at the 2013 Geneva International Motor Show. With an impressive lap time on the Nurburgring Nordschleife of under 7:30 minutes, the 2014 911 GT3 benefits from a new engine, transmission, body and chassis. The car now sprints from zero to 60 mph in 3.3 seconds on its way to a top track speed of 195 mph. The 2014 911 GT3 will go on sale in the United States late in 2013 and will be priced from $130,400, not including a $950 destination charge.
The powertrain of the new 911 GT3 is composed of a 3.8-liter boxer engine yielding 475 hp (125 hp/liter) featuring a 9,000 rpm redline and a specially developed Porsche dual-clutch transmission (PDK) which drives the rear wheels. The six-cylinder engine is based on the same engine as the 911 Carrera S, although they share only a few common parts. All other components, particularly the crankshaft and valve gear, were specially adapted or designed for the GT3. For instance, Porsche designed titanium connecting rods and forged pistons for this engine.
The 2014 911 GT3 is based on the light yet stiff body of the current generation 911 Carrera, which employs a hybrid steel and aluminum construction; however, it comes with unique front and rear parts specific to the GT3. In addition, the 911 GT3 is 1.7 inches wider than a 911 Carrera S in the rear. Another distinctive feature is the large, fixed rear wing, which contributes to the exemplary aerodynamics.
By combining low air resistance with even more power, the 2014 911 GT3 sets new performance standards. At full acceleration from standstill, the 60 mph mark is reached after just 3.3 seconds, and on the track 124 mph is reached in less than twelve seconds.
As we mentioned above, the base model is expected to cost €117,000, but as the overwhelming majority of existing GT3 owners are serious track car enthusiasts, the true cost will likely be much greater once the cost of items such as ceramic composite brakes are factored in, noted AFP.