VERVE 40 – World Premiere at 2016 FLIBS.
"More sophisticated than a walkaround, more stylish than a center consolle, more spacious, safe and sturdy than a day cruiser."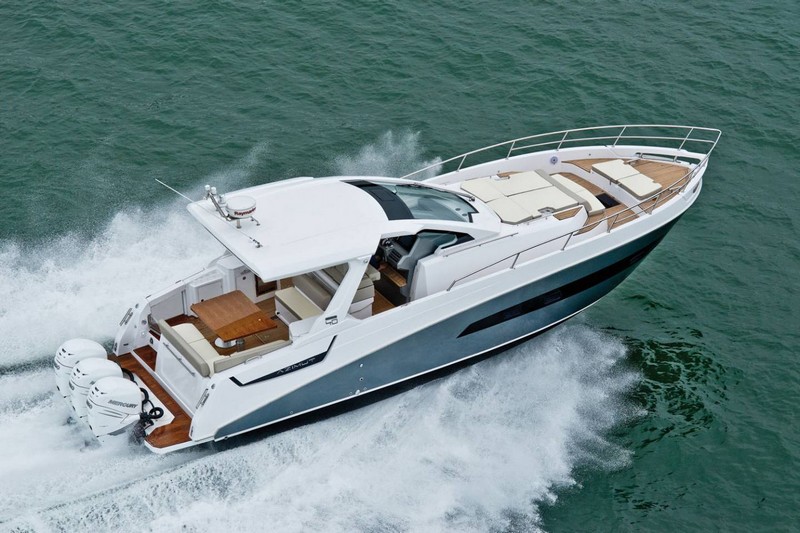 Sporty and sophisticated, the Azimut Verve 40 is the first all-Italian Weekender. On its first official outing after an exclusive premiere at the Newport Boat Show, Azimut's new Verve 40 was given its international launch at the FLIBS/ Fort Lauderdale Boat Show, marking the entry of the shipyard into the popular sport walkaround segment on the US market.
Azimut|Benetti confirmed once again just how important the American market is by taking an even bigger fleet than last year to the 2016 Fort Lauderdale International Boat Show from November 3 to 7. The Group was represented by twenty one models at this US boat show, one of the most important in the country, and it is no coincidence that the event has been chosen as the showcase for the worldwide launch of the new Verve 40 from Azimut Yachts. Another standout yacht on show is the Azimut 66 Fly, while the Benetti shipyard will be represented by Vivace 125' (Ironman), Veloce 140' (Drew) and Crystal 140' (Mr D).
Verve 40 combines all the typical characteristics of traditional US walkarounds and day cruisers, but stands out from them for its elegance, its sophisticated style and its spaciousness, with a cabin area so big it clearly earns its definition as a weekender. Fitted with three Mercury Verado engines rated 350 hp, Verve 40 has a top speed of 44 knots and cruises at 37 knots.
"At Azimut-Benetti we do just one thing: build boats. But we strive to make them ever more beautiful, reliable and innovative. Here too we use technology to enrich our products. And we do it better than anyone else. But what makes the difference is the spirit and professionalism of the men and women who work for us.It is the difference between something beautiful – and something unique," explains the shipyard.