BMW opens its biggest showroom in UAE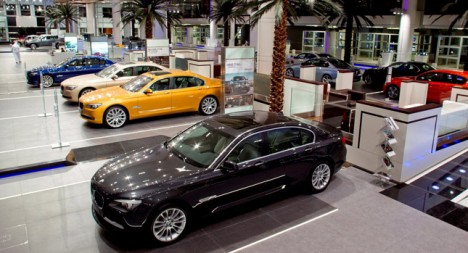 German luxury car maker BMW is showing its commitment to the Middle East and opens its largest showroom in the world in Abu Dhabi.
The 35,000 sq m facility can accommodate the display of 80 new and pre-owned cars, 10 motorcycles, and features a private cinema-style theatre, Gloria Jean's Cafe, F1 simulator, children's play area, and waiting rooms for men and women.
"The Middle East is an important region for the BMW Group, not only because it's a market where our top-of-the-range models are best sellers, but also because of future growth potential in many of the countries such as the UAE. The investment in this impressive and unique facility that makes it the world's biggest BMW Group showroom, is testament to the continued opportunities that lie ahead in Abu Dhabi," explained Ian Robertson, board member for sales and marketing of BMW and chairman of Rolls-Royce Motor Cars.
"This new facility will not only allow us to match our sales growth with our physical growth, but also underline our ambition to achieve greater results in the coming years," said Arno Husselmann, general manager of Abu Dhabi Motors.
In 2011 Abu Dhabi Motors, BMW importer in the Middle East, maintained its status as the biggest-selling importer of BMW Group vehicles in the region. Abu Dhabi Motors sold 4,436 cars in 2011, a growth of 23 percent over 2010 sales.