Cannes Yachting Festival 2023 witnessed a remarkable convergence of innovation and sustainability in the world of marine propulsion. As environmental consciousness continues to rise, engine manufacturers are taking bold steps to ensure that sailing enthusiasts can enjoy their adventures on the water while minimizing their impact on the environment. From electric motors to hybrid propulsion and advanced energy-efficient systems, here are nine sustainable engine innovators that graced the event.
1. BlueNav – BlueSpin
Leading the way in eco-friendly boat engines, French manufacturer BlueNav caught the spotlight with their BlueSpin electric motor. This innovative system is available in three models and stands out for its mild hybridization approach. The BlueSpin motor is retractable, rotatable, compact, and lightweight, allowing for easy installation on both new and existing boats without any structural modifications. Switching from "thermal" mode to "electric" mode takes just a few seconds, providing sailors with a seamless transition to a cleaner, greener propulsion system.
2. E-Motion
E-Motion offers zero-emission hybrid propulsion systems that can seamlessly switch to diesel-electric navigation at the touch of a button. Their hybrid systems offer a variety of functional modes, including parallel hybrid propulsion and series propulsion. Sailors can enjoy a reduction in fuel consumption of up to 30% in economical navigation mode and rapid charging of batteries, achieving a 90% load in just 35 minutes. The Power Boost mode also enhances performance, making E-Motion a sustainable and high-performance choice.
3. FinX – Fin 5
Inspired by nature itself, Paris-based start-up FinX unveiled the world's first propellerless, 100% electric, and safe finned boat engine called Fin5. This innovative nautical propulsion system mimics the swimming of fish, offering an efficient and eco-friendly solution for small boats and sailing vessels weighing up to 3 tonnes. By drawing inspiration from nature, FinX has found a sustainable way to navigate the open waters while preserving marine ecosystems.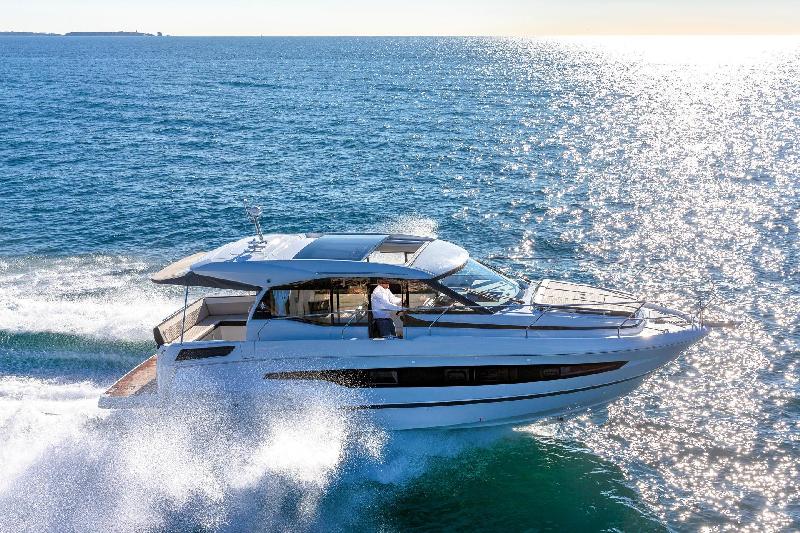 4. Jeanneau NC 37 – Experimental Hybrid Boat
Bénéteau, in collaboration with Volvo Penta, introduced the experimental hybrid boat, Jeanneau NC 37. Equipped with Volvo Penta's twin D4-320 DPI Aquamatic hybrid-electric concept, this vessel integrates cutting-edge technology. Features include Volvo Penta's comprehensive joystick docking system and dynamic positioning system adapted for electric mode operation. With improved maneuverability, quiet shifting at low RPM, and precise joystick functionality, this hybrid boat offers a glimpse into the future of sustainable maritime travel.
5. Mercury – Avator
Partnering with the Cannes Yachting Festival 2023, Mercury ventured into the electric outboard engines market with the Avator series. These outboard engines feature a powerful cross-flow engine that generates high torque with minimal effort. Quiet, smooth, and equipped with intuitive controls and advanced battery monitoring technologies, Avator outboard engines provide a serene and eco-conscious way to explore the waters, connecting with nature without disturbing it.
6. Rim Drive Technologies
For those seeking electric sailing experiences, Rim Drive Technologies presented motors with only one rotating part. These innovative motors transmit their movement to the propellers magnetically. With sleek, durable designs, they are fully waterproof, easy to install, and highly maneuverable in ports, while being impervious to debris, making them an attractive option for eco-conscious sailors.
7. The Icon by BMW & Tyde
The Icon, an electric hydrofoil born from a collaboration between BMW and Tyde boat builders, stole the spotlight with its impressive capabilities. Powered by two 100 kW electric motors and six 240 kWh batteries from the BMW i3, The Icon can reach speeds of up to 30 knots. With its foils reducing energy requirements by up to 80% compared to a conventional hull, this vessel offers an extended range, enhanced comfort, and greater speed, all while minimizing its environmental footprint.
8. Yamaha – XTO 450 CH
Yamaha, a partner of the Cannes Yachting Festival 2023, showcased its XTO 450 hp motor. This flagship Yamaha engine boasts optimum efficiency, thanks to direct injection and exhaust enhancements. It not only improves thrust but also reduces fuel consumption, ensuring a sustainable yet powerful boating experience.
9. Whisper Yacht – Whisper 50 – 100% SOLAR ELECTRIC MOTOR YACHT
Whisper Yachts showcased boats exclusively powered by solar-electric propulsion. These boats use Torqeedo propulsion systems, utilizing BMW batteries. With two electric motors connected to shaft lines and propellers, these vessels are driven by BMW 200 kWh batteries charged from multiple sources, including solar panels, shore power, and a backup generator. Whisper Yachts offer an eco-friendly and efficient way to cruise the waters with minimal environmental impact.
Cannes Yachting Festival 2023 has highlighted the commitment of engine manufacturers and innovators to harmonize the pleasure of sailing with a deep respect for our planet. These sustainable propulsion solutions are not only environmentally friendly but also promise enhanced performance, making them an attractive choice for today's eco-conscious sailors. As technology continues to evolve, the future of sustainable boating looks brighter than ever, promising unforgettable journeys on the seas while preserving our precious marine ecosystems.