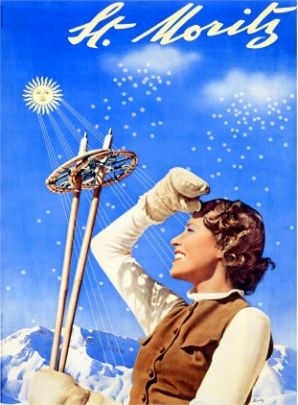 Up in the mountains celebrities realize that sky, snow and diamonds shine with the same intensity … These are the ski resorts where you most likely to spot the British Royal Family, Keanu Reeves, or Paris Hilton. A ski vacation in Megeve, Chamonix Mont-Blanc, Zermatt, Grindewald, St.Morritz, Davos, Garmisch-Partenkirchen, or Kitzbuhel, will surely provide surprises. Keep your cameras close.
Best luxury ski & snowboard resorts – The favorite ski resorts of the stars: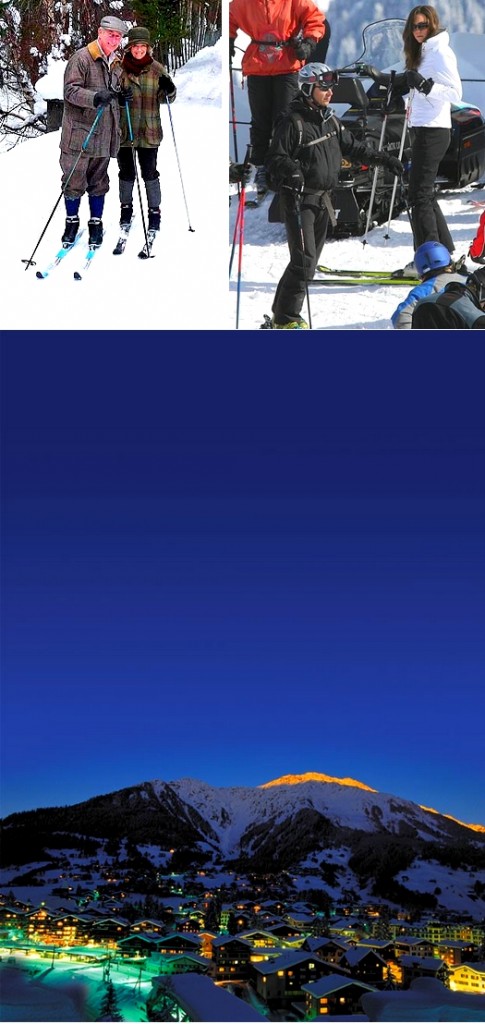 Best luxury ski & snowboard resorts: Klosters – Switzerland
Located at 1200 meters altitude in the beautiful Prättigau valley, Klosters ski resort is appreciated for well preserved historic buildings and a genuine rustic atmosphere.
The Swiss luxury ski resort is one of the destinations frequented by Prince Charles. As a sign of gratitude for the British Royal Family, one of the Klosters' cable stations (Gotschnagrat) was named after "Prince of Wales". Located 150km from Zurich and 10km from Davos, Klosters offers easy access to other famous tracks in the region. The list of celebrities who have skied in Klosters include Prince William, Kate Middleton and Arthur Conan Doyle.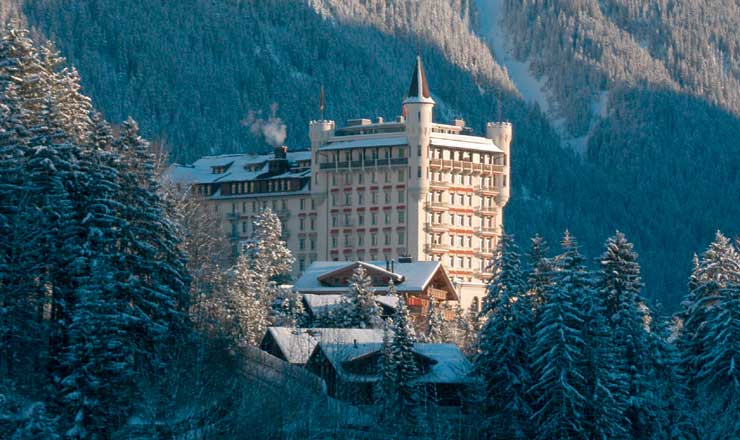 The best luxury ski resorts: Gstaad – Switzerland
Dubbed the "Beverly Hills of the Alps" and "The Place" (Time Magazine, 1960), Gstaad had a long list of personalities that came here as tourists: Kofi Annan, Yehudi Menuhin, Liz Taylor, Michael Jackson, Prince Rainier and Grace Kelly, Hugh Grant and former British Prime Minister John Major, to name just a few.
If you spend a holiday in Gstaad you have all chances to meet a VIP. A number of celebrities have owned properties in Gstaad. Roger Moore, French actress Jeanne Moreau, Bernie Ecclestone (Formula 1 boss), singer Johnny Hallyday and designer Valentino Garavani are some of the personalities with holiday homes in Gstaad. The resort has been visited by Margaret Thatcher, Paris Hilton, Mohammed Al-Fayed, Keanu Reeves, Roman Polanski, Victor Emmanuel of Savoy, King Juan Carlos of Spain and actress Ursula Andress.
"Allianz Suisse Open Gstaad" tennis tournament , "1to1 energy open" volleyball tournament, "Hublot Polo Gold Cup"
polo tournament, and the Menuhin Festival are held in the Swiss ski resort.
The best luxury ski resorts: St. Moritz – Switzerland
The famous St. Moritz (Graubünden region), the sunniest ski resort in Switzerland (300 days of sunshine a year), is the cradle of winter tourism in the Alps (1864). St. Moritz offers quality skiing at altitude (1850m), including skiing on the glacier. Adventurous tourists have fun on "Cresta Run Toboggan" track, play polo on the frozen lake, and then do a little skijoring on the lake dragged by untamed horses. Besides skiing and walking, you can do ice-skating on Ludains Ice Arena, take photos of the leaning tower (5.5%), visit the hut where Heidi movies were filmed or taste sweets at Café Hanselmann, a world-renowned paradise of all that is sweet.
Every winter the alpine luxury resort hosts "White Turf" horse race, which takes place on the frozen St.Morritz lake and is viewed by VIPs from around the world.
St.Morritz is the place to see and to be seen. "The Top of the World" – the slogan of the resort – is also a reference to the financial status of tourists.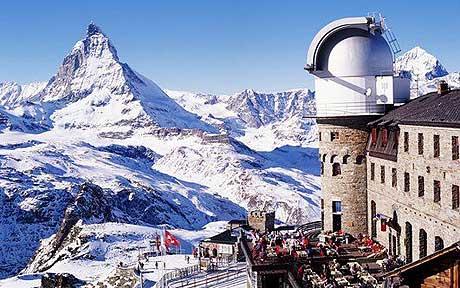 The best luxury ski resorts: Zermatt – Switzerland
After St.Morritz, Zermatt is considered to be the second most famous Swiss ski resort. No other resort can compete with the majestic mountain ridge offered by Matterhorn, the symbol of Switzerland and the silhouette you will find on many local souvenirs. Although it is a pretty large town, Zermatt retains the"green" charm by the total absence of cars. You can only reach it by train, and all the urban traffic is electric. Zermatt holds a rustic aura and the new city tries hard to maintain the specific alpine style and elegance.
Robbie Williams has invested in an apartment in Zermatt, and Frida Lyngstad, former member of ABBA, lived in Zermatt. Among Zermatt's loyal tourists are Richard Branson, Madonna, Nicole Kidman, the British Royal Family and Sarah Ferguson.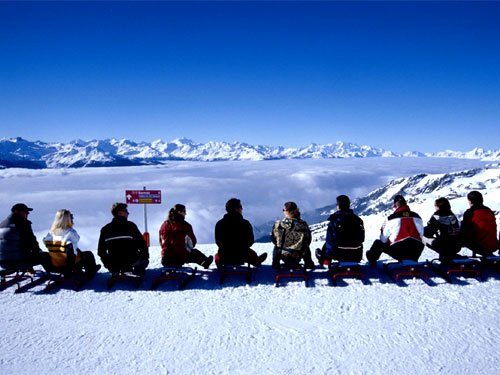 The best luxury ski resorts: Crans-Montana – Switzerland

Crans-Montana (Canton of Valais, altitude: 1500 m) rivals with Gstaad in terms of stars and luxury, being the address where could be found celebrities such as Alain Delon (in love with the Grand Hotel du Golf & Palace), actress Gina Lollobrigida, Michel Legrand and David Hallyday.
Crans-Montana is one of Céline Dion's favorite resorts. In 1988, unknown to the general public, the singer from Quebec visited Crans-Montana to prepare for Eurovision, a moment which also marked the start of her international
career. Since then, Celine Dion made frequent trips to Crans-Montana.
After moving in Gstaad, English actor Roger Moore bought also a chalet in Crans-Montana. Sophia Loren, golfers Adam Scott and Francisco Valera, and French chef Michel Roux are on the list of celebrities with homes or holiday apartments in Crans-Montana.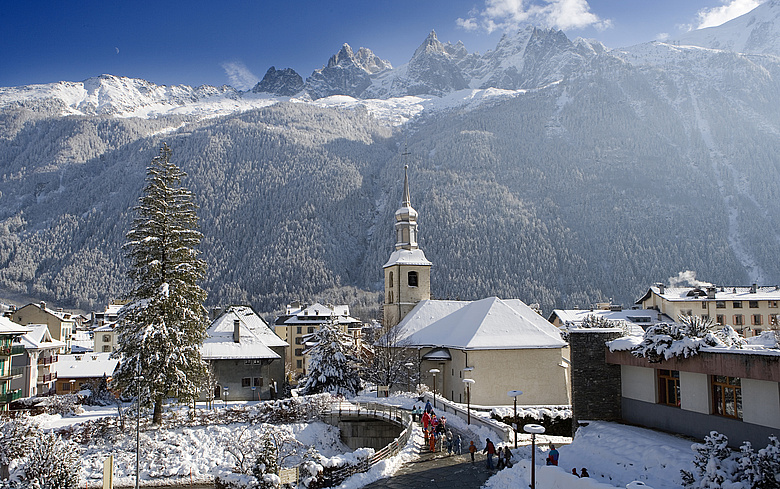 The best luxury ski resorts: Chamonix – France
Surrounded by the peaks of the Mont-Blanc massif, Chamonix has one of the most beautiful scenery in the Alps, remaining the capital of mountaineering. Chamonix is also the most visited mountain resort in France. Here you will always meet climbers, professional skiers, mountain guides and mountain lovers. The fun is moving from the ski pistes to the many bars and pubs, where evenings often end with dancing on tables.
Chamonix ski region is divided into several areas. Brevent and Flegere, closest to the Chamonix center, offer a mixture of intermediate and advanced routes. Here you can ski up to 2525 meters. Les Grands Montets is accessible through the village of Argentiere, located at the end of the valley. Domaine de Balme, accessible from the villages of Le Tour and Vallorcine, has the lighter ski pistes, with 22 pistes for beginners and intermediates.
Kylie Minogue celebrated here two New Year parties (2009 and 2010) in a row. Orlando Bloom, famous journalists and Elin Nordegren, the former wife of Tiger Woods were spotted on the slopes of Chamonix.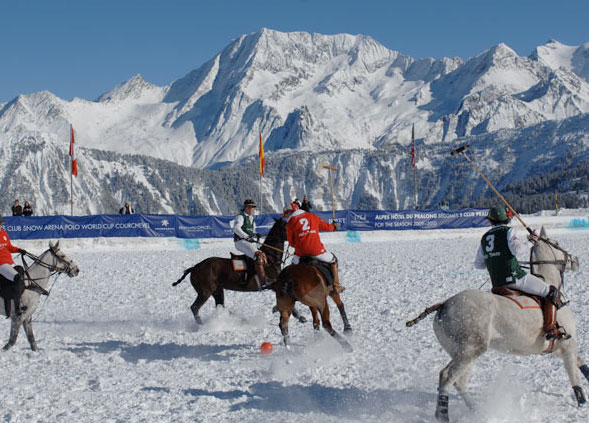 The best luxury ski resorts: Courchevel – France
Since 1950, Courchevel, the most famous town in the heart of the 3 Vallées ski area and the largest ski domain in the world, is one of the most popular resorts for luxury facilities and elite clientele.
Hotels like Palace des Neiges (ex Byblos), Les Grandes Alps or Cheval Blanc (Hotel-Palace owned by Bernard Arnault and decorated with pictures of mountains signed by designer Karl Lagerfeld) attracted here celebrities like Gerard Depardieu, Ewan McGregor, or Lionel Richie. Among the fans of Courcheval 1850 are King Mohammed VI of Morocco, Beckham couple, Royal families of Denmark and Spain, and French presidents.
Courchevel's popularity has a reverse of the medal. The multitude of tourists scares the tourists in search of tranquility and privacy. But if you want to be seen, Courcheval is a must.
Since 1993, the resort hosts "Trophée Femmes en Or", awarded each year in December. One of the best times to visit and skiing in Coucheval is early March, when you can enjoy the most beautiful sunbathing at altitude.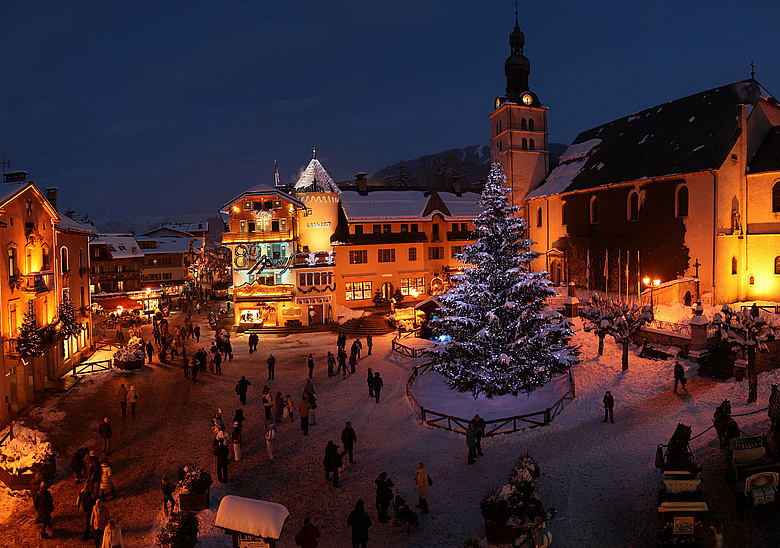 The best luxury ski resorts: Megeve – France
Megeve has managed to keep its identity and architectural style, while developing five-star facilities.The luxury winter resort is a perfect location for those seeking discreet luxury. The history of Megeve is closely related to the Rothschild family, which has the merit of having transformed Megeve in a holiday destinations for the crowned heads of the world. Currently Rothschild family descendants try to preserve the discretion and the class of Hubert de Givenchy's favorite resort. Nearby Megève is the village of Lavancher, which hosted in "Les Chalets de Philippe" stars like Kylie Minogue and Michael Moore.
Megeve ski area is part of the "Domain Evasion Mont Blanc", offering over 300 km of ski pistes, with a perfect mix of black, red, blue and green routes. Nearby is the town of St. Gervais with its mineral waters with curative effects on respiratory diseases and rheumatism. The magical waters of Mont Blanc are also used to treat skin problems.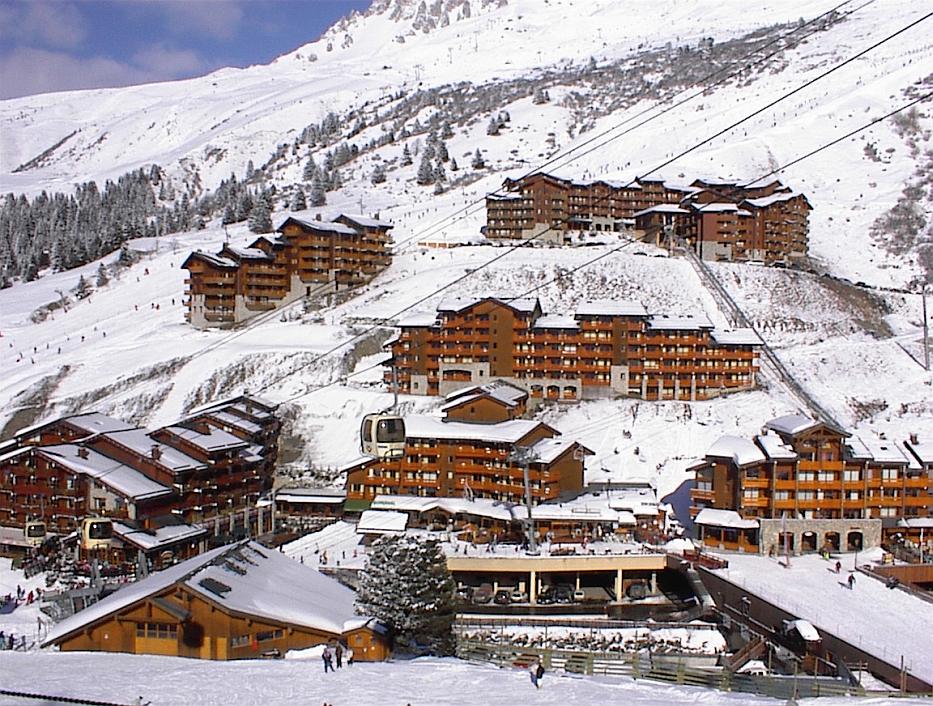 The best luxury ski resorts: Meribel – France
Meribel resort (1450 m) is located in the center of the Trois Vallée area, offering 150 km of slopes (nine of which are black), 22 red pistes, 36 pistes marked with blue and 8 with green. Brits prefer this lovely resort for Savoy style chalets, entertainment and shopping opportunities. Luxury Chalets of Meribel are also popular with Russian billionaires and international stars.
"Les Trois Vallées" ski domain has a total of 290 pistes, summing 600 km (52 green tracks, 131 – blue, 118 – red 34 – black) and includes resorts: Les Menuires, Val Thorens, Brides Les Bains, La Tania , Courchevel, Méribel, Saint Martin de Belleville, Méribel – Mottaret;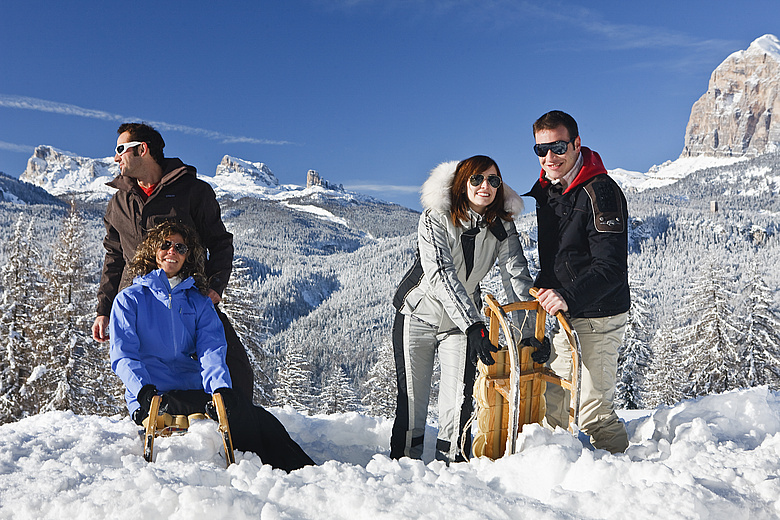 The best luxury ski resorts: Cortina d'Ampezzo – Italy
Cortina d'Ampezzo is a complete Italian experience with a focus on wine, evenings and long nights in a atmosphere of almost complete relaxation. Italian resort hosted the 1956 Winter Olympics and organized many skiing events.
The resort notoriety brought here many famous film crews like Pink Panther and For Your Eyes Only (James Bond, 1981). As ski area, Cortina is a paradise for intermediate skiers. Cortina d'Ampezzo is a member of the "Best of the Alps" association which includes 12 European ski resorts: Megeve, Chamonix Mont-Blanc, Zermatt, Grindewald, St.Morritz, Davos, Garmisch-Partenkirchen, Lech Zurs am Arlberg, St.Anton am Arlberg, Seefeld, Kitzbühel.
Cortina D'Ampezzo clientele seems to have descended from Italian tabloid pages: models, actress, TV presenter,players and superstars like George Clooney. In the "Dolce Vita" age, Cortina d'Ampezzo was called "Salotto dei Famosa", hosting celebrities such as Brigitte Bardot, Sophia Loren and Audrey Hepburn.
The best luxury ski resorts: St. Anton am Arlberg – Austria
St Anton is renowned for its challenging slopes, spectacular scenery and diverse apres-ski facilities. Ski area includes Zürs and Lech resorts. The history of skiing in St.Anton began long ago. The local ski instructors have emigrated to the USA in 1930, helping to popularize this sport in USA. The resort was the host of the 2001 Alpine Ski World Cup. In St.Anton am Arlberg there is a great chance to ski with with current or former world ski champions.
Winter holidays in St. Anton are particularly indicated for those who do not ski. The town of St Anton has a compact downtown pedestrian area offering plenty of activities outside slopes: skating, curling, bowling, sledding, sleigh rides, "Arlberg-well.com" entertainment complex, a 4.2 km lighting sledge track, considered to be the best in Europe.
In 2001 in the resort's center was built a leisure arena for Alpine Ski World Championship. In this complex you will find indoor and outdoor pools, waterfalls, slides for children, fitness centers, Finnish and Kelo saunas, solarium, steam baths and relaxing areas.
The best luxury ski resorts: Aspen – USA
Of all American ski resorts, Aspen, nicknamed The Queen of Colorado or Hollywood from Colorado, remains the best known and most popular winter resort among both celebrities and simple skiers. Jack Nicholson loved to ski here, the actor being one of the local residents.
Calvin Klein, Johnny Depp, tennis player Martina Navratilova, Sylvester Stallone, Michael Douglas and Catherine Zeta-Jones, Sean Connery, Kevin Costner, Beckham family, Mariah Carey, Paul Simon, Kurt Russell, Antonio Banderas, Melanie Griffiths, Clinton and Donald Trump family, were all seen in Aspen. What are the addresses where you have the best chance to meet a celebrity? St. Regis Hotels, Jerome and Little Nell are the favorite of VIPs.