Charm of Bentley interpreted in furnishings.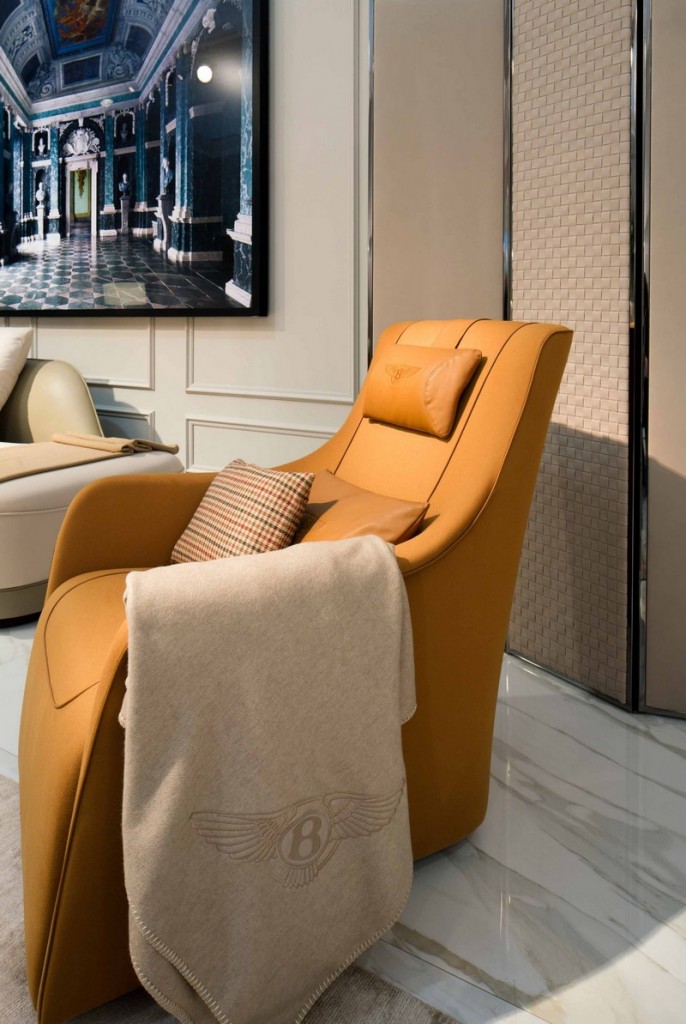 Bentley Motors introduced its complete Home Collection for the first time at Salone del Mobile 2014, designed and manufactured in collaboration with Luxury Living Group, one of Europe's leading furniture makers. Furnishings and decorations have been created by architect Carlo Colombo in collaboration with Daniele Ceccomori, Bentley's head of Product Design, defining a new ultra-luxury model for home and executive interiors.
The colour palette is characterised by natural and pastel nuances. The mocha, cognac, taupe, quartz, grey and camel flank variations of purple-red, burgundy, brick red or blue. Hints of male attire, pinstripe or hounds-tooth, are introduced into sophisticated velvets and the lightest of cashmeres, crafted with three-dimensional patterns.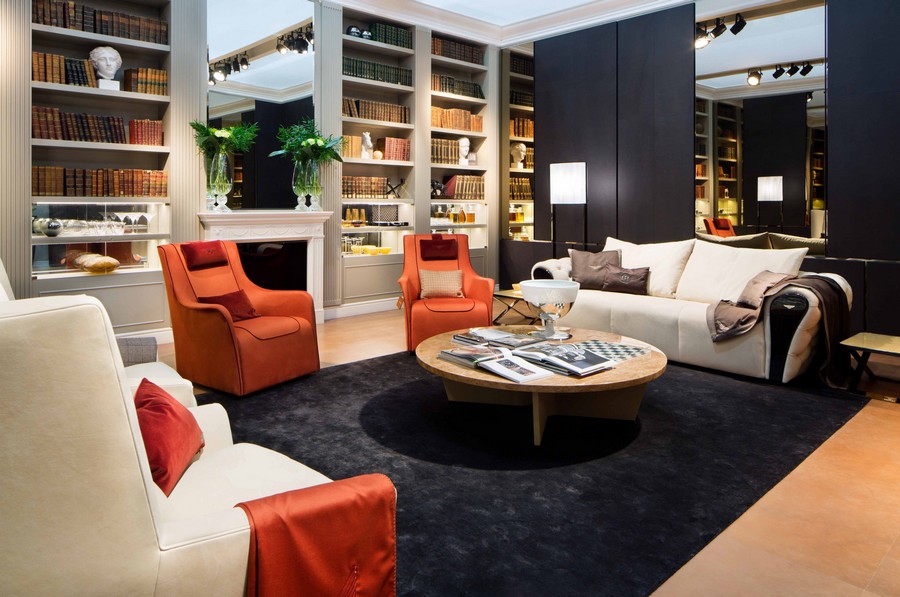 Utilised in the upholstery, they are also woven as novel and precious carpets – hand-knotted, made of fine wools, silk or pashmina – as well as refined blankets hemmed in mink. Finely crafted leather upholstery – with its signature quilted diamond pattern or elegant padded texture – further enhance the collection's pieces.
The Richmond collection develops the theme of the double shell, in burr walnut briar root, used in other models of the collection, as well as for the interior of Bentley cars made at its headquarters in Crewe. Ebony Macassar essence and Calacatta marble make for a precious decorative effect, matching the steel gun-metal finishing of the base. Finely crafted leather upholstery – with its signature quilted diamond pattern or elegant dimpled texture – add further aesthetic interest to the furniture collection.
"It is a signature moment for Bentley's entire Home Collection to be exhibited at the Salon del Mobile in Milan. The collection embodies Bentley's emergence as a modern high luxury brand. It combines sophisticated materials with contemporary design and the ultimate in bespoke craftsmanship," said Kevin Rose, Board Member for Sales & Marketing.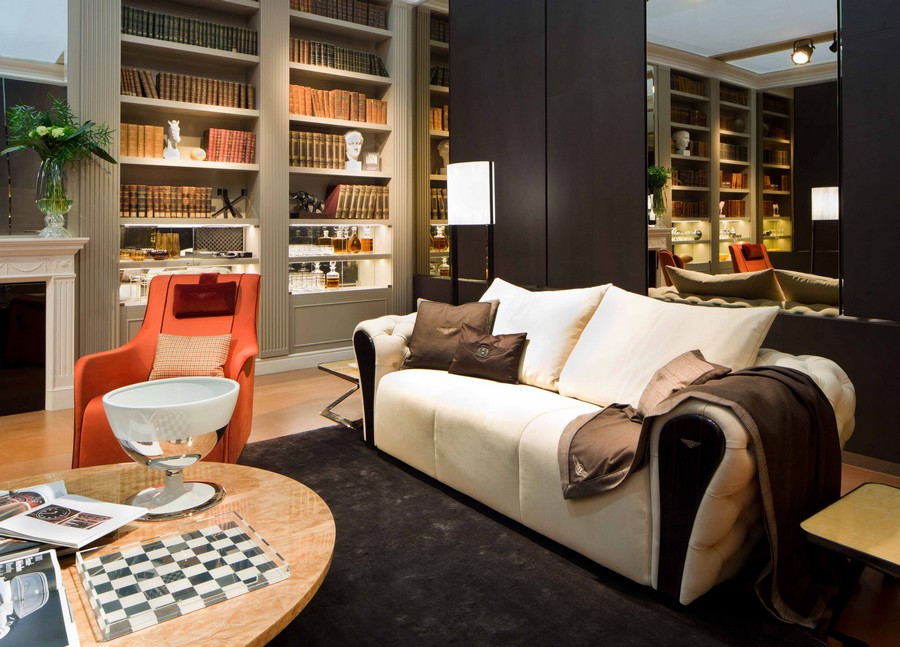 MINSTER SOFA (Euro 10,100; £ 11,020; $ 14,790)
Harmonious shapes and flowing lines are highlighted through the subtle proportions of the arms with their unique curve. Available in leather or fabric, the body and seat come in distinguished burgundy velvet matched with a velvet piping along the edges.
BUTTERFLY SOFA (Euro 10,160; £ 11,090; $ 14,880) & ARMCHAIR (Euro 6,300; £ 6,870; $ 9,220)
Butterfly, the new system made up of sofa and armchair, masterfully interprets Bentley's style values. The deep, plush seat is encased in a shell quilted with Bentley's iconic diamond pattern.
The geometry of its side neatly reaches outward, providing a contemporary touch that reflects a cosy yet dynamic form. The sofa is presented in cognac leather and blue pinstriped interior, quilted in fine grey wool.
KENSINGTON ROYCE ARMCHAIR (Euro 9,860; £ 13,450; $ 18,040)
The comfortable shape of the Kensington effortlessly epitomises the style code of the renowned British car maker. The design, light and balanced in form, is enriched by the version with ice grey leather and seating made in slightly iridescent champagne shades.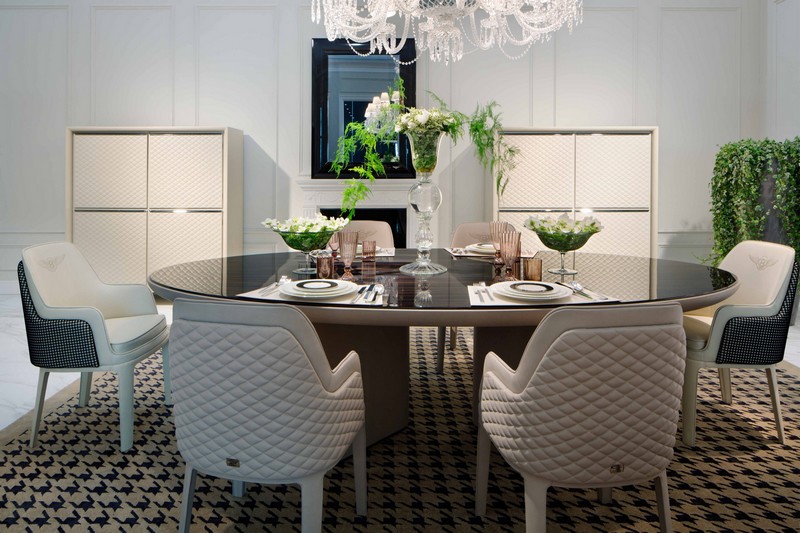 MADELEY TABLE (Euro 16,840; £ 22,970; $ 30,820)
This oval or round table it truly spacious. Madeley has a trapezoidal base made of leather-covered bent-wood panels. The top of the table is now available in a new version of chestnut briarwood root.
AMBASSADOR CABINET (Euro 18,380; £ 25,070; $ 33,640)
Ambassador is the range of storage units ideal for the living area and home office. The lines of the Ambassador cabinet express formal neatness while the detail and finish matches the intensive customisation of all the accessories. The version with exposed doors in hardened smoked glass brings a new contemporary look to storage, as does the version with chestnut doors.