Hat-Ology at Milan Fashion Week: Anna Piaggi's hats in Milan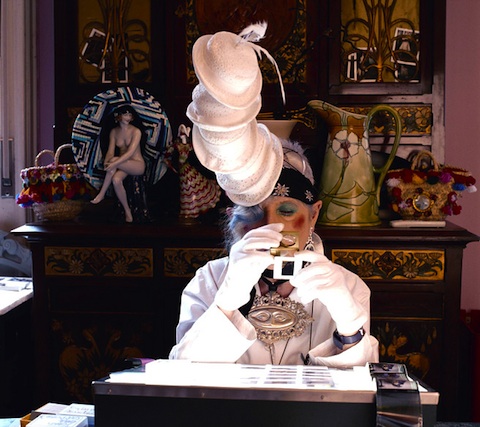 Anna Piaggi's hats are nearly as well-known as the late Italian Vogue editor herself. Eclectic like her style where east and west and past and present collided, Milan is preparing to celebrate the life of the late fashion writer and style icon in the retrospective exhibition "Hat-ology, Anna Piaggi and her hats". A curious and surprising glimpse of her life through a look at her favourite accessories which will be held from September 22 to November 30 2013 in Palazzo Morando.
"My hat is personal. It is what contains the soul, the feeling, the sensation that moves this little world around". A world where Chanel Haute Couture creations live alongside a Prada baseball cap and with which the "mad hatter" Stephen Jones, Piaggi's friend and exhibition curator wanted to recreate the atmosphere.
Curated by Anna Piaggi's good friend and milliner Stephen Jones, "Hat-ology" exhibition is the first initiative promoted by the Anna Piaggi Cultural Association. The association founded a few months ago upon the express wishes of the family is aimed at preserving and promoting the collections owned by the writer and her extensive artistic publications. A precious legacy which the same association together with the London College of Fashion – University of the Arts, is currently cataloguing.
The exhibition which will be inaugurated with a cocktail party on Saturday 21 September during the Women's Fashion Week in Milan and which will then be open free to the public. This is a unique opportunity to discover the immense universe that Anna Piaggi was able to put into just a double page spread (the famous "Doppia Pagina" section she created for "Vogue Italia").
Piaggi's headpieces will be displayed inside a re-creation of Piaggi's Milan apartment.