2016 Dodge Viper American Club Racer (ACR): The most torque of any naturally aspirated sports-car engine in the world.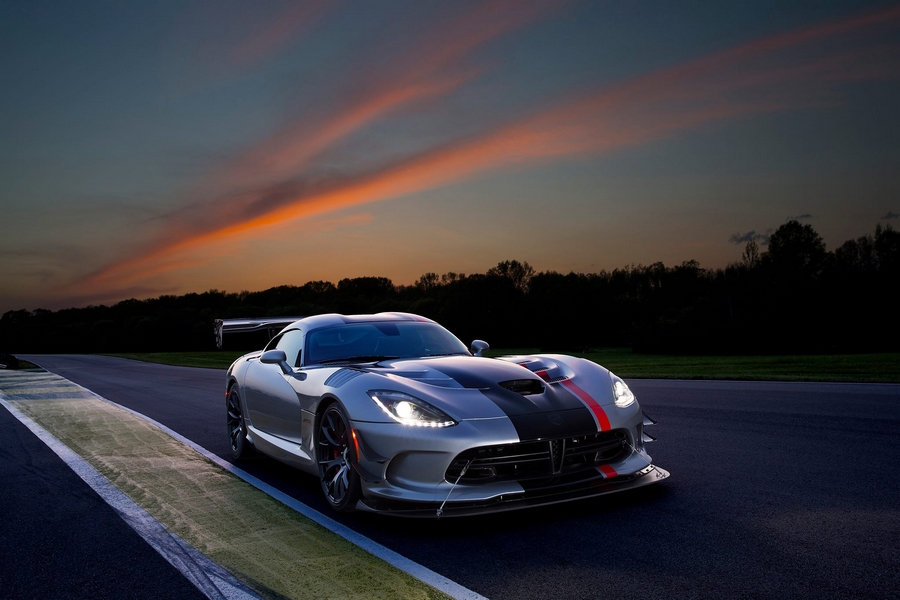 Certified for public roads and engineered to wring every last hundredth of a second out of road course lap times, the 2016 Dodge Viper ACR combines the latest in aerodynamic, braking and tire technology. The car, the fastest street-legal Viper track car ever, represents the next chapter in the history of the ultimate street- legal, track-focused, hand-built supercar.
"The Viper has always been more of a street-legal race car than a track-capable streetcar, and the new 2016 Dodge Viper ACR is the fastest street-legal Viper track car ever," said Tim Kuniskis, President and Chief Executive Officer – Dodge Brand and SRT Brand, FCA – North America. "Our goal is to arm our enthusiasts with the ultimate Viper track car to dominate road courses around the world."
The SRT engineering team that developed the 2016 Dodge Viper ACR is well-stocked with members who race their own cars, as well as learning from the factory-based racing Viper GTS-R that competed in the American Le Mans Series and IMSA United SportsCar Championship from 2012-2014, capturing the GTLM class driver and team championships in 2014. For the new Viper ACR, the team focused its efforts on three areas: aerodynamics, chassis and tires to maximize grip, producing never-seen- before handling capabilities and unprecedented lap times.
The 2016 Dodge Viper ACR with the available Extreme Aero package produces the highest aerodynamic downforce of any production car. The new model features new Brembo Carbon Ceramic Matrix brakes for optimum braking performance with unprecedented brake fade resistance, and greater handling capability through reduced un-sprung weight. The car is fitted with Kumho Ecsta V720 high-performance tires designed specifically for the car with unique tread pattern and compounds for front and rear.
At the heart of the 2016 Viper ACR is the handcrafted, all-aluminum 8.4-liter V-10 overhead-valve engine, rated at 645 horsepower and 600 lb.-ft. of torque – the most torque of any naturally aspirated sports-car engine in the world. Unique exhaust tips have been added to the side-mounted exhaust pipes to provide reduced exhaust pressure. All Vipers are engineered to withstand severe track duty in ambient temperatures of 100 degrees Fahrenheit with a professional driver. Power reaches the pavement through the standard Tremec TR6060 six-speed manual transmission.
'1 of 1' Viper Program Offers One-of-a-Kind Street-Legal Race Car Applying Viper's exclusive '1 of 1' customization program to Viper ACR allows customers to have more than 25 million build combinations to create their one-of- a-kind Snake from the ground up. With 8,000 exterior color options, 24,000 custom stripe colors, 11 wheel options, 16 interior trims and seven aero packages, three brake packages and four suspension options there are more than 25 million ways for buyers to customize their one-of-a-kind Dodge Viper. Hand-built in Detroit at the Conner Avenue Assembly Plant; the 2016 Dodge Viper ACR goes on sale in third quarter 2015.