Germany now ranks just behind France as the European country with the most three-starred restaurants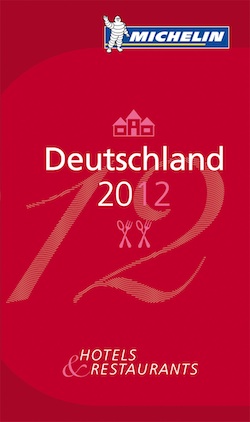 Germany is now has the second highest number of three-starred restaurants in Europe, behind France (with 25).
With one new restaurant awarded a third star and ten new two-star restaurants in the MICHELIN guide Germany 2012, the country's gourmet dining scene has been enhanced.  Never before have the independent inspectors of the German guide rewarded so many restaurants with a second star as in the new edition to be released on November 11.
As a result, the German guide now lists 32 two-star restaurants in all.  In addition, "La Vie" in Osnabrück was awarded its third star, bringing to nine the number of restaurants in Germany that have obtained the guide's highest ranking and confirming the high levels seen in previous years. As a result, Germany now ranks second behind France among the European countries with the most three-star restaurants.
Among the new two-star restaurants are "Lorenz Adlon" and "Reinstoff" in Berlin, "Schwingshackl Esskultur" in Bernried, "Kastell" in Wernberg-Köblitz in Bavaria, and "Rosin" in Dorsten and ""La Vision in Cologne in North Rhine-Westphalia. As in the 2011 edition, Northern Germany continued to gain momentum, with the Michelin inspectors awarding a second-star to four new restaurants in the region: "Haerlin" and "Jacobs Restaurant" in Hamburg, "Buddenbrooks" in Lübeck and "La Mer" in List on the island of Sylt.

The Rising Star category of restaurants in line for a second star includes "Tim Raue" and "Margaux" in Berlin, "Le " in Saarbrücken, the "Gourmet Restaurant at Wald- und Schlosshotel Friedrichsruhe" in Öhringen and "Zum Hirschen – Avui" in Fellbach near Stuttgart.
The number of one-star restaurants increased from 205 to 208, with 23 awarded their first star by the Michelin inspectors.  The guide also features four Rising Star restaurants in line for their first Michelin star.
[adsenseyu1]