Luxury Italian bag based on a sketch by Leonardo da Vinci
Luxury Florence fashion house Gherardini created a handmade calfskin bag based on a sketch by Leonardo da Vinci. Named Pretiosa or "precious" and designed by Carla Braccialini, the luxury handmade accessory made in a limited edition (99 items) was unveiled at the Pitti W fashion show in Florence.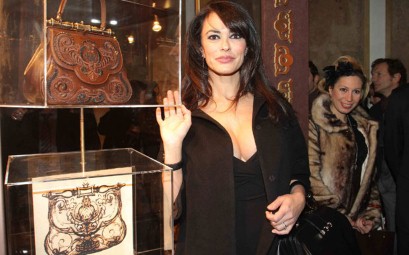 The sketch was first discovered by Da Vinci scholar Carlo Pedretti in 1978 among tens of thousands of the inventor's drawings but faded into obscurity.
Art historian Alessandro Vessozi, director of the Museo Ideale in Da Vinci's birthplace Vinci, reassembled the drawing with fellow expert Agnese Sabato.
"Leonardo designed several fashion accessories, but this bag is pretty unique. "It blends beauty and functionality in a very harmonious way, " said Mr Vessozi.
Lorenzo Braccialini, marketing director of Braccialini, Gherardini's holding company, said: "It's a very chic handbag. It is also very functional and capable. Indeed, it embodies the best Florentine tradition of leather work."
More: fashion.telegraph
If you like it, then please subscribe to our Feed By Mail service.Thank you!