Designer Joseph Dirand sees craftsmanship as a veritable laboratory of ideas that goes beyond the specific skills involved. His latest collection for French luxury maison Puiforcat is a line of highly refined yet eminently functional pieces reshaping the arts of the table.
A champion of minimalism, Joseph Dirand took an architectural approach to the design of nine office items, "bringing into play his finely-tuned sense of structure, rhythm and space to fashion a miniature landscape – a sort of landscaped desk where the brilliance of gold and silver intermingle."
From letter stands to bookends, paper trays to tape dispensers, pencil holders to secret boxes, Puiforcat Bureau d'Architecte line comprises nine handcrafted pieces in silver- and gold-plated brass.
To produce Bureau d'Architecte, the House of Puiforcat called on the savoir-faire of its craftsmen, who harnessed the power of new technologies while applying their age-old expertise. This union of old and new was the workshop's response to the architect's aesthetic challenge: bringing together silver and gold.
"The entire production process was organized with this imperative in mind. Each component is handled separately to enable the various experts to execute their portion if the creative process. It is then plated in silver and gold, and finally polished to perfection before meticulously assembly of the full piece." explained Puiforcat luxury maison.
No fasteners are visible. The pure lines of the pieces belie the stunning complexity of the manufacturing process and the many secrets  hidden within.
The Bureau d'Architecte collection comprises nine pieces in silver- and gold-plated brass: Picture frame, Paper tray, Secret box, Letter stand, Pencil tray, Bookends, Tape dispenser, Letter opener, Pen case.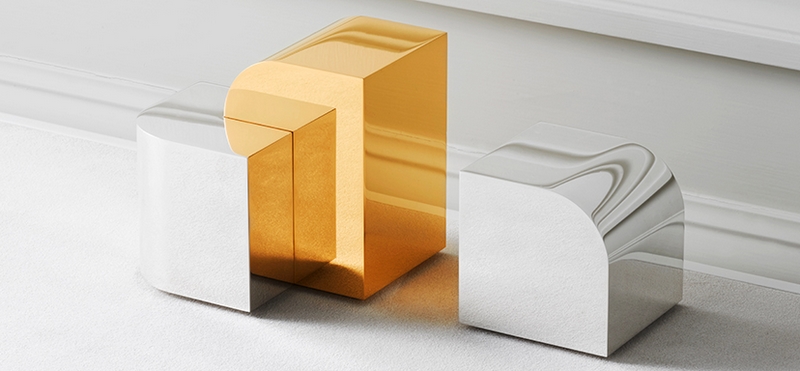 In 2000, in collaboration with Champagne maker Bruno Paillard, Puiforcat created the Champagne timbale, a unique tasting cup in solid
silver. In 2010 with designer Patrick Jouin, Puiforcat created Zermatt, stainless steel flatware set, on display today at the Pompidou Centre's Museum of Modern Arts in Paris, and at the Museum of Arts and Design in New York. Conceived in 2011 in collaboration with Michelin starred chef Pierre Gagnaire, a new line of cooking knives designed by Gabriele Pezzini, reflects the expansion of Puiforcat's expertise from tableware to cookingware.