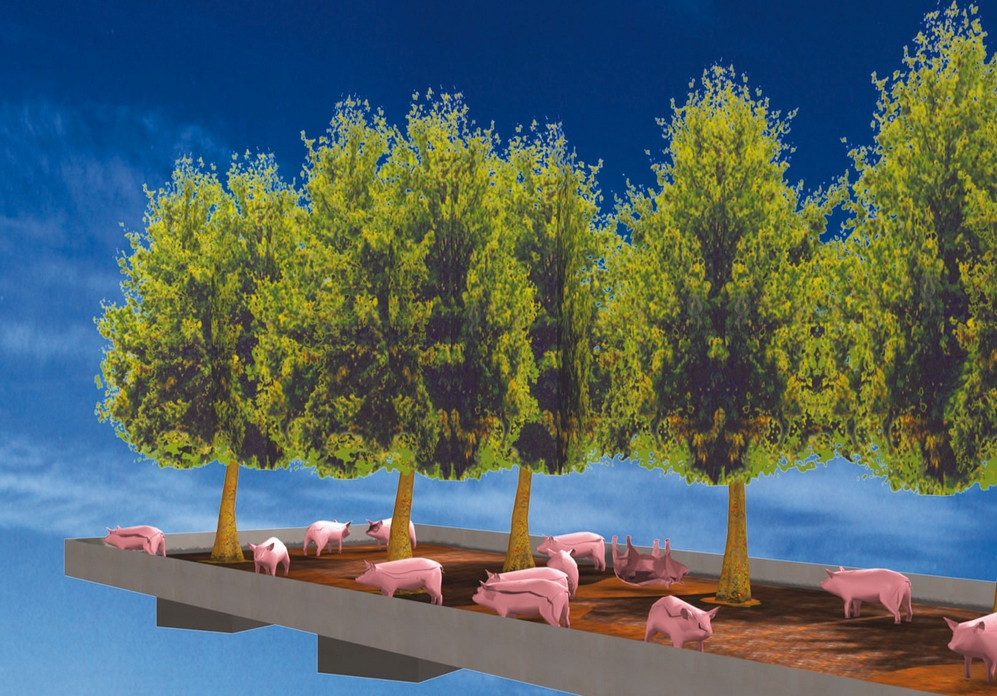 ---
This article titled "High Lines and park life: why more green isn't always greener for cities" was written by Owen Hatherley, for theguardian.com on Thursday 30th January 2014 08.00 UTC
For a lot of people in the 20th century, the future of the city was simply a better, shinier version of what ancient cities looked like after they had been abandoned. There's a link between the visions of the Roman city, overgrown by vegetation that you can find in the etchings of Piranesi, and the vision of the "garden city" or "Radiant City" once so cherished by architects and planners.
Now, after a period in which real cities with all their asphalt, brick and concrete were reclaimed, the city-overtaken-by-greenery has returned, this time with a post-industrial spin. The abandonment of industry in most innercities left large areas free for grass, weeds and all manner of more exotic things to grow on them, and in recent years, those spaces have been reclaimed rather than simply built over; both the London Olympic Park and, much more impressively, the New York High Line are the transformation and decontamination of these verdant wastes, turning them into verdant parks.
After these, the deluge: in Sydney and Chicago, there are proposals for turning old freight viaducts into parks; in Cape Town, architects have issued plans for the remodelling of an unfinished flyover into a combined park, recycled energy power station and museum; and in London, Fletcher Priest won a competition for a London "High Line", which would take the form of a mushroom farm in a disused mail tunnel.
Also in London, a Garden Bridge proposed by Thomas Heatherwick would be a new structure rather than an intervention in old space but it has a similar rus-in-urbe approach. How did all these projects come about so quickly, and why are they so popular for city authorities? Are they likely to be a major presence in cities in the future?
One obvious answer to these conundrums is increased focus on "sustainability", along with the questionable notion that because something has a lot of vegetation on it, it must be good for the environment. Accordingly, urban farms are part of this peculiar trend. As early as the mid-1980s, Prince Charles advocated turning the depopulated streets of central Liverpool into farmland, something which seemed connected to his war against modern architecture around the same time; but not all urban farms or ex-industrial parks would please the prince architecturally.
Among the many speculative urban farming projects is MVRDV's "Pig City", a proposal for a vertical pig farm designed as a highrise office block. Someone that knows their architectural history, looking at their image of a steel and glass grid filled with greenery, might recognise it as a parody of a much older design – Le Corbusier's Immeubles Villas project of the mid-1920s, where each balcony on a concrete grid is filled with a miniature garden. Le Corbusier, like many of his generation, was fixated by the idea that the "street" was an unhealthy, ugly, chaotic thing to live on, and advocated instead that buildings should be scattered across winding paths among trees. In this, however advanced his buildings may have been, he was completely a man of his time – more conservative architects and planners were then building "garden cities" and suburbs, where the noise, stink and clutter of the metropolis would be replaced by a world of green squares, parks and clean factories.
A lot of this was built, in the UK particularly, with its long tradition of picturesque planning. Before the war, Letchworth Garden City and Welwyn Garden City were the first of their kind anywhere, giving rise to new garden suburbs like Wythenshawe. Post-war, the new towns, Chamberlain Gardens in Birmingham or the Alton estate in London were attempts at Corbusian "Radiant Cities". Rather than being seen as lovely places full of singing birds, dappled light on falling leaves and other such delights, however, these were often rejected by the generation of the 1960s – precisely those who would go on to create the green movement.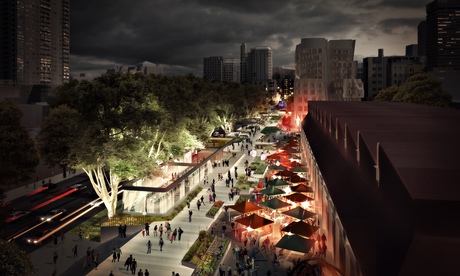 Nobody scorned the rusinurbe quite so much as the American writer Jane Jacobs, who considered the "Radiant Garden City Beautiful" amalgam as a moronic space where "Christopher Robin goes hippety-hoppety" – an image of the ideal city that had little to do with the messier spaces in which the city was lived. Jacobs' disciples would reclaim the treeless innercity spaces of Manhattan, Berlin, Glasgow and many others that had been demonised for decades. She implied that the environment – in terms of local economies, walkability, legibility – was best served by a dense, properly urban city. Places like the Elephant and Castle in south London, which had been replanned so that tall slab blocks formed squares around dense thickets of trees, had made mistakes about how cities "worked".
It is maybe unsurprising, then, that many of Jacobs' disciples have had nothing but scorn for the High Line. The New Urbanists, a movement who elevate Jacobs' ideas into dogma, have often attacked it in print. One of their number, James Howard Kunstler, blasted the High Line as "decadent", "a weed-filled 1.5 mile-long stretch of abandoned elevated railroad", where "mistakes are artfully multiplied and layered", such as "the notion that buildings don't have to relate to the street-and-block grid … instead of repairing the discontinuities of recent decades, we just celebrate them and make them worse". Kunstler is elsewhere an advocate of a new agrarianism, so his problem is not greenness per se, but its use just for the sake of it, for contemplation rather than production – a return, as he sees it, to the old Corbusian ideas.
But is it really the case that these radiant cities don't work? Those defending the now-cleared Heygate estate in London pointed out that they actually liked, enjoyed, and used the green space between their flats. The area around breaks every Jacobs rule, but Elephant and Castle, where the estate sits – being demolished as we speak – is a far more diverse, unique part of the city and features London's only shopping centre not dominated by chain stores, a street market, and other essentials of city life.
Nonetheless, building on the untamed green space and moving out the poor will happen in tandem . The Heygate may be the "wrong kind" of green, but it's hard to say that its park-like spaces are inappropriate to an innercity site when architects propose to block one of the great urban set pieces with bridge-cum-park, as in the staggeringly whimsical, flamboyantly pointless Garden Bridge proposal.
If the Heygate proves that the greening of the city is a long way off in London, turning industry into a strange kind of rurality may play oddly with those who once worked in that industry. In an interview at the Unsound festival in Krakow last October, Mike Banks, founder of the techno collective Underground Resistance was asked about the expansion of urban farming in his hometown, Detroit. He pointed out they weren't so popular for those hired to work in them.
"If they called them urban gardens, that would be fine, as gardening is a hobby. Farming is a job. I know a lot of people in Detroit who call those urban farms 'urban plantations'."
Le Corbusier's city plans were full of vegetation not because he thought people would grow things in them – on the contrary, he imagined that the future would entail less manual labour. It was more because he thought it would be pleasant, that people would enjoy it. If the future of cities means a proletariat turning back into a peasantry, we ought not to expect them to be happy about it.
guardian.co.uk © Guardian News & Media Limited 2010
Published via the Guardian News Feed plugin for WordPress.