8 prestigious Maisons Françaises celebrate 80 years of Lacoste
Lacoste's iconic polo shirt turned 80. The lifestyle brand was born of the inventiveness of René Lacoste, a multiple Grand Slam tennis champion, nicknamed the Crocodile. The tennis champion created the first polo shirt ever, initially for himself and for his friends. Before moving on the polo shirt, René Lacoste had the animal embroidered on the blazer he wore on court.
In honour of the Crocodile's 80th anniversary, 8 prestigious Maisons Françaises, some of the greatest names in French luxury, payed homage to Lacoste's authentic heritage with exceptional gifts like bags, pastry, golf clubs, golf tees, lighters, candles, a notebook, crystal vase, brooches and two pens. Each of the gifts embody elegance and fair-play – the core values of every champion.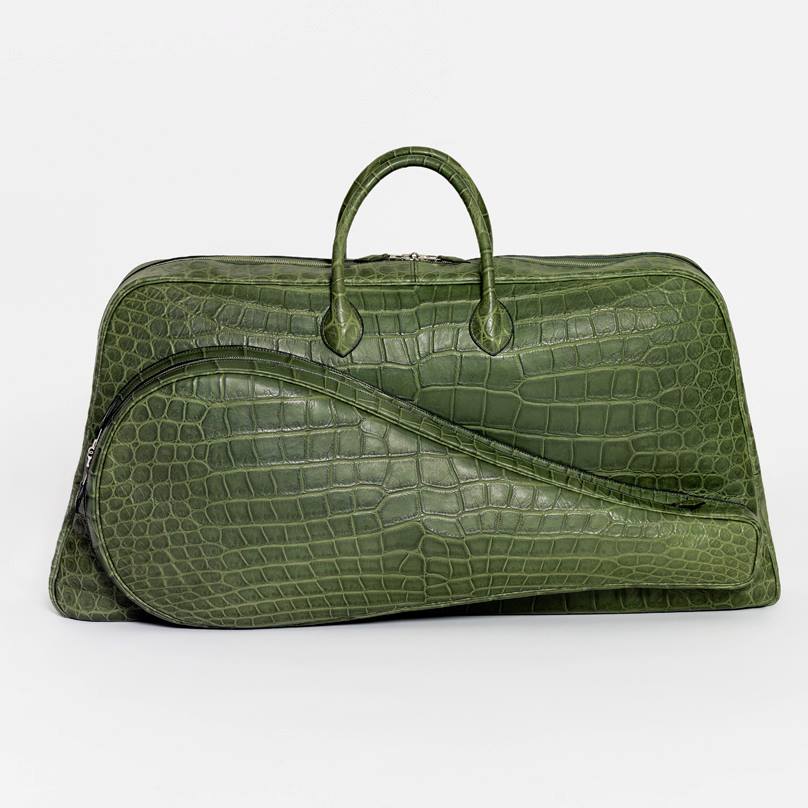 In the 1920s, tennis champion René Lacoste made a bet with his team captain about whether he would win a match he was about to play. The champion was given his nickname after the stakes of that bet — a suitcase made of crocodile skin — and soon started embroidering a crocodile on his legendary polo shirt. As a tribute to the origin of the crocodile brand, Hermès offered an elegant tennis bag.
Goyard luxury house created an exclusive travel bag; a nod to the Crocodile's worldwide presence.
Reminiscent of the family-shared passion of golf, and the triumphs of golf champions Simone Thion de la Chaume and daughter Catherine Lacoste, Christofle's gift to Lacoste was a silver golf club, destined to the most exclusive of golf players. Bernardaud's 27 colourful golf tees inspired by the joyful palette of the Lacoste poloshirts. Until the 50s, the Lacoste poloshirt was only produced in white, but today, about 60 colors are available every season — an extension of the brand's famous « joie de vivre ».
Boucheron luxury house came with two exclusive brooches, paying tribute to the values such as elegance and savoir-faire of the brand.
For Lacoste's 80th anniversary, S.T. Dupont presented the iconic crocodile with a purposely mysterious case containing a beautiful lighter « Ligne 2 », two candles, a notebook and two pens: Elysée and Classique.
Eclairs, Fauchon's signature pastry, was revisited for Lacoste in four unique limited-edition gourmet versions. The legendary crocodile was made from marshmallow adding the finishing touch to a delectable gift.
Baccarat developed a crystal vase inspired by the tennis and golf trophies that René Lacoste, his wife, daughter, and all of the Lacoste champions ever since, have held high above their head.
Some of the products (ST Dupont, Christofle, Bernardaud, Boucheron, Fauchon) will be available on demand from at the Colette Store in Paris and then, in some of the flagship stores of the Maisons Françaises.