Crafted in Turin by internationally-renowned automotive designers, Fabrizio and Giorgetto Giugiaro, Ren supercar offers a distinctive fighter jet-style canopy and unique modular three-cockpit design. First revealed at the 2017 Geneva Motor Show, Ren is the world's first electric production supercar to feature Techrules' proprietary Turbine-Recharging Electric Vehicle (TREV) system. The innovative series-hybrid powertrain technology delivers unprecedented levels of efficiency and performance, and an ultra-low environmental impact.
Featuring a dramatic aerospace-inspired design, Techrules' Ren delivers power and performance like no other supercar thanks to its innovative Turbine-Recharging Electric Vehicle (TREV) powertrain technology. Techrules, the China-based automotive research and development company, will display its first production electric supercar at the 2017 Concorso d'Eleganza at the Villa d'Este.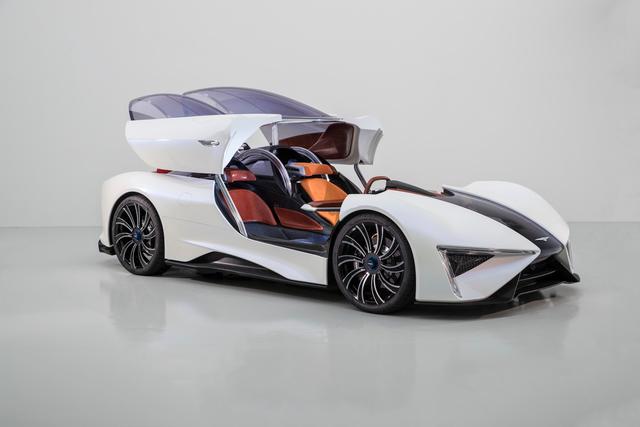 Ren supercar will take its place alongside a host of historical and luxurious vehicles at the world's most exclusive automotive event, which takes place at the iconic Grand Hotel Villa d'Este on the shores of Lake Como, Italy, from Friday 26th May to Sunday 28th May 2017.
The final stages of a rigorous vehicle development and testing programme are being undertaken by L.M. Giannetti in Turin. First deliveries of track versions of the supercar are due for delivery next year.
In parallel, development of Techrules' proprietary TREV technology towards series production readiness continues rapidly at company's technical centres in Beijing and Shanghai. While TREV technology will first be integrated into Ren, the engineering team is also in the advanced stages of developing variants of the technology for installation into more conventional passenger and commercial vehicles in the near future.
The flagship version of Ren has a battery capacity of 25 kWh and delivers maximum power of 960kW (1,287 hp / 1,305 PS) with a range of 1,170 km from 80 litres of diesel fuel (NEDC). The lightweight chassis has been designed by Italian motorsport specialist, L.M. Gianetti, Techrules' development and manufacturing partner.
To increase the sense of exceptional luxury, the seat cushions are finished in an exclusive denim fabric produced by the haute couture clothing company, PT (Pantaloni Torino). Its bespoke texture is designed to grip the occupant to the seat and help prevent sliding around under high cornering or braking loads.
Production of Ren is likely to start in 2018, with orders already being taken. A limited run of track versions will be hand built by L.M. Gianetti in Italy.