Launch of 24 Sèvres, the new online shopping experience: The most Parisian selection by Le Bon Marché, Paris
To celebrate the launch of its new website and app 24 Sèvres, an exclusive capsule collection bringing together art and fashion is a must see on the ground floor of Le Bon Marché until July 9th.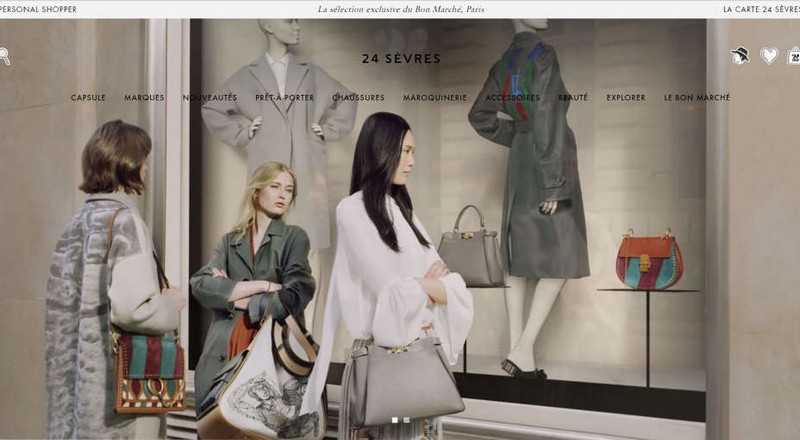 Since 1852, at 24 rue de Sèvres, Le Bon Marché Rive Gauche – the world's first department store – has brought shopping  to another level. Now, 165 years later, this very Parisian vision of fashion and beauty is available to customers the world over at 24sevres dot com and via a dedicated iOS application.
Le Bon Marché is pioneering a new online shopping experience with the launch of its 24 Sèvres digital platform.
The new online fashion address features an exclusive, curated selection of over 150 luxury womenswear brands (including Louis Vuitton, Christian Dior and Chloé and Valentino). According to LVMH, the new fashion platform is embodying the spirit of Paris as a fashion capital.
The virtual windows are offering the most innovative and attractive online presentation on the market, standout customer service… "This all-new shopping experience sets new standards for the sale of luxury products online, while at the same time reflecting the unique spirit of Le Bon Marché…" says the luxury group.
A first in fashion, Parisian stylists are available for live, one-to-one video consultations on the 24 Sèvres website, while on the 24 Sèvres iOS app, customers can chat with a stylist and browse the store at the same time. Exploring new ways to shop online, 24 Sèvres is also launching its Style Bot on Facebook Messenger.
To celebrate its launch, 24 Sèvres is presenting a debut capsule collection created in collaboration with Le Bon Marché and 68 Parisian and international brands including Fendi, Givenchy and Loewe, as well as Chloe, Marni and Ferragamo. For this capsule of 77 exclusive, limited-edition pieces, each Maison has revisited one of its most iconic products. Most have invited a creative friend, a figure of the arts, cinema or music scene, or an ambassador of Parisian art de vivre, to collaborate on the personalization of one or more pieces.
"Our clients are highly sophisticated and always in search of creativity and innovation. With the launch of 24 Sèvres, we are offering them a truly differentiated online experience built on our unique expertise at Le Bon Marché in Paris," comments Bernard Arnault, Chairman and Chief Executive Officer of LVMH.
The entire platform is imbued with the spirit of Paris, the fashion capital of the world. "We felt it was time to take our expertise in visual merchandising, which our Maisons have long brought to their stores, and transform it online," explains Ian Rogers, Chief Digital Officer of LVMH.
24 Sèvres' delivery is available to more than 75 countries or click-and-collect at Le Bon Marché.