World's first cashmere summer dress: Dolcevita Cashmere x Shiroiy Cama cashmere summer dress.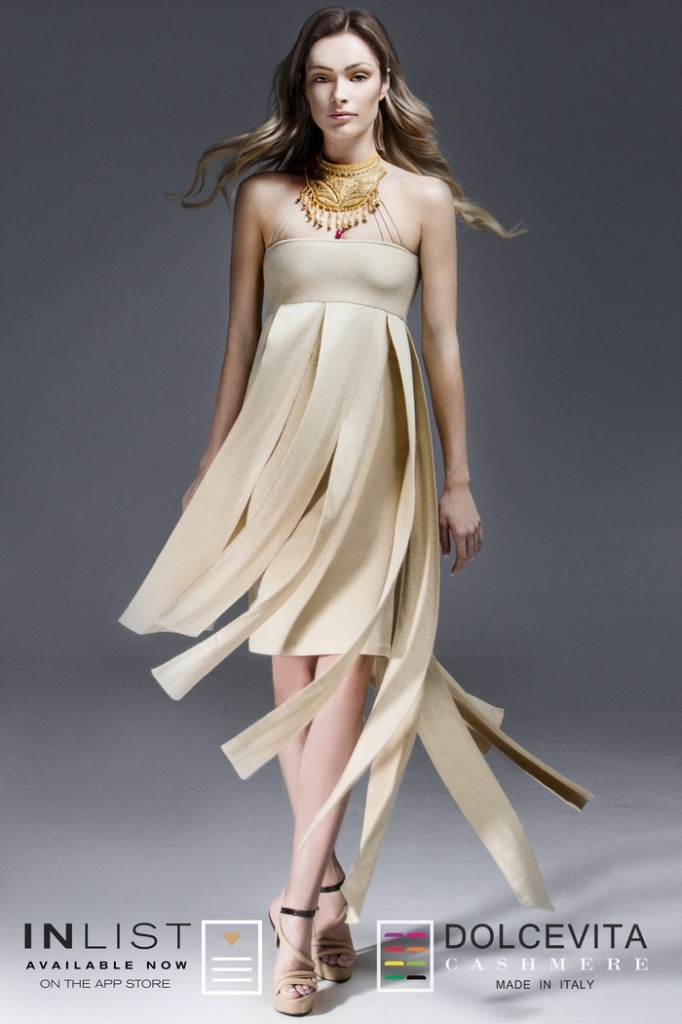 This innovative dress is unique and sure to impress and be the envy of any summer fête. It fuses the luxury of cashmere and the glitter of 30 carats of rubies, emeralds, sapphires and gold from Shiroiy Cama.
Months in the designing process have lead up to the culmination of the world's first, one-of-a-kind cashmere summer dress. Cashmere expert Dolcevita Cashmere has been at the forefront of innovation in their field and pioneering their proprietary lighter summer blends of soft cashmere with silk and lurex — capable of keeping you cool in the sun, but warm in the midnight breeze. The stunning collars are painstakingly designed and created by hand and then patiently crocheted into the dress.
The face of this exquisite collaboration is Canadian model Leighha Love.
"We wanted to not only show that our new, lighter blends of cashmere can be used perfectly in the summer, but also wanted Shiroiy Cama's intricate designs as the stunning centerpiece. The two styles of dresses are embroidered and joined to the jewels, but are still free to fall in a Symphony and Arpeggio just like in classical music — where the notes are played in harmonic sequence. This collaboration is much like a symphony, bringing together two creative artisans and the muse to present it to the world," said Veronica Zorzi of Dolcevita Cashmere.
These one-of-a-kind pieces range in price from $9,000 to $12,000 US, and take a few weeks to create.