---
This article titled "What is it like riding a £10k Team Sky bike on Britain's roads?" was written by Peter Kimpton, for theguardian.com on Friday 14th August 2015 11.02 UTC
"Did you see that?" said one cyclist to his mates as we whizzed in opposite directions on two parts of London's Olympic Velodrome road track.
"What's going on with that frame?" said another as we briefly cycled alongside each other at the Prudential London-Surrey 100 on 2 August. "Eh? Suspension? How's that working out for you?" said another on a bumpier bit of road on the same ride in central London.
It's a strange experience getting on a bike that retails at more than £10,000. When I first cycled it home through heavy traffic, I felt pretty self-conscious, as if about to drive a gold Lamborghini through a row of aggressive rally drivers. But of course it wasn't like that at all. I was, after all, only riding a bike, and unless a keen-eyed cyclist gives it a close inspection, nobody bats an eyelid. But I don't think I would have risked it on the canal path.
Resplendent in red and black frame and finish, the brand new for 2016 Dogma K8-S is billed as a real game-changer in road cycling. Why? You may have seen something very similar before on TV coverage of the Tour De France this year – in blue and black.
The K8-S was designed as a direct request from Team Sky, led by Sir Dave Brailsford, to make riding over rough roads – particularly cobbles – faster, safer and more comfortable for the likes of Chris Froome and his team. It certainly seemed to work out for him this year following his crashes back in 2014. And the solution – this bike – has been designed in a British-Italian design collaboration in conjunction with Jaguar and Pinarello, and tested out by Sir Bradley Wiggins over the Paris-Roubaix route. And now I'm riding it. For a weekend.
The K8-S is a step up from the acclaimed pro-level Dogma F8, but it's still over five-times more expensive than anything I've ever ridden before. I've moved gradually up to a carbon frame with Shimano Ultegra brakes and gears, and am more than happy with that. But here I'm enjoying a full Dura Ace 9000 set, and first thing I notice is the sharpness of the brakes, the extra lightness and the quietness of the ride. It feels like a wild cat waiting to be unleashed.
Then I try the electric gear changers. They are a real revelation with each gentle side-button (not the whole break lever) producing an instant and precise change, with no clanking or rubbing – the only accompanying buzz like the dart of a humming bird. The Most Talon carbon handlebars feel comfortable with their flat profile, and as I try it out in the shop, Matt at the Bike Rooms gives me some fitting time to set some optimum saddle and handlebar height.
On the road I can certainly feel a difference with the Torayca T1100 1K carbon asymmetric frame and Onda K8 T1100 forks. The handling on corners is superb. The frame weighs less than 1kg and it has a superior balance of stiffness and flexibility especially with the chain stays, but does the new DSS 1.0 suspension match up to its billing? Unlike the suspension systems on mountain bikes, which tend to use heavy duty springs, oil and rubber, the K8-S's suspension is essentially a rubber join between the seat stays and the main seat tube. It looks tenuous but feels sturdy.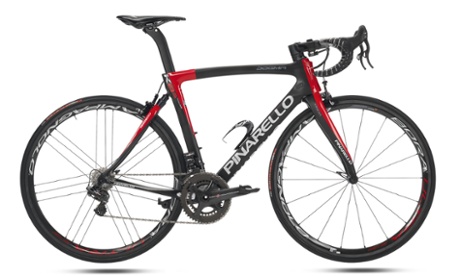 My real test is on the Surrey-London 100. It is the first time I've managed to get a place on this event, and the first 40 miles winding through London, although packed with fellow cyclists, are a breeze. Is it comfortable? The saddle on the one I ride is a Selle Italia, and is a bit on the hard side for me, but that's a personal thing.
Until we arrive at Box Hill, which seems like a smooth carpet of concrete these days, London's roads do offer variable roughness, and I'd estimate this is at least 20% more comfortable than any road bike I've ridden, but I can't pretend I don't notice the bumps. Would it make a difference on cobbles? By trying it on a few rough patches, I'd imagine that over the course of a day on such a terrain, the accumulative benefit for your backside would be noticeable.
I really enjoyed my first Surrey-London 100, which seemed to fly by in just a little over five hours, but at times I felt a bit worried about having a crash on the crowded roads, especially on such a pricey bike. I felt I couldn't really cut loose with this beast, especially up Leith Hill where I had a near-miss when someone squeezed past as I was taking a drink. Having said that, the event has no shortage of expensive models, so it was great fun to exchange bemused and admiring glances.
Is the K8-S worth its current retail price of £10,299? I'd say that it's a little bit steep for the extra suspension element, but if you're a pro or a very regular rider doing cobbles, then you'd be very tempted. At the highest levels, improvements are small, but incrementally make a difference.
Am I worthy of such a bike? No, and I would certainly feel paranoid about owning one – and doubt I'd ever be able to afford it. But it was certainly painful having to give it back. If money was no object, or I was feeling rich and reckless? Then absolutely. Yes.
The Pinarello Dogma K8-S is available from The Bike Rooms

Ballot registration for next year's Prudential Surrey-London 100 is now open
guardian.co.uk © Guardian News & Media Limited 2010
Published via the Guardian News Feed plugin for WordPress.