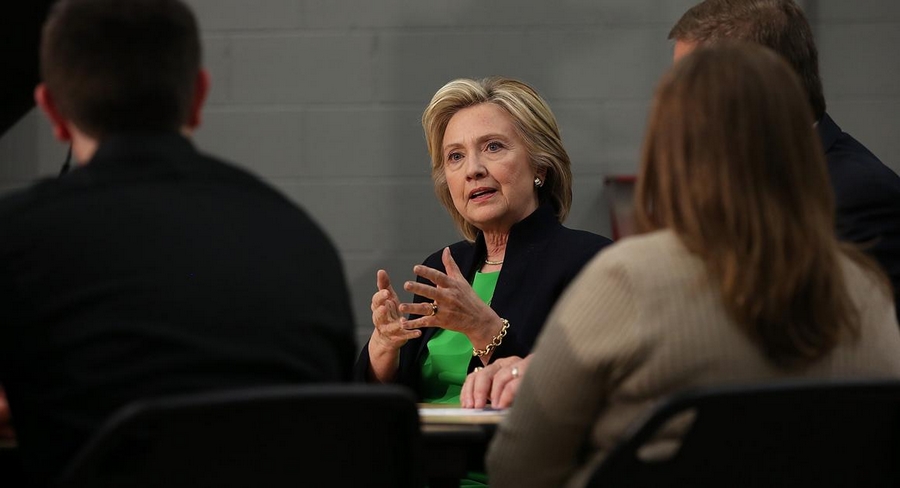 ---
This article titled "The Hillary Clinton look: power hair, pantsuits and practicality" was written by Alyson Walsh, for theguardian.com on Wednesday 15th April 2015 11.16 UTC
Never one for frivolous first lady dressing, lawyer, women's rights campaigner and former secretary of state, Hillary Clinton has always worn the pants. As she hits the campaign trail for the Democratic nomination, here's what to expect, style-wise:
A panoply of pantsuits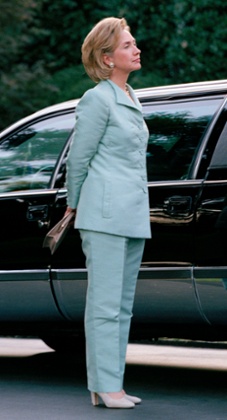 Power dressing her way from through impeachment and beyond, the self-proclaimed pantsuit aficionada (checkout the Twitter bio @HillaryClinton) owns versions of her signature two-piece in a range of zesty hues. From the blue shiny suit she wore when she was elected as the senator for NYC, to the tangerine number she chose for the 2008 Democratic Convention. The only other woman who could rival her is Angela Merkel, so I'm hoping for plenty of double pantsuit action on the global stage from 2016 onwards.
No more scrunchie-gate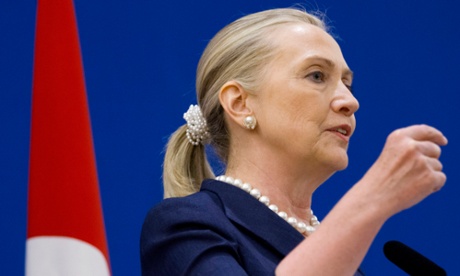 Scrutinised by the media for her retro hair accessories in 2006, the Harvard-educated lawyer told CNN: "I feel so relieved to be at the stage I'm at in my life right now. Because you know, if I want to wear my glasses I'm wearing my glasses. If I want to wear my hair back I'm pulling my hair back." The scoffed-at scrunchies may be long gone but the memory still lingers; on publishing her memoir Hard Choices last year, the former secretary of state joked that she nearly called the autobiography The Scrunchie Chronicles: 112 Countries and it's Still About the Hair. Well, we would have bought it.
The end of first lady Dressing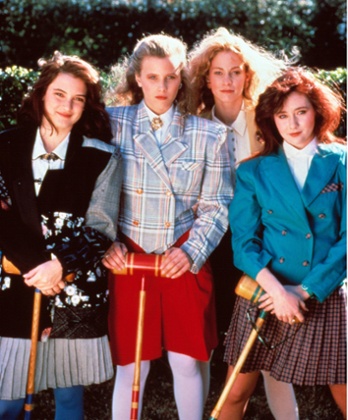 For her first stay at the White House in 1993, Clinton avoided the political WAG-as-arm-candy route by doing her own thing. She did her meeting and greeting in a selection of primary coloured power jackets worn with the hair accessory du jour (see above and below) for that straight-out-of-Heathers look. Unafraid to wear what she likes, the 68-year-old has always been more JD + Veronica than in-crowd, and was quoted at the Women Fashion Power exhibition as saying: "Now you can be aware of conventions but not be a slave to them."
The return of the hairband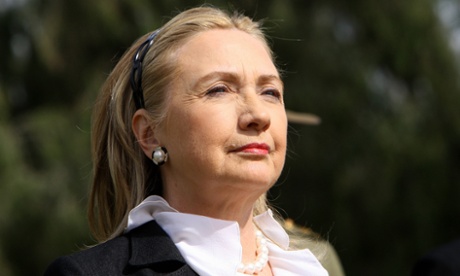 No helicopters and private jets this time round – the black armoured Chevrolet van indicates a more pared-down approach. When the presidential battle commences, expect this businesslike attitude to manifest itself in a no-nonsense hairdo. She is fully aware of its power (she once said: "If I want to knock a story off the front page, I just change my hairstyle") but rather than waste half an hour on a blowdry, Clinton would probably scrape her hair back, don a big fat velvet hairband and get right back down to business.
The dark glasses inside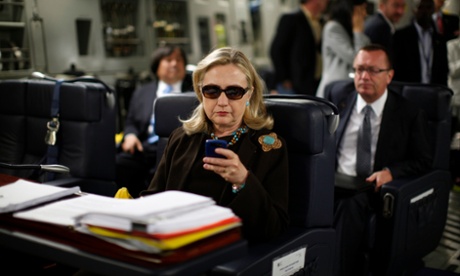 For texting on her BlackBerry – the Texts From Hillary meme went viral in 2012 – and the recent incognito trip to a Chipotle restaurant in Iowa (she ordered a chicken burrito bowl if you must know), Clinton often hides behind sunglasses. Could this fondness for a power do and dark glasses indoors, indicate that she has been taking style cues from the first lady of American Vogue, Anna Wintour? Very, very possibly.
guardian.co.uk © Guardian News & Media Limited 2010
Published via the Guardian News Feed plugin for WordPress.