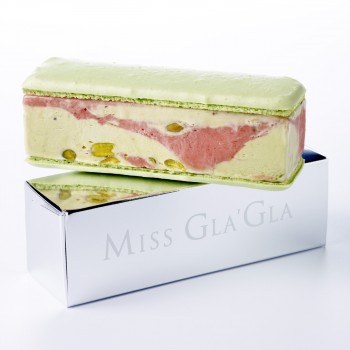 The arrival of summer is the best excuse to discover or rediscover the delicious sorbets and ice cream flavors of Pierre Hermé. From the most usual perfume to the most complex one, via the "ice cream cookie",  more commonly called "Miss Gla'Gla", the frozen treats are available in dozens of variants.
"I enjoy exploring contrasts in tastes and in textures. Here I sought to assemble different flavours without mixing them together. The intriguing result is Miss Gla'Gla, an original creation in the form of an ice cream sandwich," said the pastry chef Pierre Hermé.
Born in Alsace, chef Hermé worked for the greatest French houses as Lenotre and Fauchon before getting his own business and becoming a chef on top of his art. The Parisian shops offer luxury ice creams and sorbets in pots of 400 ml or 1 liter.
An original creation of the Maison Pierre Hermé Paris, Miss Gla'Gla ice cream can be hand-held and enjoyed straight away. This gourmet pleasure is an ice cream sandwich made with two macaron biscuits or two crispy sablé biscuits. The crispy and creamy textures come together in a delicious accord.
Cream-cheese sorbet+passion fruit sorbet+orange coulis+macaron biscuits or Rose and letchi sorbet+raspberry sorbet+macaron biscuits?