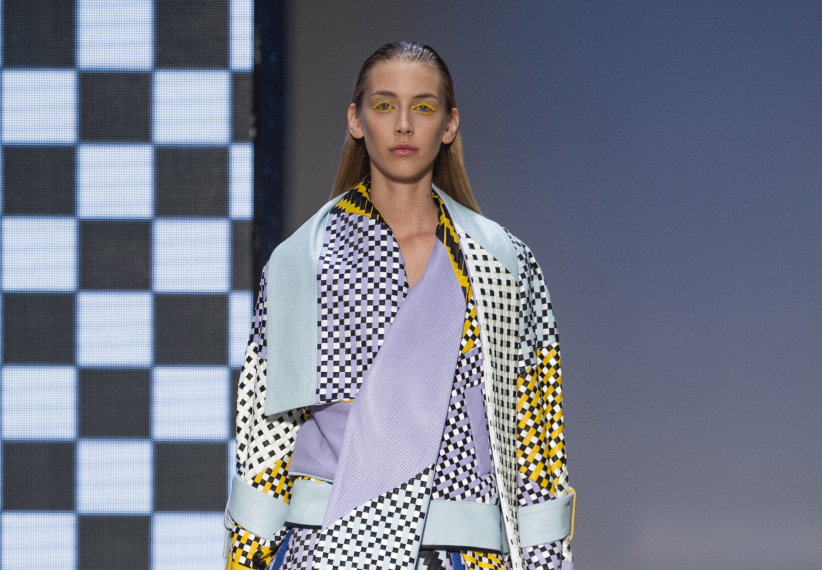 ---
This article titled "Meet the future stars of sustainable fashion" was written by Tamsin Blanchard, for The Observer on Sunday 3rd January 2016 10.00 UTC
A new breed of fashion designer is putting ethics at the heart of everything they do. No longer is sustainability and social responsibility a token extra or cynical marketing ploy. The smartest brands are the ones taking full responsibility for every step of the process, from the supplier to the maker – and in some cases the aftercare of the product, too. These are designers interested in quality, never quantity – a generation making clothes we will cherish, that will make us consume less and make the best possible choice when we do.
Next week the windows of Selfridges in London's Oxford Street will be dedicated to the store's annual Bright New Things. This year the focus is on designers who are making innovative and beautiful products in a clean, transparent way. The store consulted the Centre for Sustainable Fashion to select and mentor nine designers to showcase in its windows. One BNT will be awarded a bursary of £3,000 to support their work.
Here we introduce five of the brightest, newest things and find out why crochet, fishing nets and old-fashioned hand weaving are the future of fashion.
Katie Jones: 'With sustainability you decide what to target'
Katie Jones (previous spread) loves to crochet. She loves it so much she will spend 80 hours working on a single jacket, piecing together upcycled leather and denim to make a glorious patchwork of the finest craftwork it's possible to find. Along with her mum, Annie, and her right-hand woman, Sara Liz Marty, everything Jones produces from her studio in Stratford, east London, is a labour of love. "We each have our specialism," she says. "My favourite pieces are the denim and the leather pieces, which are hand punched and crocheted into and joined together. I'm in my element and at my happiest when I'm doing my crochetwork."
Jones, who graduated from Central Saint Martins with an MA in knitwear in 2013, doesn't like to waste anything. She goes out of her way to use up ends of runs of wool, and second-hand clothes which she cuts up to remake into her own designs with hole punching, hand embroidery, hand dyeing and knitting. Her collection for spring/summer 16 is a riot of kitsch Tex-Mex inspired colour and texture – jeans with multicoloured stars and hearts, knitted cardigans with sweetie-coloured ribbons as fringing, a simple summer dress made from reclaimed denim panels pieced together with Jones's bright and breezy crochet trademark. Jones's approach comes from a belief that the planet can't take much more overconsumption and gratuitous waste. But she is not on a mission to save the world.
"You pick a couple of battles when working with sustainability and decide what you want to target," she says. "The one we tend to focus on is reusing all waste – how you can make something new but without having to use any new fabrics – or if I do purchase anything new it's from British manufacturers where you know the supply chain. I also love the bespoke and handmade element. When you know who made it and the piece itself, it is less likely to be wasted."
Margot Bowman and Diana Auria: 'It's playful , sexy and hyper smart'
Diana Auria never learned to swim, but that hasn't stopped her building up a thriving swimwear brand. Her partner Margot Bowman, an enthusiastic swimmer, more than makes up for her lack of butterfly.
Auria understands how to cut a flattering swimsuit. And Bowman knows how to make it look fun and glamorous. But what is really clever about their brand is the fabric. Econyl had just come on to the market when Bowman and Auria were launching their swimwear collection, Auria, two years ago, and they were the first to use it. "It is 100% recycled polyamide," explains Bowman proudly. "It's a new-generation fabric that comes from projects around the world – one in the Philippines – where they collect fishing nets and melt them down. It's from the sea back into the sea, the full life cycle. But you would never know." And that's the important bit. They understand that nobody will buy a product just because it is sustainable. "The look is really playful, contemporary and sexy, but the way it's produced is hyper smart."
Auria and Bowman launched their swimwear brand after Auria finished her degree at London College of Fashion in 2012 specialising in lingerie and swimwear design. The course included a project with Speedo to upcycle its surplus LZR swimsuits which had been banned by the swimming world's governing body Fina in 2009. "From swimming trunks I made a bikini with inflatable cups," says Auria. Meanwhile Bowman, her flatmate, was working as a graphic designer for Estethica magazine which promoted the work of sustainable fashion designers showing at London Fashion Week. The pair decided to work together. "The ability to make women feel great in their bodies is such a pleasure," says Auria. "The swimsuits have this good karma because they are made from recycled thread," adds Bowman. "Many people don't even know it's 'eco'. It needs to be colourful and playful and sexy if we want to get people to engage with climate change. Auria swimwear looks good enough to eat – it is really high on life."
Martina Spetlova: 'Leather is precious. It's important I know where it's coming from'
Martina Spetlova does not make a big issue of her credentials as a responsible-minded fashion designer. Nor should she. For her artisanal brand it makes sense that she should source her raw materials from suppliers she knows, particularly because that material is leather. "Hand-woven leather is a trademark of the company. We change the leather into a different texture with smocking, weaving, hole punching and patchwork. It's very three-dimensional."
While leather itself is not the most sustainable of materials, Spetlova, who has been working for the past year with the Centre for Sustainable Fashion to make her business as transparent as she can, insists she only uses by-products of the meat industry, sometimes working directly with slaughterhouses. "It is important for me. I don't work with fur or exotic leathers – mainly sheep, lamb and cow."
She has recently started to collaborate with Ecco, the world's most environmentally friendly tannery. It runs its production on 75% biofuel, and there are strict water policies in place. It's a two-way relationship. Ecco supplies her with leather and she in turn works with the Ecco workshop in the Netherlands to experiment with its leathers.
"Leather is a tricky material and very precious," she says, "so it's important I know where it's coming from." Her new website will include information about her suppliers and her processes.
As well as ensuring that her supply chains are as clean as can be, Spetlova, who studied chemistry in the Czech Republic before moving to London to study fashion at Central Saint Martins, is working towards zero waste in her production. She precision-cuts her leathers using computers, and any excess is used to make small accessories or donated to fashion colleges for the students to use. Most impressive, however, is her production, partly done in the Czech Republic and partly with a project in the Netherlands which works with a refugee community of weavers and craftspeople.
"I've always been interested in sustainabilty since I was a student," says Spetlova. "I have that at the back of my mind. It's important for me to know where the things are coming from and where it's being produced. It's part of the business."
Faustine Steinmetz: 'Nothing is 100% sustainable, but you can just try to do the best you can'
When Faustine Steinmetz taught herself to weave, it was an attempt to make cloth that didn't feel like all the other cloth on the high street. If you were going to spend money on an item of clothing, she thought, it should feel different. Armed with a few good YouTube "how to" videos, she first challenged herself to weave her own version of an Adidas tracksuit. She then moved on to a pair of jeans before launching her own collection in 2013. She likes to make ordinary clothes feel – and look – extraordinary.
"When people talk about us and sustainability, they say it's because we hand weave and we don't use electricity. For me it's more promoting the idea of making clothes that take a long time and that you keep a long time. Our overconsumption is the worst thing that's happening on the planet right now." Steinmetz does not claim to produce a sustainable fashion brand, although it is a long-term goal. "From the moment you choose to produce a piece of clothing it isn't sustainable itself. Nothing is 100% sustainable, but you can just try to do the best you can."
For her Selfridges window, Steinmetz is focusing on denim. She partnered with Spanish denim factory, Royo, named an eco-sustainable company in 2012 by the Oeko-Tex Association. Steinmetz is also working on alternatives to leather (for spring/summer she has made accessories with coated denim). But ultimately she likes the ideas of people buying less and buying more thoughtfully. She calls it minimal buying. When she launches her e-shop next year, pieces will be made to order and will come in a filing box to be stored with your few other minimal purchases. "It's a new way of buying. It just makes you happier because you buy something you really like instead of going to Primark and buying loads of little things you don't really like. People have lost the idea of saving money to buy nice clothes."
David Hieatt: 'We offer free repairs for life. The best we can do is make something last'
In 2009, when David and Clare Hieatt left Howies, the brand they founded in Wales in 1995, it was time to start something afresh. David found a new mission – to recreate the jeans industry that had provided employment for 400 people in Cardigan. "Our town used to make jeans," he says. "They used to make 35,000 pairs a week for 40 years – the biggest jeans factory in Britain. In 2001 that factory closed and 400 world-class makers had nothing to make, and that's what we are fighting for – to get their jobs back."
The Hiut factory now makes 100 pairs of jeans a week and employs 15 people. "I'm with Bill Gates: people can overestimate what they can do in one year but underestimate what they can do in 10," says Hieatt. "I'm hoping by the 10th year we will be nearer 400 than we are now." Each pair takes 80 minutes to make, involving 75 processes. "We've fallen into a throwaway culture, but we are coming out of that. We offer free repairs for life. People understand that the best thing we can do for the environment is to make something last." Around 20 pairs a week are sent back for repairs, which seems counterproductive to running a profitable business. However, customers are loyal to the last, no doubt because they like the artisanal quality of the indigo-dyed selvedge denim imported from a mill in Japan. "We all have a responsibility as customers, and more and more people are embracing that."
For their Selfridges window, Hiut will be promoting their No Wash Club, encouraging customers not to wash their jeans for at least six months. "If you wash them before you've had time to put your imprint on them, they become quite a flat jean," says Hieatt. And the less you wash, the more water you save. "They become your jeans – all those lines are individual to you; there's a beautiful reason not to wash them, both for the planet and the person."
Bright New Things is at Selfridges, Oxford Street, London W1, from 7 January to 27 March (selfridges.com)
guardian.co.uk © Guardian News & Media Limited 2010
Published via the Guardian News Feed plugin for WordPress.