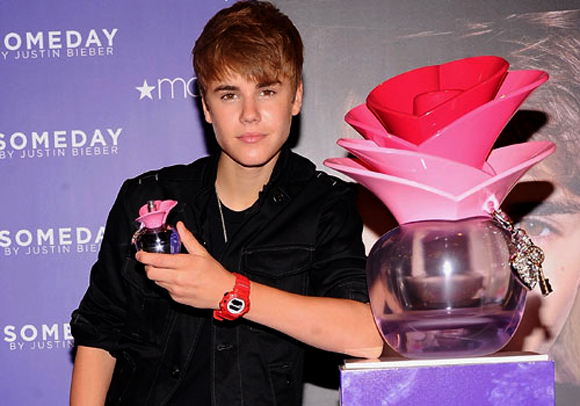 At the upcoming annually Fifi Awards, the 2012 Elizabeth Taylor Fragrance Celebrity of the Year Award will go to Justin Bieber and his "Someday" fragrance that made $3 million in just three weeks at US department store Macy's.
The "Elizabeth Taylor Fragrance Celebrity of the Year Award" honors a celebrity who has embraced and promoted the world of fragrance. It celebrates the ongoing success and support given by the celebrity to the industry – therefore bringing consumers to the category.
"I am honored to be named Elizabeth Taylor Fragrance Celebrity of the Year. It means a lot to me that my fans and The Fragrance Foundation support all my accomplishments. The best part is that my favorite charities are sharing in the success; it is important to pay it forward. Plus, I have the girls smelling great!" said Justin Bieber.
"Someday" fragrance is also up for FiFi Awards in the categories of Fragrance of the Year: Women's Luxe and Fragrance of the Year: Consumers' Choice (where your vote decides the winner).
The 40th Annual FiFi Awards' Ceremony will take place on May 21st at Lincoln Center's Alice Tully Hall in New York City. The prizes will be awarded in following categories: Consumers' Choice, Fragrance of the Year, Perfume Extraordinaire, Best Packaging of the Year, Media Campaign of the Year, Bath & Body Line of the Year, Interior Scent, Collection of the Year, Fragrance Hall of Fame, Editorial Excellence, Technological Breakthrough.
The top 5 finalists in "Perfume Extraordinaire" category include: Cartier, International Flavors & Fragrances, Mane, Symrise and Takasago.
Top Five Finalists in "2012 FRAGRANCE OF THE YEAR – WOMEN'S NOUVEAU NICHE" are: Dahlia Noir – Parfums Givenchy, Dolce & Gabbana The Velvet Collection: Velvet Vetiver, Velvet Wood, Velvet Love, Velvet Patchouli,Velvet Sublime, Velvet Desire – P&G Prestige, Jersey – Chanel, live in love – Oscar de la Renta, Maison Martin Margiela (untitled) – L'Oréal, Tom Ford Jasmin Rouge – Private Blend – Tom Ford Beauty.